Emma's Tours of Duty
England in Sri Lanka 2018
November 21st 2018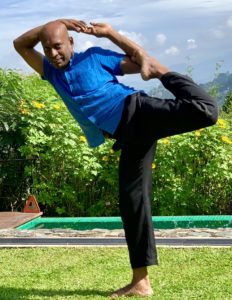 I can't believe my first Sri Lankan adventure is over. I enjoyed our final day in our beautiful hideaway in the hills above Kandy. Jonathan, aka Latest, was a little bit sulky pants as he thought the Test might be over a day early so we could go up to the tea plantations. It didn't quite happen, so he trotted off to work leaving me discovering how to make the ultimate banana curry with chef Keerthi. Keerthi has worked in hotels all over the world, but his home is Sri Lanka so his local dishes are top class. It's so wonderful to cook with a man who does all the preparation AND washes up afterwards. (Latest – take note) I also persuaded him to hand over his family recipe for the best banana cake in the world. Hmm, wonder if it will taste quite the same back in the Vale of Belvoir.
There was also a final yoga session with Nnoyel. A yoga master with 28 years experience, he has been a revelation over the past week. Our penultimate session was cut short when a swarm of mosquitoes descended on me and my juicy fair skin and bit me 19 times on my derrière. If it wasn't quite such an obscene sight I'd almost be tempted to take a photo. Liberal helpings of anti histamine were applied hourly for the rest of the day.
And so the Agnew roadshow rolled into our final stop – Colombo. Did you see the mass fight in parliament on the news (that's the Sri Lankan parliament, not Westminster) Security was noticeably heightened from our first night three weeks ago;  bomb disposal squads and armed police on street corners – a sign of the times in so many cities I suppose.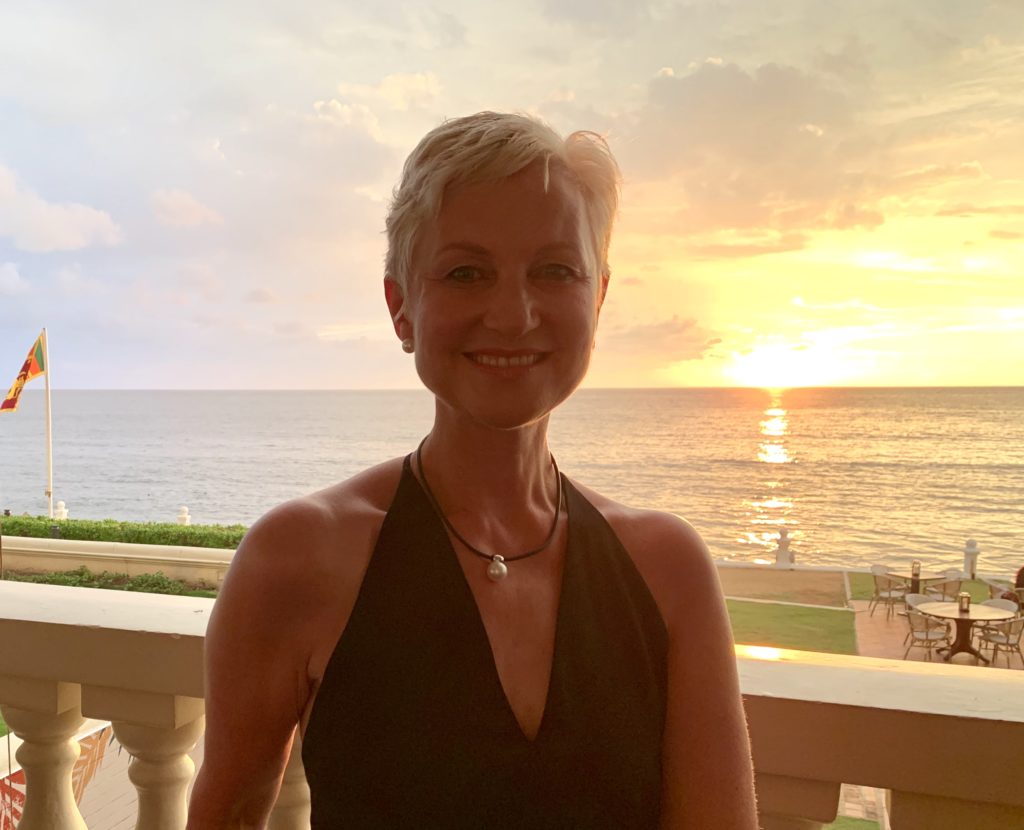 Watching the sunset at the grand old Galle Face Hotel is one of those "has to be done" moments. Wow, we were spoilt with a seriously good one. A window seat, the clouds parting just in time and a drink in hand, we watched the sun sink slowly over the horizon and a lone piper played as the Sri Lankan flag was lowered. If you get the chance, don't miss it – the ceremony takes place around 5.40pm every night and the cocktails are surprisingly reasonable for such a spectacular setting.
Then it was onto dinner at probably the trendiest restaurant in Sri Lanka. Owned by cricketers Mahela Jayawardene and Kumar Sangakkara, the Ministry of Crab is quite an experience. Funnily enough, as the name suggests, the restaurant specialises in crabs of all sizes and cooked in every imaginable way. UN-funnily, I'm allergic to fish and seafood, but seeing as Jonathan adores it and being the dutiful wife that I am, I agreed to go as they do a couple of chicken dishes as an alternative.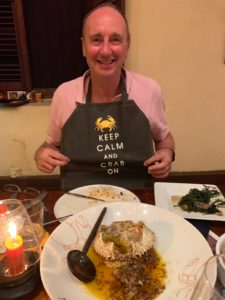 Now Latest is quite a fastidious eater, and does like simple, straightforward food like bangers and mash and shepherd's pie. You'll appreciate then that presented with a crab, a crochet hook and a pair of nutcrackers, he didn't really know where to start. Finally, encouraged by the delightful waiters and emboldened by a couple of glasses of wine, he threw caution to the wind and literally got stuck in.
There was yet more rain on our final day; it has been a feature of this trip but we have to remember it is the tail end of the monsoon season. A hair cut for Latest (well, let's face it, it's just a quick run over with the clippers these days) and a manicure for me, then a last supper with Producer Adam and Vic Marks. An early morning collection by the faithful Sameera and a very fond farewell as he dropped me at the airport. What a great man he has been, sharing his love and passion of his stunning country with me and ensuring I will return.
Good health continuing, I will indeed be back in 18 months' time – but first there are cricket tours of West Indies, New Zealand and South Africa that I'd love to do. As I've said before, it's tough, but someone has to do the tours of duty!
Merry Christmas everyone xx
November 16th 2018
I must confess to feeling a bit tired and emotional today. No, not because of my lovely day with the elephants yesterday. Or because Root scored that fantastic century. Or because rain stopped play today and it means Jonathan (latest husband) and I won't get a bonus day together tomorrow. No, it's simply because of the kindness of strangers. Over the last couple of evenings, Jonathan and I have been invited to a couple of cricket touring party "events". We turn up, have a glass, avoid the vol au vents, Latest chats to them about what has happened during the day's play, answers their questions and we all go home happy. I turn up, stand at the back and drink SEVERAL glasses of something nice and chilled!
On this tour I have been utterly overwhelmed by the number of people who have wanted to talk to me as much as Jonathan. Saying how delighted they are to see me; how they followed my 'cancer story' and how well I look. Well, who wouldn't look well on three weeks holiday? Today at the cricket (regular readers will know this is not a common occurrence for me) I met up with Andy Thompson, membership secretary of the Barmy Army. Shortly after my diagnosis, Andy wrote me the most wonderful letter of advice. Based of his personal experience, he gave us pearls of wisdom which Jonathan and I have followed almost to the letter over the past 18 months. Obviously none of it was medical advice ; instead it was the kind of thing to keep you sane when you are going through cancer treatment and you feel out of control of your life. He ended the letter by saying we would share a glass of Sauvignon Blanc in Sri Lanka. At the time, that "date" was just too scary to contemplate. But this week we did it. He's one of my favourite men in the world.
Andy was just one of so very many people who have contacted us, tweeted us, shaken my hand and hugged me in Galle and Kandy. Of course, far too many of us have had experience of this pernicious disease, so have felt every step of the path we have trodden. I know I have said it before, but the importance of talking about cancer – both as a patient and a carer – is so vital in supporting each other and continuing to find a cure for all forms of the disease. Someone said to me that I must be getting fed up of people "congratulating " me. The answer is: no. Never. It's the best feeling in the world.
As I was sitting with the Barmy Army, catching up with old friends and new, I got a message from Steve Bland. His wife Rachael was a BBC colleague who also had breast cancer; she started an amazing, multi award winning podcast called YouMeandtheBigC. Realising her cancer had spread and she was terminally ill, she wrote a book for her 2 year old son Freddie. Rachael, who was just 40, died a few weeks ago but her legacy lives on and there is a publisher for the book. Steve was asking Jonathan and I to write a contribution for it, which we see as an overwhelming honour.
Anyway, enough sentimental self indulgence. At the first drop of rain (literally) I was in the car and back to the hotel as fast as the traffic of Kandy would allow. Yet again, life along the side of the roads delivered. This time it was a parade of children from the local Buddhist temple – headed by another wonderful elephant wearing a bejewelled outfit. This country is just magical.
November 15th 2018
After a quiet day by the pool, Sameera and I were ready to hit the road again. He was very keen I went to the elephant orphanage in Pinnawala. Although so many people had said it was a lovely thing to do, I had reservations. Would it feel like they were performing animals in a zoo? Would I be jostling with thousands of tourists to get a picture? Would I be horrified by the cruelty/treatment? But, egged on by Producer Adam who had been there some years earlier, and with Sameera's enthusiasm, I decided to give it a whirl.
In fact, going anywhere along the Sri Lankan roads is almost a destination in itself as it just teems with life, human and otherwise. Today's first miss with the camera were two elephants standing calmly on the back of a flat bed lorry being driven through Pallakele, just after we had dropped Jonathan at the ground. I kid you not. Two, on a flat bed lorry, looking for all the world as though they were just out for a morning drive. Miss number two was a second elephant strolling along the side of the road with a young lad walking alongside. He was earning a great deal of respect from the manic tuk tuk drivers – probably a wise move on their part as I'm sure the vehicles would just collapse if they tried to take him on.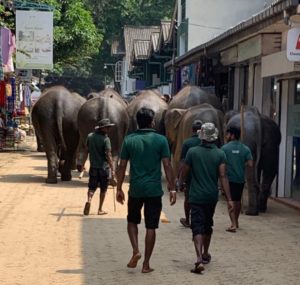 The orphanage is 2500 rupees for entry ( about £11) and for that you get to stroll down to the river and watch about 25 elephants playing in the water. There are a couple of handy cafes raised above the river, where I just sat and had a ginger beer watching for ages as these majestic animals glided deftly around the rocks. You can touch the elephants if they choose to come near you, but there was no feeding, no rides and only the main male elephants are on long chains for public safety. Having spent hours watching animals at waterholes in Africa, it certainly appeared to me that they were happy in their surroundings. Their handlers – or mahouts – gave them verbal commands and although they had long poles with large crochet hooks on the end, I certainly didn't see them being used. The elephants were kept in a certain area of the river for tourists like me to watch them, but it didn't feel like a hideously commercial venture while I was there. As a side show, there was a local wedding taking place in one of the hotels and the bride, complete with long white, meringue dress having photos taken while trying to avoid stepping in elephant dung!
Talking of dung, in a craft shop alongside, you can watch how they take the elephant poo and, within 24 hours, turn it into paper! Washing and boiling the dung to rid it both of smell and bacteria, it's then made into a paste and put through a seive before being rolled out as thin paper.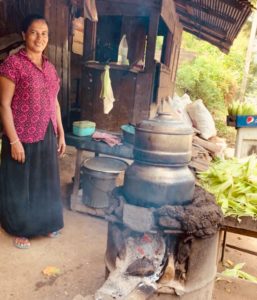 Heading back along the road to Kandy, Sumeera told me it had been built by a British engineer called Captain Dawson. There's actually a white tower/monument to him along the roadside (camera miss number 3!)  Poor old boy, building a road through dense jungle was literally the death of him and he died before it was completed.
I had noticed big cauldrons bubbling away at various intervals, and wondered if they were the equivalent of roadside cafes. We stopped, and I discovered they were in fact corn on the cobs just boiled and liberally doused in salt as a snack. Sumeera didn't seem to be eating them (and he looks like a man who enjoys his food) so I didn't rush to try one.
I returned to our hotel just in time to see Root get his century – gosh, didn't  he look seriously pleased with that? – and I'm having a pot of tea on the veranda. I am in Sri Lanka after all. Tonight we are out with a group of supporters in downtown Kandy who I suspect will be in the mood for celebrating.
November 13th 2018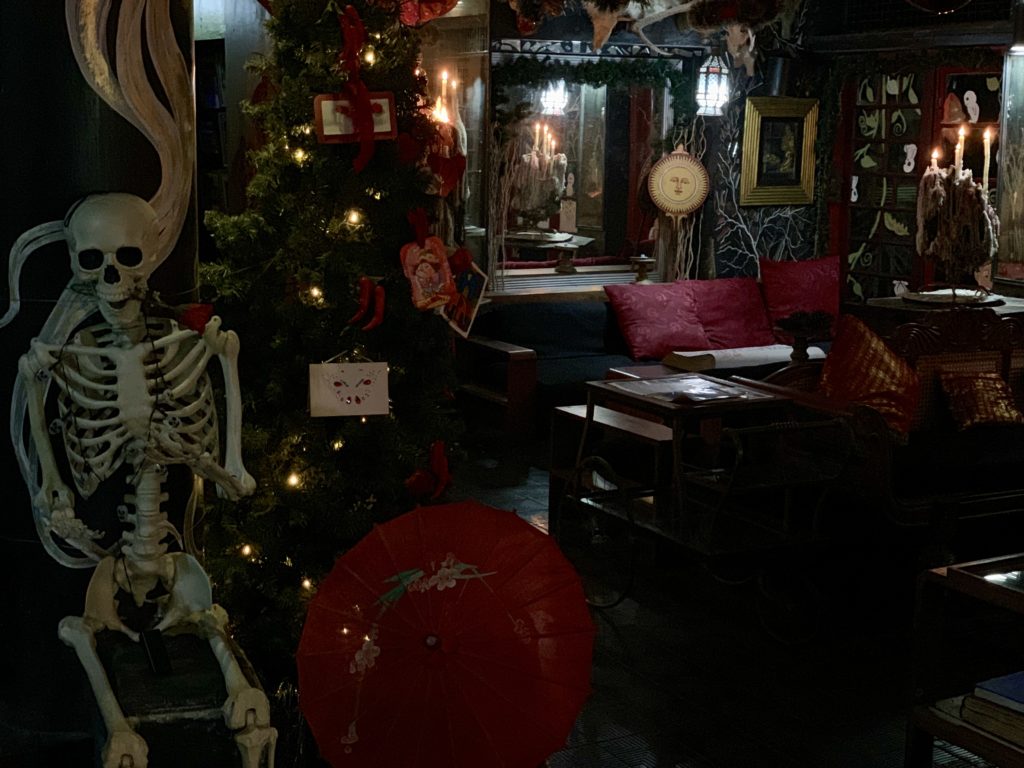 It really was my own fault; allowing Jonathan to be in charge of eating arrangements for a night.  My choices have, of course, been faultless. But he was determined we visit Helga's Folly, which he described as a crazy institution. I should have been alarmed when the venerable writer Scyld Berry announced he had never heard of it and dear Vic Marks, who is staying a mere stones throw away, said his driver had never heard of it either. In fact we heard Victor's arrival before we saw him. A screeching, grating noise like a very old lawnmower turned out to be Vic's tuk tuk straining up the hill.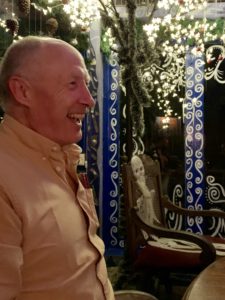 Crazy is an understatement. We were met by our first Christmas tree of the year, with a Halloween mask in the place of a fairy/ star. The restaurant resembled Miss Havisham's abode in Great Expectations, complete with skeletons on adjoining tables. The menu  consisted of a laminated sheet with just three choices of main course (bread and coconut soup were the compulsory starters along with pudding) They did, however produce an immense G and T, which nearly knocked me out, and we proceeded to have a very jolly evening. The owner, Helga, is apparently still alive, but only appears on high days and holidays. I pictured her upstairs sitting in her chair rocking away.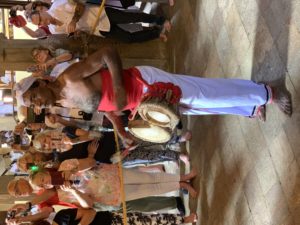 We may have been vaguely hysterical by the end, as Producer Adam, Vic and I went exploring while Latest tried to decipher the bill. Desperate to see if the bedrooms were decorated in the same "unique" fashion, I resorted to knocking on several doors. Maybe it was a good job no one answered.
This morning our wonderful driver, Sameera, insisted on getting me up at the crack of dawn and taking me to the Temple of the Tooth. His enthusiasm for the temple and attached museums shone through. Carefully covered up in a suitably respectful fashion, I got caught up in the excitement waiting for the thrice daily ritual of the casket to be revealed by the Buddhist monks. The story of how a three inch tooth from Buddha ended up in Sri Lanka is a great tale.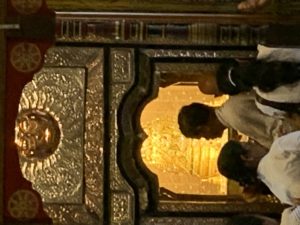 Amidst much ceremony involving drum beating and recorder playing (well it looked like a recorder!) I was literally carried along by the human tide of visitors and managed a brief glimpse of the bejewelled gold casket. It's a good job I'm tall or I wouldn't have been able to catch a snap of it at all! Entrance for 'foreigners' is about £7, and you really need a guide too. Make sure it's a registered one. The ceremonies are at 0630, 0930 and 1730: apparently the evening is incredibly hot and busy, so I'd avoid that if possible.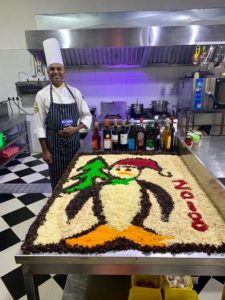 Back at Chez Agnew, I was settling down with my latest book and a tube of suncream, when the executive chef pulled me into the kitchen to help him stir the Christmas cake. In all honesty, my part involved no more than pouring a copious amount of rum and brandy over the spectacular display of dried fruit. It made me want to reenact that as soon as I get home and make my own cake. We all know I'll be falling into the supermarket on Christmas Eve and just buying whatever is left, but a girl can dream.
November 12th 2018
Woke up in paradise this morning (well, after I finally fell asleep to the sound of dogs barking and monkeys chattering) and you know what? I fancied a refreshing glass of coconut water for breakfast. A little alarmed, our lovely young waiter, who has looked terrified of me since the moment I arrived, scuttled off down the garden. Thirty seconds later and there was a rustling in the trees. Thinking it might be those pesky monkeys from last night, I went for a closer inspection, only to find a second young man up a ladder actually picking me a king coconut for my breakfast. Literally, from tree to table in less than five minutes – what service. That young waiter is going to go far, I can tell you.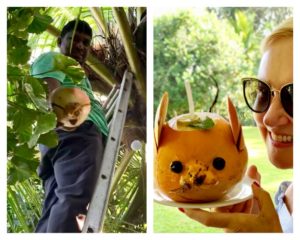 Latest had been given the day off today, while Producer Adam kindly agreed to do the day before the eve of Test previews. Adam has been Jonathan's producer for probably longer than he cares to remember. We share a mutual "eye roll" competition about the complexity of "caring" for the cricket correspondent. Adam looks after him at work, I look after him at home. At least Adam doesn't have to pick his pants up off the floor.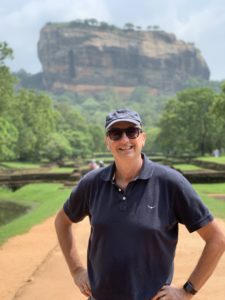 What it meant was that we had a rare day to do some sightseeing together. Jonathan first came to Sri Lanka as a player in 1985. Of course, as a player and a broadcaster you are here to work and get very little opportunity to see the country you are in. He had never seen Sigiriya so, armed with sun cream, water, hats (both of us sporting a lack of hair) we struck off in a fast car. A very fast car. In fact, so fast I couldn't bear looking out of the windows, so feigned a little snooze. The journey was supposed to take 3 1/2 hours, but we were there in two. You get the picture.
Sigiriya rises out of the jungle rather like Uluru (the natural wonder formerly known as Ayers Rock) rises out of the desert. It is sometimes referred to as the Eighth Natural Wonder of the World and it is mighty impressive.  Unlike Uluru, which is held sacred by the Aboriginal people, Sigiriya has a far more salacious past. Stories of murder, mayhem and family feuds surround this amazing former fortress. And it's also known as the playboy's palace in the sky.  
With my own playboy trailing in my wake (doesn't he always?) morale was high as we set off on the climb. I'd say you need to be reasonably fit and wearing proper shoes to climb the hundreds of steps to the summit. Whoever wrote a review saying they climbed it in 20 minutes was undoubtedly fibbing.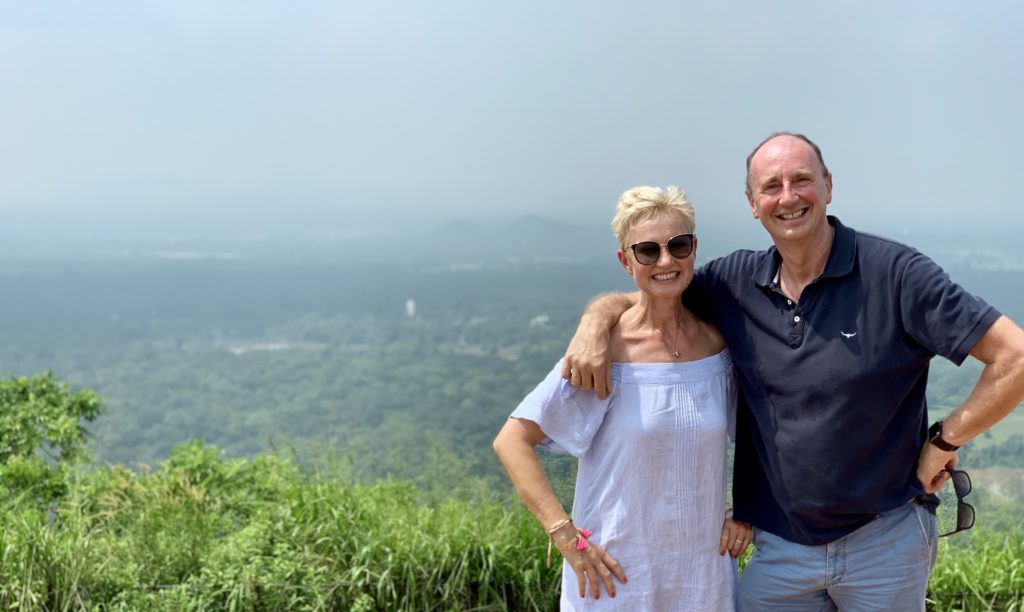 Now a little known fact about Latest is that he is not good with heights. This is the man who once crawled out of the Table Mountain cable car in Cape Town on his hands and knees. But with me jollying him along, urging him not to look down, we managed to overtake a couple of people with walking sticks and reached the summit in about an hour. There were some precarious bits with very narrow metal steps but there are sturdy handrails to help you and plenty of places to have a little breather and take in the view. Photography is forbidden in certain places, particularly of the paintings and ancient graffiti on the walls as you walk up. The penalties are severe and we witnessed a couple being fined by one of the officials along the way – it was not sounding good at all.
A brilliant day trip to see something rather special, and plenty of exercise to work off the previous nights curry. Tomorrow, Latest will be back at the ground in the care of Producer Adam, doing pre match interviews and warming up his tonsils or whatever he does. Me? I'm not sure yet, but I am keen to see the elephant orphanage and visit the tea plantations. Then again, there's a splendid looking spa at the hotel and a perfectly positioned sun lounger, so who knows?
November 11 2018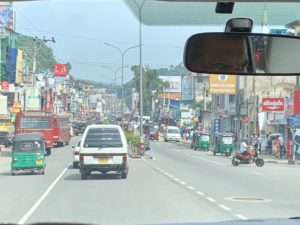 Thank you Galle, you have been amazing. Interesting, welcoming, cultural, foodie heaven etc etc. But now, as I've agreed with South African umpire, and big friend of Jonathan's,  Marais Erasmus  in the lift this morning:  eight days anywhere is probably enough and it's time to move on. 
So move on we did. We settled back into our not-very-fast-minibus for the 140-mile-journey to Kandy, which was going to take around five hours. You go nowhere very fast in this country.  We could have gone by train, but with a mountain of luggage (clearly light on the male boxers ) including broadcasting kit, there would probably have been a murder before we got onto the platform.
Sri Lankan life appears to happen along the roadside. Once we left the expressway, we passed through endless streams of towns and villages teeming with life and vitality. Most shops and businesses appeared to be open (it is Sunday ) Huge, colourful statues of Buddha popped up regularly, dogs and cattle lay casually on the kerb daring motorists to touch them and the inevitable tuk tuks and local buses made the two lanes into a minimum of five. Fortunately, as it really is true that no one travels at any speed, it seems remarkably accident free.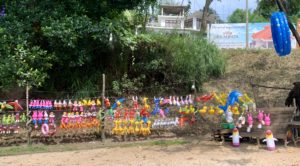 We were heading to digs where I had been told I would be very happy. I did wonder if an inflatable unicorn for sale en-route might be a step too far, but then I do have one rather large child to entertain. Our driver spoke quite limited English but clearly his vocabulary was much broader than our Sinhalese. He asked us about how many wild elephants we see in England, and found it unbelievable when we told him we didn't have any. What a lucky many he is to live in this beautiful country.
At 11 am we stopped and had a moment of reflection for Armistice Day; the Barmy Army trumpeter, Billy Cooper, played the Last Post for hundreds gathered at Galle Fort and the Kandy War Cemetery, remembering those who gave their lives in this part of the world, looked an absolute and dignified picture.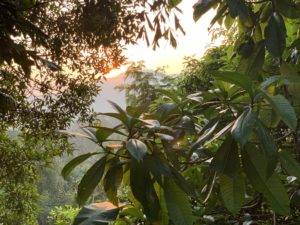 And then we were in Kandy. The sun is out, the scenery is beyond description and, as ever, the people are smiley and welcoming. Yes, I'm going to be happy here for eight days and in planning mode again; tomorrow I think there's a big rock with my name on it that needs climbing.
November 9th 2018
Today has been THE best day.
I decided that I would like to expand my culinary repertoire. And, frankly I've had enough of Latest Husband buying every cookery book and gadget known to man and cluttering up my kitchen. I was also keen to explore the wonderful, colourful markets in this part of the world. So, a cookery class that involved buying, preparing and eating sounded just up my street.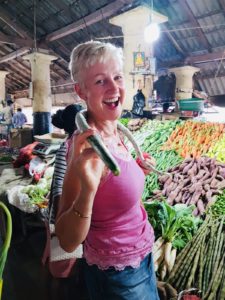 On the strike of nine, as Jonathan was striding off for the fourth day at the Test, four of us set off in a tuk tuk to meet the marvellous Madhu. We had a fascinating hour with her discovering vegetables we had never heard of, deciding which ones we would like to cook, bartering our spices, tasting, sniffing and chortling to our hearts' content. I was particularly taken with the snake fruit ( never did get to the bottom of its real name) and the loofah plant (Madhu assured us it's the very same one you use in the bath to give your back a damned good scrub).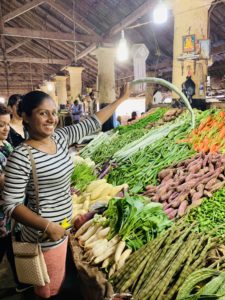 Back into the tuk tuks and we negotiated the potholes and floods that had appeared after the previous night's torrential downpour, and found ourselves in a small clearing in the jungle. " This is my house, but while you are here it is your house too." How could you ever be made to feel anymore welcome than by Madhu, her mother and her aunt?
Some serious looking knives were produced (note to self; do not attend cookery course after row with Latest) and we spent 3 hours peeling, washing, dicing, slicing, crushing, seasoning and lots of oohing and aahing as amazing smells wafted from the simple clay pots. We learned about the three levels of coconut milk for different dishes according to strength and taste (there we were thinking it came out of a tin!)  We all drew the line at splitting open the king coconut with a ferocious looking sabre, but Helen and I seemed to spend a long time on the floor on a sort of prayer stool with a grater attached, making coconut sambal. I can assure you It was worth it.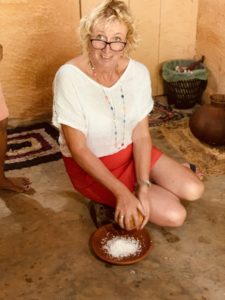 The wonderful thing about preparing this feast was that the ladies of the house clearly enjoy spending all day cooking. Generations came together to swap family recipes and tips, and pass on their skills and knowledge and thoroughly enjoyed sharing their passion with us. It was soothing and done with a small wood fired clay oven and a two ring gas burner. Literally. The vegetables are fresh, the chickens and eggs came from the back garden with naughty monkeys swinging in the trees. It was utterly, utterly delightful.
Finally, at lunchtime, we got to sit down and taste our endeavours. It was delicious and impossible to decide which dish we liked best. Washed down with water and a local beer, and finished off with a coconut pancake, we reluctantly prepared to leave this little slice of Sri Lankan hospitality. The grand total? Including tuk tuk transfer, shopping for all the food and a generous tip was £30 a head. I've already been sent the recipes, so Latest had better prepare himself for a winter of Curries.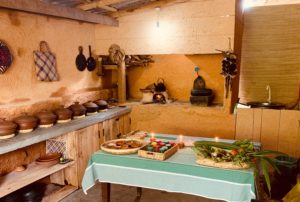 We decided to have a pit stop on the way back to our hotel and enjoyed a chilled bottle of rose on the beach. While we were there we heard England had won the Test Match a day early. I told you it had been the BEST of days.
November 8th 2018
Nearly a week since we left home and I thought it was about time for a spot of laundry. It's funny how you miss these domestic chores when you are away from home: NOT! Some things don't change, and I was left chasing Jonathan's discarded clothes from around the bedroom. As I filled out the form I noticed that in spite of being away for a week, there was only ONE pair of male pants to be washed. I mean ONE SINGLE PAIR. I shuddered at the realisation of what this meant, and managed to peel a second pair off him. But still, two pairs in 7 days…? (Not true: Ed)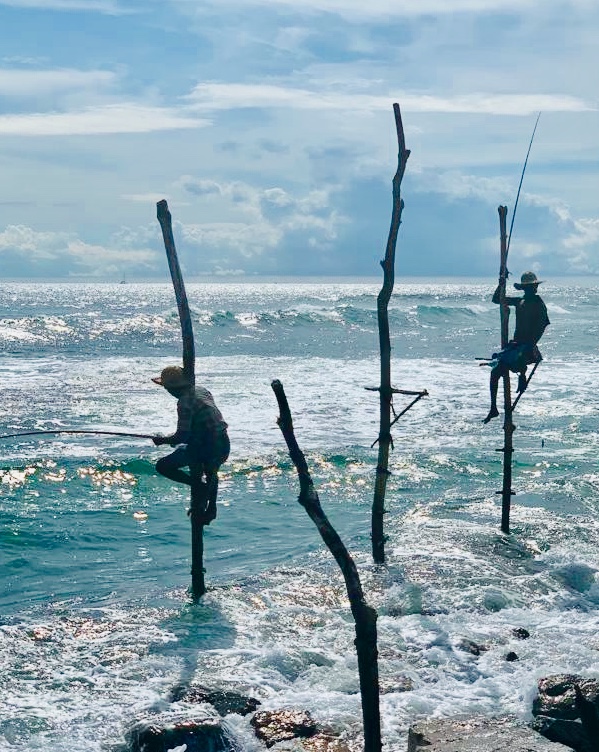 Today I struck off down the coast. With my trusty driver at the wheel, I headed for Mirassa. Described as slightly bohemian and hippyesque, it's a delightful spot with a lovely long beach, shallow waters to paddle in and a huge number of waterside establishments for eating, drinking, having a massage and learning to surf. Over a banana smoothie I did contemplate the surfing, but decided there was a Y in the day, so stayed on the beach. I found a super place in Weligama Bay; rather a chilled out Ibiza-type place with super comfy sun beds and beach service to tend to my every whim. From the safety of the lounger I was able to watch the wannabe surfers trying to stand and decided I had made absolutely the correct decision.
I have a rule about never drinking alone which is a bit tricky when you are actually on your own. As luck would have it, a friend who was back in the Galle Fort messaged me to say she had just ordered a glass of chilled white wine, so I felt justified in joining her in spirit with a glass of something pink and sparkling. I needn't have worried about being alone; as I turned over on the sun bed, I spotted the Botham family. Sir B is recovering well from his major back surgery but is still on crutches, Lady B was in fine fettle and joined me on the rosé, while Sarah is greatly looking forward to becoming a "geriatric" mum. What lovely news.  I could very easily have fallen into bad company, but fortunately my faithful driver arrived and we were off again. Ironically, Beefy's injury had been caused fishing, and I was off to see the famous fisherman on stilts. Yes, I know they don't actually fish like that anymore, and it's just a show for tourists. But it is a really rather impressive sight. The men precariously perched on very slender poles high up above the rolling waves.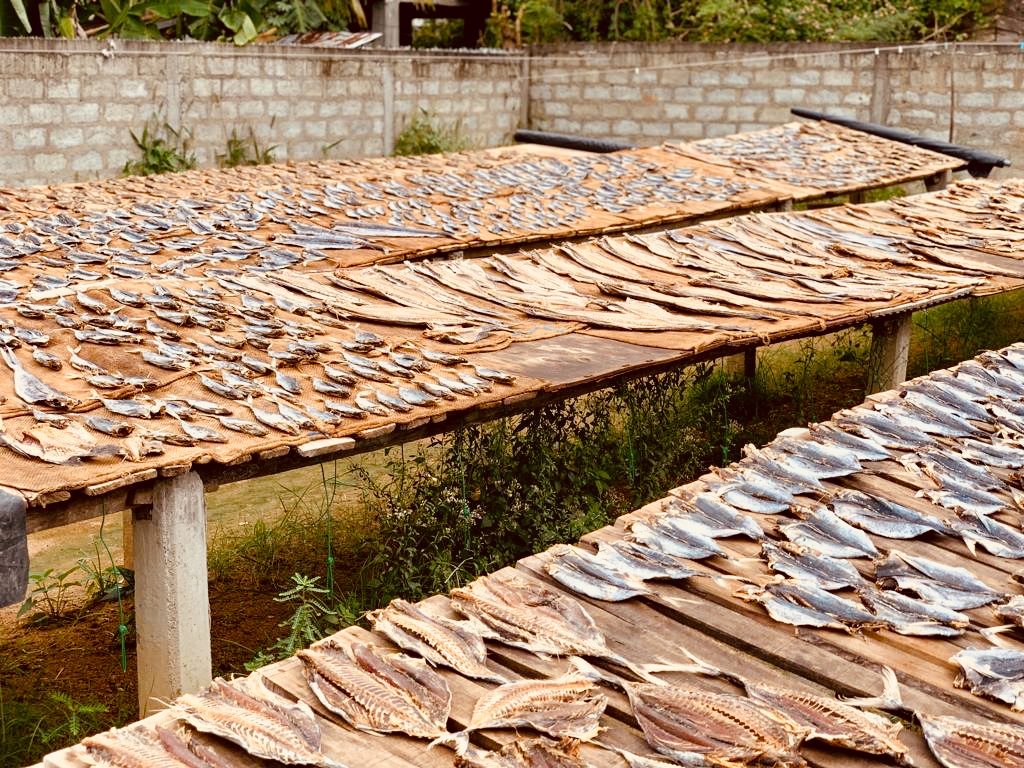 I waved my 200 rupees (88p) at them and they waved back a rather small sprat: both parties thinking they had got the better deal. On the other side of the road was a huge display of dried fish. Apparently, any fish that are left over at the end of the day from the genuine fishermen are gutted and laid out to dry in the sunshine for a minimum of two weeks. You can imagine the stench. At the end of the fortnight, the dried fish is sold and used in curries – apparently the smell of the cooking is even worse than the fish laid out in the sunshine, but I'm assured the end result is delicious.
And with that I decided it was time for a nap. It's up at the crack of dawn for my Sri Lankan cookery course.
November 7th 2018
I'm often asked if I'm going to the cricket when we travel abroad. The answer is; rarely. First, Jonathan is working and does very long hours so it would mean an early start and a late getaway for me and, second, there's usually something FAR more interesting to go and see (OK, the match has been pretty good for the past couple of days)
There already seems to be so much to experience in this country that I'm not sure three weeks is going to be long enough. Today, having done some research on t'internet, I set off for a walking tour of Galle Fort. I liked the sound of Shanjei, a former advertising executive from Columbo, who promised the tour would be interactive, fun and a bit less history. He sounded my kind of man.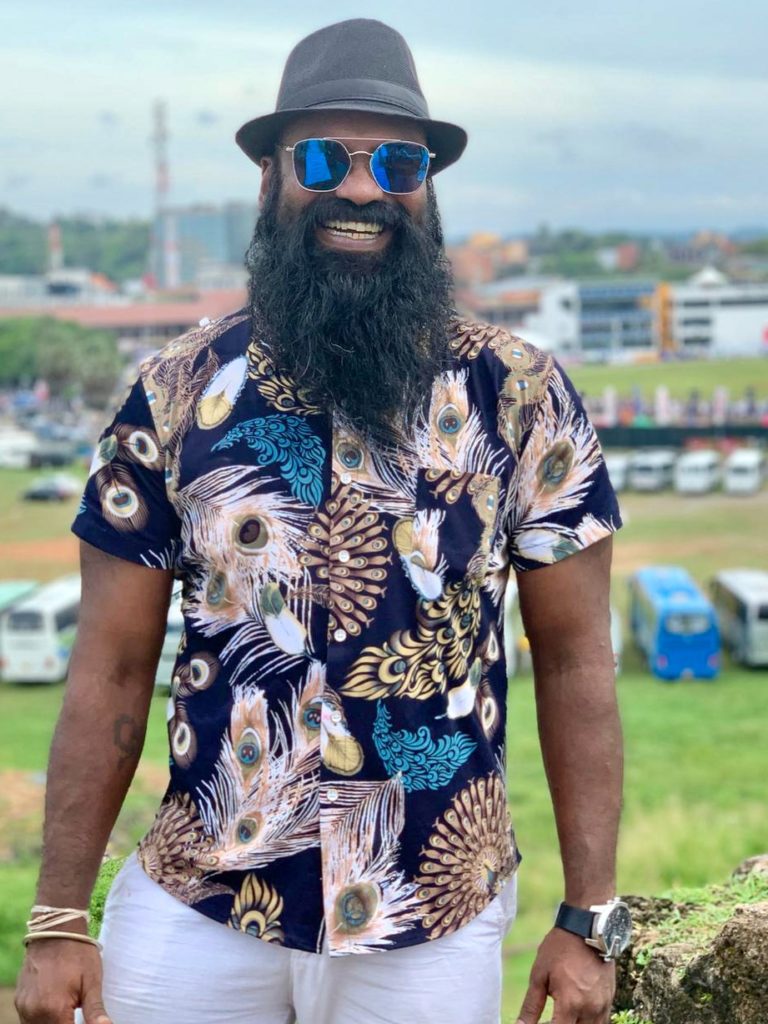 Five of us set off for a leisurely stroll along the ramparts of the fort. I felt he was rather envious of those fans sitting on the grass with a fantastic view of the cricket. He wove great stories of his own upbringing and family with the history of the Portuguese and Dutch settlers and some great facts around the key buildings. I was absolutely entranced by his story around the wonderful former matriarch of the ultra-smart Amangalla hotel, Nester. She ran this revered establishment with just a handful of staff and two Dalmatian dogs. Just before she died, aged 90, she threw a fabulous party and caused raised eyebrows by indulging in a long clinch with a man 40 years her junior. What a girl. Our small group felt compelled to have a restorative coffee on the lovely terrace and as Shanjei is so well connected, we were encouraged to wander into the library and soak up the history of this remarkable woman.
So, after the Portuguese and the Dutch left the city, what did the British ever do for Galle?
1. Education – which explains why the Sri Lankan's seem to speak such perfect, old fashioned and courteous English.
2. Uniforms – as if on cue, a group of schoolchildren walked past us immaculately dressed
3.  Driving on the same side of the road – although that's quite questionable as most of it seems to be a free for all including tuk tuks, dogs and cattle,
4. Cricket – he couldn't resist telling us that the English invented the game but we haven't won a World Cup. And Galle cricket stadium used to host horse racing. Who knew?
5.  Tea. I'm assured that you forget Indian tea; Sri Lanka's is the best in the world. I'll be following the tea trail when I head to Kandy.
I have no idea if these facts are correct, but such is Shanjei's energy and passion, who were we to question him? One of the really refreshing things about the tour was that we were not thrust into a shop clearly run by a member of the family and forced to buy naff souvenirs. It was a great way to spend a morning before returning to our hotel for a swim and a spot of sunbathing.
My main job of the day is always to find somewhere for Latest to eat every night. We have had a great discovery with the Lucky Fort restaurant. The establishment might look quite uninspiring with just a handful of tables. It was a set menu of 10 different curries including banana, pineapple and radish. Trust me, they were absolutely exquisite.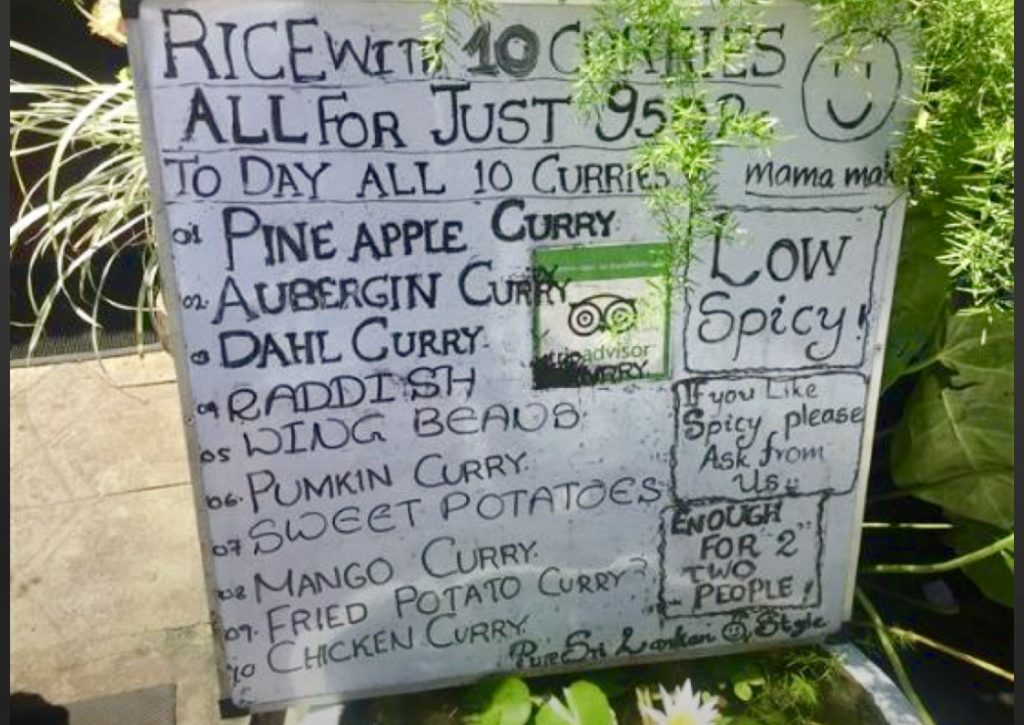 A meal for 3 of us, including beers, puds and service charge was £21 IN TOTAL. It will take some beating, but I like a challenge. It is worth mentioning that I had to push Jonathan out into the torrential rain on the way to the restaurant, as quite a number of them are Muslim owned and don't have alcohol licences. You can take your own though, so Latest was despatched to pick up a couple of bottles of something nice and chilled en route. Well, he needs the exercise as he had only been sitting down all day.
And with that, I'm off to do yoga. Did I mention I've engaged a yoga master for the week? You'll understand why when I send you a photo. Amazing to think a man can get into such positions.
November 5th 2018
"Come to Sri Lanka for some Vitamin D" he said. " you deserve to lie in the sun and rest"
We arrived mid monsoon and it has hardly stopped raining since! However, that was the least of our problems when we arrived at Colombo airport; Jonathan insisted we didn't need visas to enter the country, proudly insisting he had never had one. Er, well, his ever efficient production team have always sorted his visas out, which meant a lot of to-ing and fro-ing when we arrived because (obviously) they hadn't sorted one for me. In this part of the world they do like a lot of queuing and paperwork but the highly gracious and smiley immigration officers were most helpful and, eventually, let me in.  You can see why I call Jonathan my "latest" husband…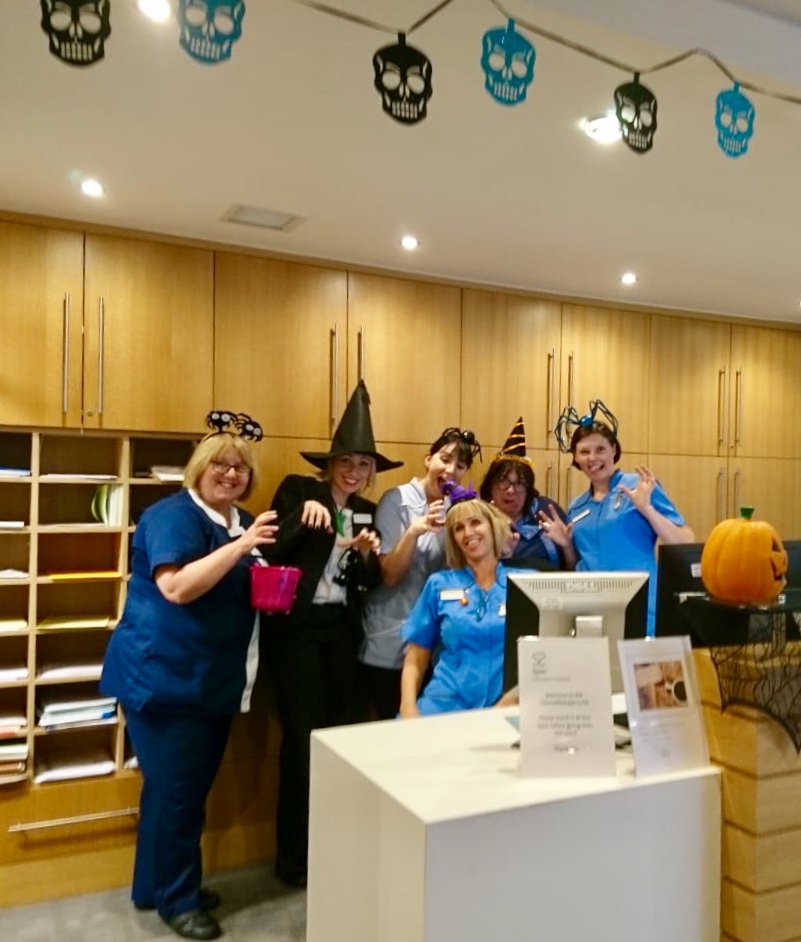 I'm beyond thrilled to be coming to Sri Lanka for the first time. Not only has it had rave reviews from a number of friends, including my boss, who sent me longer emails about the country and recommendations of things to do, than he ever has about work related issues! But also because the day before we flew was another land mark day in my treatment for breast cancer. Those who listen to Jonathan will know I was diagnosed in July 2017 and thanks to the brilliance of my surgeon, oncology team, advances in drugs and a huge dose of good luck, I was given the all clear earlier this year. One of the game changing drugs for my particular type of cancer was herceptin. Only a few years ago, without this hormone inhibitor, it would have been curtains for me. The crazy team who have looked after us so well, waved me off on October 31, and were clearly pleased to see the back of us. In quieter moments, I will miss them and feel quite cut adrift without their quiet, confidence giving presence. But look at them – hard to believe I trusted them with my life!
I was also mightily relieved to find myself boarding the double decker flight from Birmingham for another reason. In my real life working in television for the BBC, I had been involved in the coverage of the helicopter crash at Leicester City earlier in the week, which had claimed the lives of five people including the owner. To a place like Leicester, often overlooked by some of its grander and more beautiful Midlands neighbours, it is almost impossible to explain the impact the Thai billionaire had on the city that has been my home since I was a teenager. Not simply the morale boosting fairy tale ending to the 2015/16 Premiership title race, but for the kindness and generosity that has run through the hospitals, universities and the lives of those less fortunate than him. 
So cue takeoff, and the seat belts released, Latest and I found ourselves chatting to a great group of people. Firstly, a couple of friends who had only booked their trip at 1030 that morning and by midday were boarding the flight. What a great effort. Then we found ourselves being led astray (that's our story and we are sticking to it) by a couple of party animals from Yorkshire – the irrepressible parents of England's captain Joe Root. Of course, what happens on tour stays on tour (or the plane) but suffice to say it involved a red wine or two, and ultimately Matt removing his trousers. You get the picture.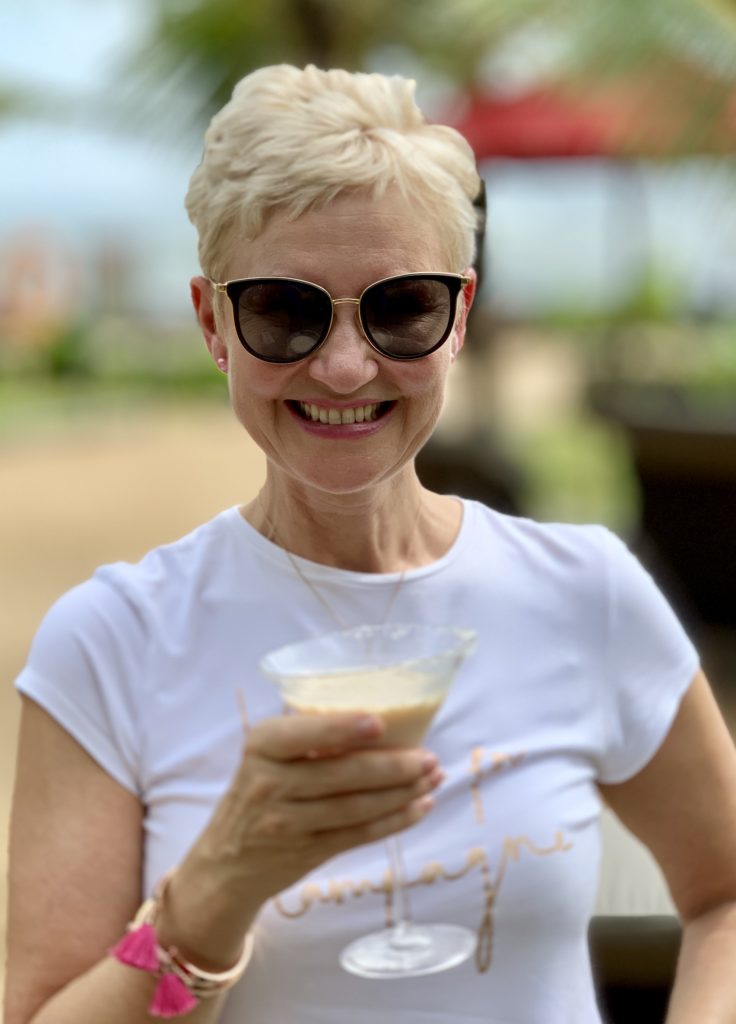 A quick overnighter in Colombo, and our drive to Galle was uneventful. A new expressway (think M1 with no traffic) apparently shaved some hours off the previously tortuous journey. From what I could see, this looks a beautiful, lush tropical country. Ten minutes from Galle the heavens opened.
I'm in love with the Sri Lankans already. Always smiling, tremendously helpful, and so anxious we should have a great time. I have plans for cookery courses, yoga and sightseeing in this part of the world that is totally unknown to me. I also hope to visit some of the charity work still going to support families hit by the 2004 tsunami disaster.
Latest had better make himself busy at work and I'd rather like the sun to start shining so I can crack on with my latest " tour of duty". In the meantime you'll find me somewhere sheltered road testing the local coconut liqueur.
England in South Africa 2015/16
January 12th 2016
All good things come to an end, and the "Capers in Cape Town " are over. Jonathan always goes into a self-indulgent decline about 24 hours before I leave. I suppose I should be flattered but the truth is a) it makes me a tad irritated and b) it's only because he prefers my company to that of either G. Boycott or H. Blofeld, so it's not a tremendous compliment.
He spent his last day in Cape Town flying, again, while I declined the offer and spent time having a leisurely breakfast on the terrace of our hotel and indulging in a spot of shopping. I would love to have done a tour of the townships but it just didn't work out, time wise. But the good thing about touring life is that the trips will come round again, if I behave myself, so it's
nice to think there are fresh things to do in the future. The Townships are still very much in evidence around the city, not least Langa, beside the motorway just outside the airport. It's quite an eye opener, realising how many people still live in these sprawls of tin and wooden shacks and how many decades it will take to build proper housing for everyone. Temba Bavuma, the young batsman who scored a century at Newlands, came from Langa, demonstrating that at least there is a way out for some.
Our last night was spent in one of the most iconic restaurants in Cape Town; Blues at Camps Bay. This institution of a seafood restaurant is as buzzy and good now as it was when we first went there 20 years ago. We arrived in time to see the sun set, although it was blowing a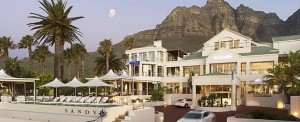 furious gale and had lots of fun people-watching as hats were whipped away and tourists tried hard to stay upright taking selfies as the sun went down.
The end of my tour is always a bittersweet moment. Once the holiday is over, you just want to get home, right? There's our dogs to be reunited with, children to catch up with (assuming the house wasn't burned down on New Year's Eve) and the small matter of my job to get back to. However good the trip, and this has been fabulous, fun, great value and safe, there's nowhere like home and your own bed!
On the other hand, Jonathan is heading to Johannesburg, which is not as easy for me to be out and about on my own while he is working. And it always seems to rain there. So, as we parted company at Johannesburg airport, I had to give him something of a "pull yourself together" talk (You blubbed too. Ed)
But he will be there, bright and breezy on the radio on Thursday morning and the start of the last two Test matches and I'll be back to earth, battling my way to work.
January 9th 2016
 I never like to let Jonathan think I'm grateful for being dragged around the world on these Tours of Duty, but every so often, I do humour him. My passion in life is my horse; his is flying. And, since he came to Argentina on a riding holiday with me last year, I guess I owe him one So, when he suggested a flight over the vineyards and coast of Cape Town, it would have been rather churlish to have refused.
I'm not a brave flier, not even with 400 people around me, so it was with a certain amount of trepidation I clambered into the tiny ' tin can' of a Cessna 172. Luckily, as he doesn't know the area, we had a second Captain with us; the frighteningly young Deon, who assured us he knows this area like the back of his hand and has been flying since he was 16. 16!!!!! I was in charge of the camera and GoPro, Latest working on the principle that if I have something to do, I'm less likely to be screaming at every bit of turbulence.

Setting off from Stellenbosch airport, we buzzed the winelands, saw how very parched and barren the rest of the farmland is following the lengthy drought out here and then headed for the coast. I was rather disconcerted that there seem to be no air restrictions as in England and we found ourselves nipping in between a Mango plane and huge SAA jet. I just shut my eyes at that point.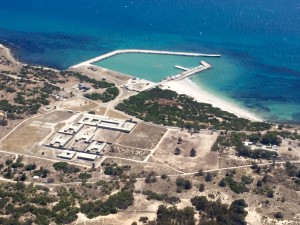 Captain Deon turned to ask me if I could swim at which point we swung a left-handed turn and headed out over the bay to Robben Island. Although I have visited the former prison on foot as a tourist, it was an amazing perspective to see the H blocks of the cell layout from the air. And to be so close to two iconic landmarks with Table Mountain in the background was simply fantastic.
Loathe as I am to admit it, Jonathan flew the plane beautifully and I fully enjoyed our couple of hours touring the area by air. I rather felt I'd earned by glass of something cold when we landed and, of course, he will be grateful for weeks.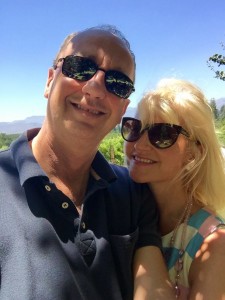 They say you should never go back but, of course, we did. Twenty years ago, amid a boozy wine tasting trip in this part of the world, Latest fell over and – while he was down there – proposed to me. What can I say? I was young and impressionable and clearly desperate, so I said yes. Two decades on and he booked the same lunch venue – a picnic at the famous Boschendal vineyard. The first time round we simply collected our hamper and a rug and found some shade under a tree. This year we hardly recognised it. Lunch at these venues is big business and we were seated at a proper table, with waitress service etc etc. After the initial shock, we settled into our wine (wonderful rose for me, chosen because I liked the label, and a predictable Chardonnay for him) and relived the past 20 years.
It has also been said that you should never marry a sportsman because:
a) It's all about them. True.
b) They're competitive and want to win at everything, including cards. True.
c) They're away from home a lot. True. But frankly, who wants to spend 365 days a year with anyone? And after 20 years, we may both be carrying a few more pounds and, in one case, a few less hairs on our head, but we still rather like each other.
January 8th 2016
One of the (many) good things about a tour of duty overseas is that there are always a few days built in for the cricket team's necessary R and R.
After the end of the Test on Wednesday (sorry, but I will never be able to understand how you can play a game hard for 5 days and still not have a winner), we enjoyed some celebrations in our hotel.  The main party was around the lovely Bairstow family.  What a week they have had; Jonny and his fantastic innings, Janet turning 60 (she looks amazing – why didn't I take a picture?) and Becky who is just the life and soul of any gathering. Jonny was on such a high he nearly kissed Jonathan (obviously Janet and Becky both did)
It was lovely to see players and their families mixing with everyone in such a relaxed way; no them and us, no separate function rooms – just everyone massed together fighting for service at the bar and reliving the roller coaster few days.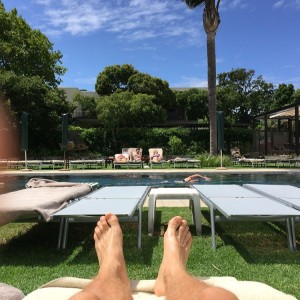 So now follows four days off for everyone.  Some of the players headed into the bush on safaris etc. Others were happy to just stay in the hotel and enjoy a few days of sun.  I've left James Taylor 'guarding' my sunbed (left) whilst Jonathan and I quite literally headed for the hills.
An easy drive, and less than an hour from the centre of Cape Town are the stunning winelands of Stellenbosch, Paarl and Franschhoek. You can easily do a day trip from the city, but we thought it would be nice to spend a bit of time here. A certain G Boycott has a house in Paarl, and has always been kind enough to press us to stay, but I think he and Jonathan have had quite enough of each other over the past week, so we booked ourselves into a hotel on the edge of the 'French Quarter'.
The whole area is amazing; stunning scenery, interesting history to retrace as Franschhoek is one of the oldest towns in South Africa; some of the best food you will find anywhere in the world. And of course, there is the wine, all at an absurdly cheap price, thanks to the exchange rate.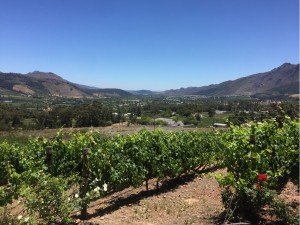 We ate at Foliage, one of the top restaurants in town last night (less than £50 for two including plenty of wine) and here's a tip – although it was fully booked, they do take walk-ins if you're prepared to sit outside on the covered veranda and eat, they just refuse to turn tables over. The staff were delightful. The chef, who bore a striking resemblance to Hashim Amla, came out and chatted to us about all they local foraging of vegetables they do for the menu.  I was slightly perturbed when he told me it was snake season – not that it was on the menu, but it does curtail where the staff look for food. I'm not sure I'll be very relaxed when I head off on my early morning stroll today – I think I'll make sure Jonathan goes first. He's well insured, after all….
January 5th 2016
The day didn't start well. Latest very nearly failed a fitness test, having picked up the tummy bug that seems to have struck most of the press, officials and guests here in the hotel. The thought of having him prone in the room all day was too much to bear so, as my mother used to say to me, I told him I was sure he would feel better once he was at work. Cunningly, this freed up the cricket widows to take to the road, Thelma and Louise style. Only there were three of us, Emma, Sarah (Selvey) and Christina (Etheridge).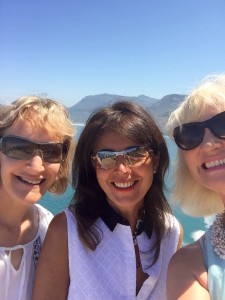 A number of the WAGS looked longingly in our direction, but they had to head to the baking ground to support their men while we decided it was more important to support the local Western Cape economy.
Driving in this part of South Africa is very easy. Firstly, they drive on the same side of the road as us, so there are no awkward moments at junctions or roundabouts. Second, if you head out into the countryside, the roads are really very simple and the signposts in English. Third, it's great to get out and about under your own steam. So, with Christina at the wheel, we struck off for the famous Chapman's Peak Drive.
This is a beautiful 9-kilometre stretch of coastal road (not dissimilar to the Amalfi run) There was a small toll to pay (£2) but after that, the road is intriguingly cut into the cliff rather like an unfinished tunnel. The road was closed on and off for nearly 10 years due to safety concerns but now with netting, it's only shut in severe weather.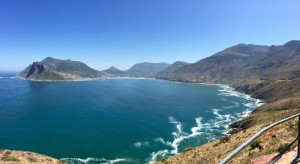 We stopped alongside an indecent number of lycra-clad cyclists for fantastic views of Hout Bay and Cape Point. It later transpired that this bit of road is used in a famous Tour de Cape Town or something similar.
After that we headed for Boulders Beach, home of the famous African penguin colony. We were a bit worried that without children in tow, it might seem a bit odd, but you're never too old to laugh at these creatures; so awkward on land, but so fantastically nimble in the water. Parking nearby is a bit of a challenge, and you do have to pay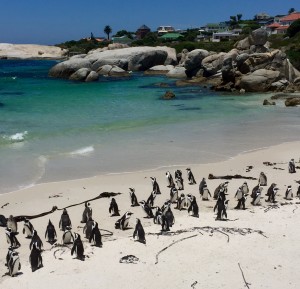 a couple of pounds to be allowed onto the beach, but you can get very close to them and they are very sweet. They don't smell nearly as bad as the seal colonies in NZ either!
Christina drove us back through the stunning countryside of Constantia, where we stopped at the beautiful Cellars-hohenort Hotel for lunch. We hadn't booked, but they managed to find us a table. It's worth making the trip for a bite to eat and then wander around the 9 acres of immaculately maintained grounds. It is like walking round the Chelsea Flower Show or Wisley Gardens, but without the crowds, and the perfect place for a lazy lunch in the sun.
January 3/4 2016
What an exciting day it was at the cricket yesterday. Jonathan came back from work emotionally wrung out; he had interviewed Janet and Becky Bairstow after Jonny got his first hundred, and admitted to tears streaming down his face as he spoke to them. Jonathan loved "Bluey" Bairstow, and he died almost 18 years to the day of his son scoring that century.
A less auspicious event happened later when we bumped into a young England cricketer going into his hotel room next door to ours. "Who was that?" I asked, only to learn I had failed to recognise the hero of the day, Ben Stokes.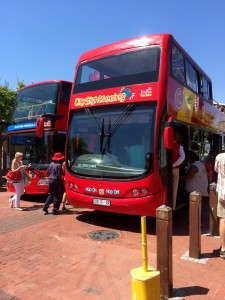 After the highs of yesterday, today was always going to be a bit of a comedown, so I decided to get out and take the bus because you can't beat a double-decker for getting out and seeing a city. Fellow cricket widow Sarah Selvey (wife of formidable Guardian writer, Mike) and I duly purchased our tickets for the princely sum of £7.80, and set off from the Waterfront. You can pick up these 'hop on, hop off' buses anywhere en route, but we fancied tying in a bit of shopping.
We headed for the back row of the top deck but despite plenty of factor 50 AND a hat, the fierce African sun drove us undercover – so don't be caught out and flayed alive!
Our trip wound up through some of the most desirable residential areas of Cape Town. Apparently, cost of housing here is based on two things; the view from your property and the amount of protection from the wind. Mind you, in temperatures of 30 degrees, I'd have thought a little wind was a good thing.
The bus disgorged lots of people at the stop for the Table Mountain cable car. You should book ahead; there was a queue of over 2 hours today. Alternatively, if you want to work off those Christmas over-indulgence pounds, it takes about two and a half hours to walk up.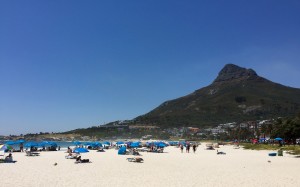 But we had been up before so we stayed on the bus as it made its way with some spectacular views of the city and the 12 Apostles, before hopping off in Camps Bay. This is a fantastically trendy beach resort (think Saint Tropez meets Bondi) where film stars and royalty mingle with us mere mortals. You can hire loungers and parasols on the lovely beach, but the lack of people swimming on such a hot day shows just how bitterly cold the water is.
We found ourselves a table in a rather splendid champagne bar, and put the world to rights over several glasses. An hour or three later, we picked up the bus again and passed the famous four Clifton beaches. Each of these have particular characteristics and attract different beachgoers; I'll be heading back to number 3, which is where the body builders and models hang out!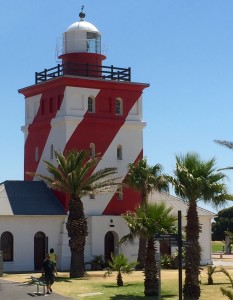 The great thing about touring a city is that you always learn something new. Who knows that the term "women and children first" was coined off the beaches of South Africa? In 1851, a British boat The Birkenhead hit a rock off the Cape Town beach. The lifeboats were lowered and the commander ordered the women and children should get on first. There were only 10 spaces for the soldiers, and as the boats set off, the ship sank taking the remaining 400 plus men down with it. To this day, the rule of saving the life of more vulnerable people first is known as the Birkenhead drill. The things you learn on a bus!
Just before we got back to the Waterfront, we passed the oldest lighthouse in South Africa at Green Point. It might not have helped The Birkenhead, but it still sends out signals to ships coming into Cape Town, and is a picture postcard building.
January 2nd 2016
Today has been a highly educational day. No, I haven't mastered the LBW rule ( life is just too short for some things) or persuaded Latest (Jonathan) to iron his own shirts. But, I have had the most amazing afternoon.
Last night was intended to be a quiet meal a deux, before I ensured the BBC's voice of cricket was tucked up nice and early ahead of the first day of the Test. Unfortunately, as we walked back into our hotel, the jovial and won't-take-no-for-an-answer voice of Stuart Broad's stepfather boomed across the bar that he was buying us a drink. It was the last night for Stuart's mum, Carol, who s flying home on Saturday night to ensure she is back at work on Monday. It seems amazing that she would only get half a day at the cricket (and, as it happened, not see Stuart play at all) before heading back to Rutland.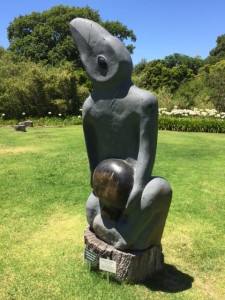 After waving the BBC team off to work with a cheery " have a nice day at the office, darlings" I hot footed it to the pool area. I'd established the optimum position yesterday – a bed just far enough away from the pool so as to be shielded from screaming children; close enough for a cooling dip and the option of sun and shade. You see, these things are important. Then I started to plan the week. Clearly sunning and shopping will feature along the way, but this is a wonderful part of the world and there is much for a cricket widow to see and do.
It would be foolhardy to dismiss stories about safety in South Africa, but, as a tall, blonde woman who spends a lot of time on her own, I feel very confident in planning my days – as long as it is not off the beaten track.
I had received many recommendations about the nearby Botanical Gardens at Kirstenbosch so, armed with Factor 50, a large hat and plenty of water, I set off. I should say that, unlike Latest, I'm not an avid gardener. I like to see a nicely mown lawn, and I'll tinker with a few potted plants on the terrace, but that's about it. However, the Botanical gardens may just have changed my life.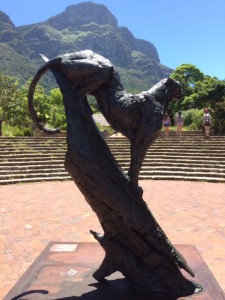 Beautifully maintained, with wide, easy walkways. Plenty of shade and an amazing variety of plants, sculptures and trees to admire, there is something for everyone. Families were in the shade enjoying picnics; there was a wedding celebration with the popping of champagne corks, and others of us just soaking up the atmosphere.
I headed initially for the sculpture exhibition. Following my failed "sculptures by the sea" walk in Oz several years ago ( it was a lovely walk but the exhibition had closed the day before) I was hoping today would be more fruitful. I wasn't disappointed. Wooden, stone and metal sculptures are set against the backdrop of Table Mountain. Some are for sale, others are pieces of South African culture. One of artists has his work featured in Prince Charles's Highgrove gardens.
I was particularly taken by the work done in the Garden  of Extinction, where some of the world's vulnerable plants are cultivated. Then there was the Garden of Weeds. Seriously. Frankly I thought they looked lovely, but apparently it was a demonstration of how weeds can spread across continents and cause damage.
I was entranced by the medicinal garden – now that was seriously interesting. Who knew that mother-in-law's tongue is a well known treatment for haemorrhoids? Or that a tea brewed from rough blue sage treated all manner of "women's ailments". But best of all, I'll be growing Igudu back in the Vale of Belvoir; its reknowned for increasing male "love charm". I reckon that after those car floor mats Jonathan gave me for Christmas, he could do with a bush load of the stuff!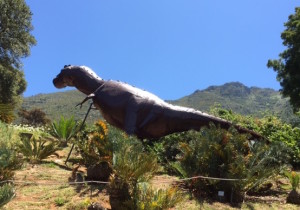 Just heading for home, I spotted a T Rex on the horizon. No, I hadn't been on the wine, but there, amongst the plants that are 260 million years old, were enormous sculptures of dinosaurs. It was just like a scene from Jurassic Park.
The hours had flown by; I had seriously underestimated how much I was going to enjoy the place, and my taxi was waiting. So, I'm hoping for a 4 day test match so I can bring Jonathan back and we can do the stunning tree canopy walk together. Meanwhile, its back to my wifely duties of ironing his shirt for the evening, and ensure there's a glass of Chardonnay waiting for him after a long hot day at the microphone. After all, I'm not out here to enjoy myself, remember.
January 1st 2016
Happy New Year from Cape Town. At the risk of alienating everyone from the word go, we are sitting in the gardens of one of my favourite hotels in the world – and it is 28 degrees without a cloud in the sky.
I flew in last night, just in time for New Years Eve. It seemed a fairly long old haul from when I left Leicestershire in a howling gale and torrential rain on Wednesday evening. Nearly 11 hours to Johannesburg , then there was a crisis involving no onwards connecting ticket (not Latest's fault for once)  I must have worked off the excess of turkey and chocolates running between the domestic and international terminals in an attempt to get myself a seat  (no mean feat dragging 3 suitcases in my wake) Jonathan sent me a text: "Cry if necessary." I didn't quite resort to that tactic, but it required a heartfelt plea to the one helpful member of staff I could find before I was on the plane to Cape Town.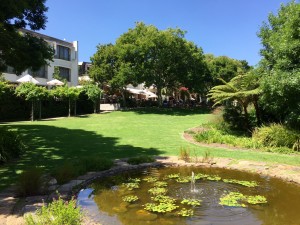 The Vineyard is a beautiful hotel away from the main Waterfront of the city. Nestling near the Botanic gardens, the rooms face either the majestic Table Mountain….or the car park. It was with a certain amount of trepidation that Latest checked in a day ahead of me. Being a woman of exacting standards, spending the New Year overlooking a row of white Toyota hire cars would have gone down about as well as the set of car mats he bought me for Christmas.
The hotel has some famous residents – giant tortoises who roam the grounds. Jonathan has christened one of them Geoffrey, after one of his colleagues! These considerably aged creatures are a huge hit with the guests, and will probably outlive us all.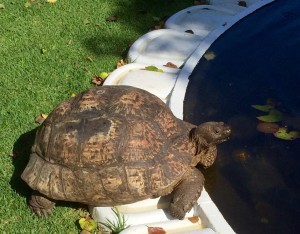 I'm not a big fan of New Years Eve – I always find it rather over rated, over priced, and I can be a bit maudlin around this time. But my spirits were lifted on arrival into the bar to see so many of our friends who also spend so many months of the year away from home on tour.
I was immediately pounced upon by the former ECB chairman, Giles Clark, and his lovely wife Judy. They were less than impressed that they'd had to drive to their nearest post office and pay £2 for the privilege of receiving our Christmas card. I was in charge of writing said cards, Latest was in charge of stamps. It appears that task was a little beyond him and I fear he just posted them all MINUS stamps. I suspect our circle of friends will have been severely diminished by this festive faux pas!
Morale is very high here in Cape Town. After a good win in Durban, the team can expect massive English support that always accompanies the Newlands New Year Test match. The players and families are staying here with us, but there were very low key celebrations last night. One player ( I won't name and shame him) was actually tucked up and asleep by 1030. No stamina these youngsters. Even Latest managed it past midnight.
It is, of course, a day of work for the players and press today; training at lunchtime and then a press conference. It's unlikely that I'll be playing much of a supporting role today – I feel it's my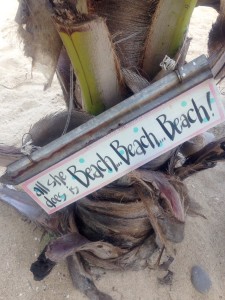 duty to ensure the sun beds are kept fully occupied on such a lovely day.
 England tour of West Indies 2015
May 3rd
Well, as Latest couldn't manage to rustle up a suitable wedding anniversary present (the lovely Ed Smith suggested diamonds while that naughty Swanny suggested something unprintable) at least Captain Cook, delivered with a determined century on the first day of the test. Amazing – and he's not even from Yorkshire!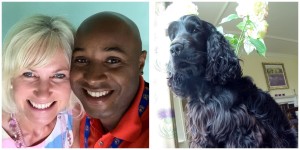 I was watching back at the hotel, alternating between the pool, my sun lounger and the TV at the swim up pool bar. My usual trick of listening to Latest on the radio is impossible here as the wireless signal just isn't reliable enough. In fact, even TMS was taken off air several times throughout the test. So as Cooky made it into the 90's, I retired to the air conditioned cool of our room in expectation of seeing him make his first century for 2 years. Disaster! Not for him, thank goodness, but, thanks to the vagaries of the TV signal out here, Chanel 927 or whatever it was I was watching, gave out. I had to rely on a dear friend Julia to relay the runs to me via text!!
So, 19 years after we honeymooned here, Latest took me out for dinner to celebrate my resilience! It was all going so well despite the lack of card or present (romantic table for two overlooking the Caribbean, champagne, slap up meal, you get the picture) when a large group of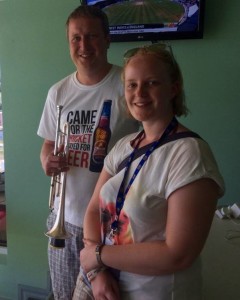 people stumbled into our restaurant. Led by the irascible Darren Gough, there was much laughter, singing and general outrageous behaviour. The 25 strong England supporters had flown in for the weekend and were clearly enjoying every minute of it. It may not have been quite the evening I'd anticipated, but Goughie is such a lovely man it was impossible not to have fun.
This morning I agreed to come to the cricket – mainly because I wanted to meet the Barbadian cricketer Tino Best. I thought he was such a lovely, smiley player when he represented the West Indies in England in 2012 that I named by much adored cocker spaniel after him. Although I still think my four-legged version is way more handsome, I'll admit to being bowled over by the original Tino! What a gorgeous man.
After a riveting morning watching cricket (not a phrase you'll find ME using very often!) I stayed to hear Latest doing a lunchtime session with the Barmy Army. This group of ardent cricket supporters may not be everyone's cup of tea, but you have to admire their genuine love of the game and fantastic fund raising efforts. Swanny chatted animatedly about the important role they play in lifting morale amongst the team towards the end of a long hot day. Billy Cooper, the professional musician who accompanies them on tour whenever work commitments permit, gave a rendition on his trumpet that shook the glass windows of the commentary box.
This Test is going to end early, and then Jonathan will be deciding whether to try and get an early flight home or enjoy a rum soaked lunch with Tony Cozier…..hmmmmm
April 30th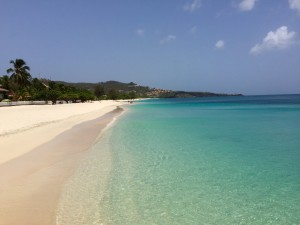 All good things must end, and it was somewhat reluctantly we left Grenada. This unspoilt, beautiful island, and the friendliness of it's people has been quite overwhelming. We are very lucky that we get to see such lovely parts of the world, but the measure of quite how much we like a place is whether we would come back on holiday. And Grenada definitely gets our vote.
So it was onwards to Barbados. I spent my (latest!) honeymoon here, been on holidays with children and girlfriends, Latest and I flew in for a long weekend to surprise Tony Cozier at his 70th birthday party. We've been to polo tournaments and the Holders festival, so as you can tell, I really love it. But I've also seen a lot of changes in the 20 or so years I've been visiting.
Hotels and restaurants along the West Coast have gone, to be replaced by more international and up-market establishments losing that delightful Caribbean feel and gaining a top of the range price tag to match. Large chunks of the beachfront have been sold off for private houses costing millions of pounds and hidden behind tight security gates.
This morning I made latest take and early constitutional. Bearing in mind #chairgate, I felt he needed some exercise. Rather like a truculent teenager, he padded along the Richard Haynes Boardwalk. This is a lovely 1 kilometre walkway on Rockley and Hastings beaches funded by the Government in an attempt to tackle heart disease and diabetes. Judging by the number of people using it this morning, I'd say it was money well spent, although there is a rather large KFC half way along. I wish I could say the walk had done him good, but halfway through the day there was another large crack, and the sunbed on which he was reclining gave way. I think drastic measures may be needed on our return home.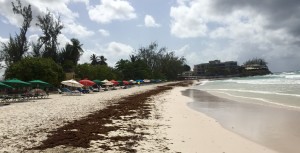 Last night we ate at lovely Tapas restaurant on the boardwalk. It was lit by flaming torches and looked magical with the waves crashing up to the restaurant. However, this morning we noticed MASSES of Sargassum seaweed on the beaches. This has become a real plague for Barbados in recent years. It floats in from Florida across the ocean, into the Caribbean and finally washes up on the beaches. The Government employing teams of people to sweep the beaches in the morning and in places the problem is so bad, hotels are building booms to stop it coming ashore. On the positive side, it can be used as fertiliser on gardens to keep snails at bay: every cloud and all that!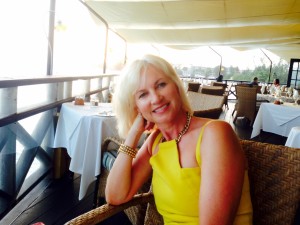 It's been lovely to see the players and their families enjoy their trip out here; they've returned to our hotel after training to splash in the pool with their children (we had a lovely chat with Cookie and Alice this evening, while the captain was wearing a fetching luminous rubber ring!) There's an upbeat atmosphere around the hotel, and hopefully the team have got a whiff of a series win in their nostrils.
Tonight we had pole position in Champers, one of our favourite restaurants to watch another West Indian sunset, before Jonathan fires up his recording equipment and returns to work tomorrow. I will be scouring the streets of Holetown to buy a present for our wedding anniversary on Friday, which I very much suspect Latest has completely forgotten about.
April 26th
Having spent the first three days of the Test Match investigating the beaches and restaurants of Grenada, I decided that it was time to explore the interior of this lovely island. For anyone who has visited St Lucia, this island is very similar, with a lot of lush tropical plants and rugged scenery. Our driver, Raoul, wound his way up the steep hillside before asking if we wanted a short walk, a medium hike or a 6 hour trek to the waterfalls. We opted for the 45 minute version, collected our walking sticks (much mirth, but thank goodness we had them!) and set off into the rainforest.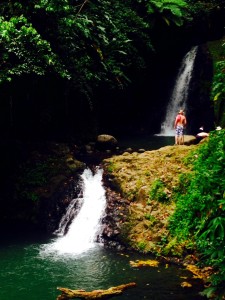 Now I would regard myself as fairly fit, as would the rest of the group, but the hike was surprisingly challenging – mainly because the path consists of narrow, steep steps which were muddy and slippery in places. There wasn't a lot of chat as we concentrated on where we were putting our feet – I was extremely glad I'd opted for trainers and wasn't trying to negotiate the terrain in my jewelled flip flops! Our efforts were rewarded when we appeared at one of the so-called Seven Sister's waterfalls.
A beautiful waterfall (not exactly Victoria Falls or Niagra, but lovely still the same!) tumbles into a shaded, clear pool, where you are able to paddle, swim, or simply enjoy the flowing water. We were a little cautious, as some years ago a Surrey cricketer – Umer Rashid and his brother – both drowned in a freak accident in the waterfalls. It's believed there was a surge of water following heavy rain and the brothers got into difficulties. It was a sobering thought at such an idyllic location.
Driving back, we passed the island's prison. As it was set up high on the edge of the mountain, we marvelled at the view the inmates must have from their "all inclusive" resort. However our guide quickly told us that the cells are, in fact, three floors BELOW the ground, so the 500 prisoners have no view at all.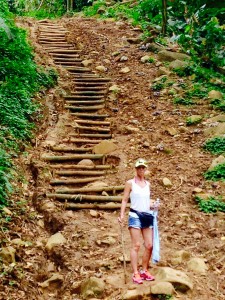 We also passed the island's university, and were surprised to learn that only medicine and veterinary sciences are taught there – all other students have to leave the island if they want to study any other courses.
Feeling far more familiar with the lovely Spice Island, I returned to my natural habitat (that's the beach then – ed) to await the arrival of Latest after another long hot day at the coalface. We have a couple of days off together when the Test ends, and I'm thinking trips to the chocolate factory or the rum distillery may be more up his street.
Finally, sad news from home is that BBC colleague Colin Bloomfield died this morning. Colin was a hugely popular sports presenter at Radio Derby. His last months were spent not feeling sorry for himself but raising awareness of, and money for, skin cancer. He had hoped to survive long enough to see our colleague Sally Pepper cross the finish line in today's London Marathon, raising thousands of pounds for the charity, which she managed to do. Well done, Sally.
April 23rd
Here we are, in Grenada, aka "The Spice Isle". Always lovely to go somewhere new isn't it? And this place hasn't disappointed so far. Our hotel is on Grand Anse beach – which is apparently, at two miles long, the longest beach in the Caribbean. It certainly felt that way when I walked the length of it this morning but it was utterly deserted; just me, a few abandoned sun beds and a somewhat mournful looking dog trotting along for company.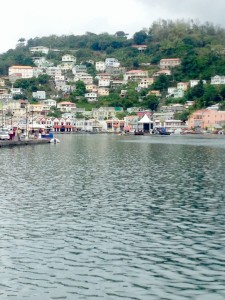 While the UK has been basking in glorious sunshine, Grenada has had plenty of rain and cloud since we arrived. So yesterday afternoon, my pal Yvonne and I abandoned the beach and headed for the quaint capital of St George's. The town consists of tiny narrow streets the width of a bicycle, and a narrow one way tunnel, which has pedestrians, cars and lorries all fighting for the same bit of road: it was quite a hair raising experience. There's a lovely old fort (up a very steep hill – you have been warned!) A national museum, a working port and a pretty little marina. We then headed for the iconic BB's Crabback for high tea Grenadian style. This consisted of aromatic bush tea (bundles of pungent herbs/spices) which is a very acquired taste, followed by bananas soaked in rum and flamed. In fact it was SO flamed that Yvonne and I nearly suffered third degree burns! Suffice to say, we felt particularly mellow by the time we headed back.
Another enjoyable aspect of exploring new places is discovering local eateries. We were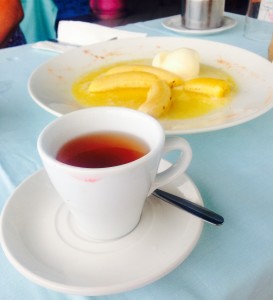 recommended the Beach House by one of the staff on reception, but as we headed down a rutted track in the dark, it wasn't looking promising. How wrong we were; a true gem awaited us with candles hanging from the overhead palm trees, and a feast of local seafood. We vowed not to tell anyone about the restaurant – but we couldn't resist bragging about it to everyone we spoke to! I bet there isn't a table to be had for the rest of the week.
Days one and two of the test match have been fairly long, drawn out affairs, with Latest returning to the hotel somewhat hot and bothered. This is where, in those vital first few minutes back in the room, there can be a nasty domestic incident. However, I'm on best behaviour, and I try and ensure there is a nicely chilled something (alcoholic!) waiting for him, and a cool shower running. Don't worry, I tell him on a daily basis how very lucky he is. Last night the poor old boy went straight from the ground to do a question and answer session with a group of supporters. I secured the services of Pirate (top taxi driver on the island and the only one with a tripadvisor recommendation!) and eventually whisked him off to the pretty Port Louis marina.
We had been very kindly invited to have dinner with Rod and Mandy Bransgrove on board their yacht. For those of you who don't know, Rod has worked tirelessly to revitalise Hampshire cricket and it's amazing new ground, where Jonathan thoroughly enjoyed commentating from an open air balcony on the test against India last summer.
We had one of those wonderful evenings. Generous hosts, lots of cricketing gossip and Sir Beefy holding court next to me. It would be fair to say Latest was just a little sluggish this morning, so we had an essential dip in the sea before I packed him off to work to get him going again. I intend to settle down on the beach with the commentary and hope Captain Cook gets a century to mark St George's Day. Wouldn't that be just perfect?
April 20th
So we waved farewell to the England team from our hotel as they flew off early to Grenada to meet up with their families. And so, it was a day of rest for us ahead of our flight to Grenada.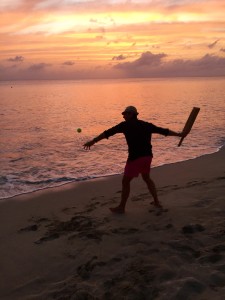 Traditionally, Test matches always had a rest day after the third day: I have fond, if vague memories of rest days spent at Tony Cozier's beach house on Consett Bay in Barbados. Players, umpires and journalists would wind our away across the sugar cane fields to the wild east coast. Scant directions such as: "turn left at the third tree and second right at the rum shack" meant it could be hours before we found ourselves at Tony and Gillian's magical beach house. Once there, the music was rocking, the rum punch was flowing and everyone was dancing, swimming or playing cricket. Funnily enough we never seemed to have any problem getting home.
I also distinctly remember one of the last rest days on English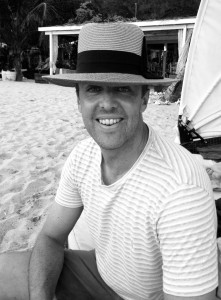 soil. It was the Trent Bridge test match against Australia and Latest and I held invited everyone to a BBQ at our cottage in Leicestershire. My dad was i/c BBQ and held court in his element for about 6 hours. It was a roasting hot day and his glass was constantly refreshed by grateful guests. As the sun disappeared over the yardarm, dad succumbed to the combination of heat and alcohol and I think it was several weeks before my mother spoke to him again!
Taking part in the fiercely competitive game of garden cricket was one very little blond-haired boy and his sister: Stuart and Gemma Broad, who grew up in a nearby village.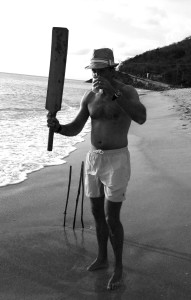 Following something of a tradition, a group of us descended on Love Beach on the Saturday following the Antigua test. It was a gloriously steady day involving children, a belated celebration of Jimmy's record taking wickets, Agnew bowling at Vaughan; a sharp catch by scorer Andrew Sansom and a general letting down of hair (if they had any). We watched the sun set to the strains of classical music after which the calypso tunes were turned up and we shimmied round the bar with the other guests. Thanks goodness there are no videos of THAT one!
The next day everyone was back on parade early to fly to Grenada,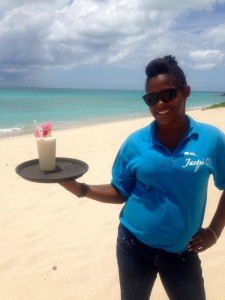 and straight to the ground to check commentary positions etc (Well, I wasn't of course. I was scoping the maximum sun/shade position on the beach!)
It's always a thrill to travel somewhere new, and Latest hasn't been to Grenada before. If the welcome we received at both the airport and the hotel are anything to go by, it's going to be a lovely week on the so called Spice Island. I can't wait to get out and investigate.
 April 17th
Life on tour isn't just about the beach (for me) and the commentating (for Latest). In a place like the West Indies thousands of loyal supporters make their way out to combine their passion for the game with a damned fine holiday. And so it is that Jonathan and his colleagues find themselves talking cricket way into the evening.
During this test match Latest has done a panel with the indomitable Tony Cozier and the irrepressible Graeme Swann. Tony of course has been covering West Indies cricket for around half a century and had the Gullivers audience entranced with his tales. Graeme, of course, is relatively fresh from the dressing room and offers fascinating "behind the scenes" insight into the kinds of decision making and conversations that go on at the end of play.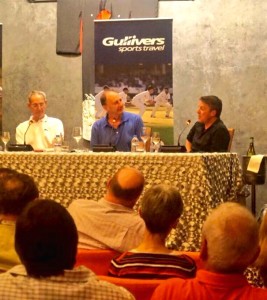 Jonathan and I have also spent a couple of evenings with Barmy Army supporters; a great fun crowd who are adored by the team for their vocal enthusiasm and support. Last night, after a great session discussing diverse topics such as "Can KP play for England again?" to: "What's your favourite memory of Richie Benaud?" we strolled down Dickenson Bay beach to a local bar. The barefoot stroll bought back so many memories as we used to stay there with the team some 20 years ago when the children were little and learning to swim in the beautifully warm water off that gently sloping pristine beach. I'm sure I've also got pictures of Latest buried in sand supping on a rum punch! The beachfront has changed quite dramatically after a couple of hurricanes have ripped through there over the years, and there is now an enormous Dubai-esque Sandals stretching for what seems like miles.
Anyway, last night we were back at an old favourite beach bar for a very special concert. Jonathan's old adversaries Curtly Ambrose and Richie Richardson play in a band, and the place was rocking by the time we rolled up.
They played to an enthusiastic crowd – maybe more enthusiastic for the rum than the Music –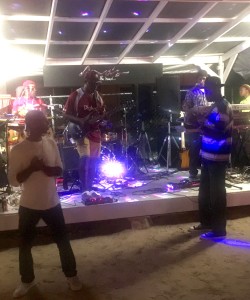 but the lads do SOCA with the same gusto as they played cricket. It was a top evening until the heavens opened (yes, it sometimes rains even in paradise!) The covers came on in a flash, and it was time for home.
What a tremendous finish to the game; well, as good as it could be without a win, so thrilling for Jimmy to finally get that record breaking wicket (his wife has been on tenterhooks all week!). Saturday will be a day of rest for the Test Match Special team, so we are planning a long, slow lunch on the beach. It will involve a certain amount of alcoholic sustenance, some music, probably a fiercely competitive game of beach cricket, and, no doubt, a good dose of raucous behaviour. Then it's onwards to Grenada, which I'm particularly looking forward to as I haven't been there before, so any advice or tips would be gratefully received.
April 14th
I'm often asked how I fill my days on tour; do I get lonely? Do I mind being on my own when Latest is working long hours? Of course, as you can imagine, the answer is no.
Our children are grown up so we aren't tied to school holidays or ensuring that small people are properly supervised in swimming pools. Of course, I do have personal issues with ensuring Latest gets dressed correctly in the morning (check out the shoes and socks debacle) but that aside, the day is my own.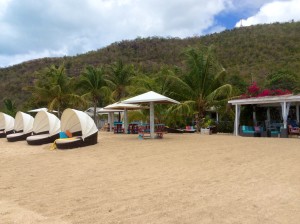 Antigua Is renowned for it's beaches; apparently there's one for every day of the year. So it seems rather a crime to just stay by our hotel pool. Over breakfast, naughty Graeme Swann suggested I might rather enjoy Jackie O's on Love Beach. With a rather shifty look at Latest, Graeme implied the credit card might take a bit of a hammering. Apparently they bring champagne to the sun bed.
Once again, I waved the trusty TMS crew off to work, and hopped onto the shuttle to the beach. Actually, to be strictly accurate, I sat on our balcony watching it pour down for about an hour, and THEN I set off for the beach.
Jackie O's did not disappoint. There was something of an Ibiza vibe about the place; pristine sand, palm trees, and those huge day beds with shades that look rather like giant pram hoods dotted around the beach. I settled myself in, asked for the wifi code (so i could set my iPad up and keep one ear on proceedings) and I'm not sure I moved for the next 5 hours.
But since Jimmy didn't take his record breaking wickets today, the big decision is whether to go to the cricket tomorrow, or discover another beach. After all, there's only 364 to go….
April 13th
On the Eve of the Antiguan test, we were kindly invited to a BBQ by James Anderson's agent. This test is a big one for him; firstly, it's his 100th test match and secondly, if he takes 4 wickets, he overtakes Sir Ian as our leading wicket taker. So Jimmy, Tony Cozier, Latest and I clambered into the back of a converted land rover (when I say converted, I mean it had no sides) and rattled off to Jolly Harbour. This is an exclusive development built around a marina, where lots of Brits either own, or have rented, property for the test match. Michael Vaughan and Swanny were already in residence watching the end of the Masters, along with Radio One presenter Greg James, who is a huge cricket fan and is here on holiday. Danielle Anderson and I nattered away about the important things like what should she wear to the cricket and which were the nicest beaches in Antigua before Jimmy's parents arrived, as they'd flown out specifically to see their son play in his landmark game. It was a delightful evening but obviously it wasn't a late night as everyone was on duty the next day. The BBC contingent decided to have a nightcap in the bar and met a lovely young couple who had "run away" to Antigua to get married. I didn't like to ask if they were avoiding a delicate family situation, or whether they just couldn't face the cost of a big wedding. Either way, they haven't told anyone they are getting married while they are out here, so I won't reveal their names, but we are all invited to their wedding at the hotel on Saturday afternoon.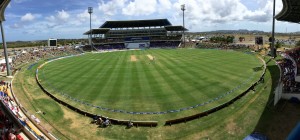 It was an early alarm call this morning as Latest had to be away before 8 am. I waved him off like a dutiful wife. No, I didn't dress him. No, that hat isn't mine. No,he shouldn't wear socks with his boat shoes, but I do have very little material to work with! Then I headed off to the supermarket for essential supplies. At home, I find supermarkets such a chore but, rather like hunting for a launderette abroad, I enjoy snooping round unfamiliar shops looking at unusual fruit and veg etc. I felt like an old wino clanking back to our hotel and stocking our fridge. I wasn't able to use my debit card as I didn't realise you had to have photo ID to support your card: good job I'd taken Latest's wallet with me, so I handed over his cash with a flourish!
When I heard that we were batting, I decided not to trek to the cricket. The new ground is not a patch on the original cricket ground in my humble opinion. The Recreation Ground is in the centre of St John's, bordered on one side by a prison. The whole place used to shake with the sound of Chicky's disco, and the crowd descended into a giant party. The new ground is out in the middle of nowhere and lacks that Caribbean feeling.
However the new ground pays tribute to the West Indian cricket team who were so dominating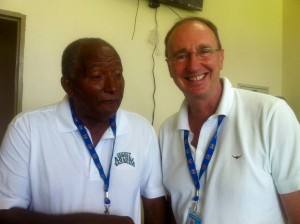 in the 80's. It is named after the inimitable Sir Viv Richards (whose father was a warder in that prison) Viv is a giant bear of a man and looks as intimidating now as when he was in his pomp – until he breaks outs laughing and then his whole face changes. One end of the new stadium is named after Andy Roberts. He was Jonathan's mentor in his early days at Leicestershire and the former teammates have huge affection for each other. The first thing Latest does when we arrive here is to ring Andy and catch up with him. The unlikely alliance formed all those years ago between the lanky youngster and the ferocious West Indian fast bowler is as strong today as it's ever been.
April 12th
After a very entertaining flight – what happens at 39000 feet stays at 39000 feet – we landed in Antigua. And so we had our first taste of the pace of life in the West Indies, with a queue for immigration literally out of the door of the airport. Our passport officer was a great girl, with a dirty laugh to die for. Picking up immediately on Jonathan's voice ("you're not nearly as handsome as you sound on the radio") she then noticed the large gap between his two top front teeth. "You know what that means, my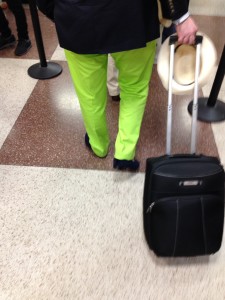 dear?" She asked me." Oh yes, indeed", came my reply." Well, I had better hurry you through customs so you can go and enjoy him!" She said. And with a quick flash of her pen, we were whisked though almost as quickly as that VIP, Sir Ian Botham. And so it is with the Antiguans; they can appear a little aloof until you get them laughing, and then they are the greatest fun.
Talking of laughing; just one step ahead of us in the queue were THE most appalling pair of trousers I have ever seen. And goodness knows, I've seen plenty of dreadful trews worn by Blowers. I couldn't resist a sneaky snap. What it doesn't show you are the blue velvet shoes. Still, at least he wasn't wearing an MCC hat or tie.
Just say the words "West Indies" and you conjure up images of palm fringed white beaches, cocktails, steel bands etc. What you don't think about is the poverty that lies behind the five star accommodation. Tourism keeps these islands going and for the next few weeks, it's the English cricket fans that will be pouring hundreds of thousands of pounds into the West Indian economy.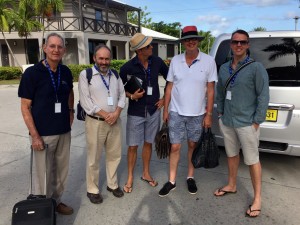 We are currently staying in the same hotel as the team, which is rather nice at the beginning of the tour when spirits are high and the air is full of optimism. On the downside, it's not great doing my morning workout in the gym alongside super fit athletes! My reasoning with heading to the gym when I'm on holiday is that it enables me to have an extra cocktail or three in the evening (like my thinking?) This morning I can confirm that coach, captain and star batsmen were all working hard as I managed a little trot on the running machine and did a few sit-ups. The lovely Cookie and I chatted about politics (yes, really) and the forthcoming General Election, and Michael Vaughan and I discussed dinner plans. You see, it's almost worth getting into Lycra for!
Latest had to head off to the ground for the usual round of press conferences whilst my biggest decision of the day was which sun bed to choose. Well, it's important to get day long sun but have a shade option. I settled myself down with Clare Balding's new book (she'd signed my copy congratulating me on getting "the old man converted to riding") and peace ensued until the middle of the afternoon. Sunday is always a very quiet day in the Caribbean; all the locals go to church dressed in their Sunday best. I've often peeked inside their beautiful whitewashed churches, mesmerised by the singing and handclapping. I wish I were brave enough to actually attend a service.
Sunday night in Antigua is compulsory party night at the infamous Shirley Heights. This is a craggy point at the top of a hill overlooking English Harbour where local bands play, much rum punch is consumed, and tourists and Antiguans dance the night away. Sadly, this year we won't be going as Latest is on duty at 8am tomorrow morning. And, of course, he's here to work – it's a hard life being a cricket commentator you know!
Antigua: April 11th
Somewhat surprisingly, I found myself, on a Friday afternoon, on a fast train to London to catch the Gatwick Express. And more importantly, a plane to take me to the Caribbean. I admit I'm not a huge fan of public transport, but Latest had persuaded me that we try the train as a preferred option to sitting in the car park that is the M25 ahead of the weekend. Well, let's face it, it's pretty bad any day, isn't it?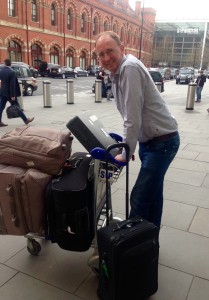 Latest had been home for barely a week from his World Cup exploits Down Under. He landed on Wednesday, had to get straight into the swing of my son Tom's 21st. A large party for 80 with a Motown theme saw Jonathan dressed up with a jumbo Afro and the most tasteless satin shirt imaginable. He managed to boogie all night before jet lag knocked him out. There was no peace for the wicked as first Paul Downton lost his job and then, just as he was repacking for the Caribbean, came the news that dear Richie Benaud had died.
Jonathan had been extremely busy on Friday morning, appearing on radio and TV networks all over the world. He had known that Richie was in the last stages of cancer for a few days, so obits had been prepared. But, even when expected, the loss of such a top man is still very sad, and he shed lots of tears. We reflected how lucky he was to have had two amazing mentors at the start of his broadcast career. The irrepressible Brian Johnston on radio ("oh Aggers, do stop it") and Richie for his television work before the BBC lost the cricket rights. Many of us grew up with Richie's voice signalling the start of summer – my own father was a farmer and had the cricket on constantly. There was just my sister Victoria and me, and we were condemned to hours and hours of the game – much like married life! The understated, peerless Richie remained someone Latest was very much in awe of.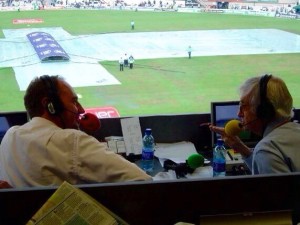 There are many good points to living in the wilds of Leicestershire but having to travel to Gatwick is not one of them. It can mean a 3am start, and that's why we decided to book into a hotel at the airport ready for our Caribbean adventure the following day. It's also very rare for Latest and I to travel together. Not in the same manner as royalty where we can't travel together but because I usually come out to cheer the troops halfway through the tour. So it's a real treat to travel together and had something of a holiday air about it.
Reluctant though I am to admit he got it right, the train journey was painless (clearly, I wasn't prepared to lug heavy suitcases between Kings Cross and St Pancras, that's what a husband does) and we were safely delivered to the door of our Gatwick hotel. A most uncomfortable night in a lumpy bed meant a couple of bucks fizz's were required at the airport, where we met up with the fabulous @hackneyhaz and her other half Ian. In fact, we were having such a good time there was a nasty moment when we noticed the departure board said " gate closed". Why is it you're always at the furthest departure gate when running late? There was very nearly a domestic – but fortunately Latest couldn't manage more than a few mutterings as he hasn't done any exercise since he stopped playing, so hotfooting it to gate 38 took his breath away. We were just settling into our seats when I was surprised from behind by a big kiss. It was Sir I T Botham. And being on the same flight as him can mean only one thing; there will be mischief….
The World Cup 2015: Australia and New Zealand
March 16th: Final Day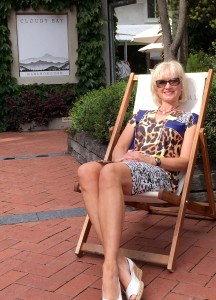 Today is my last day on the World Cup 2015 Tour. It's been hectic but fun; new friends have been made and old ones revisited. I've enjoyed new experiences, and eaten and drunk too much good food and wine. But you know what it's like at the end of a holiday; when you're going home, you just want to BE at home, this minute, without the inconvenience of travelling.
Last night was a riot in the hotel bar. Ireland may be out of the World Cup but, my word, the other countries could learn a thing or two from them. For sheer passion and enjoyment of the game and representing their country, they (and their supporters) would be hard to beat. There was a rare old party going on including much alcohol, Irish music, jigging and rubbish being talked but everything stopped to give the team a rapturous round of applause when they arrived back at the hotel having given their best.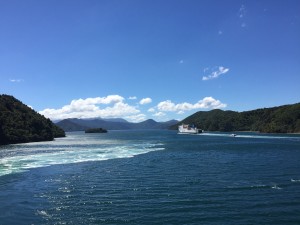 Today has been spent packing – me for home and Latest for Sydney and the quarter finals. I'm looking forward to being back; youngest son Tom has his 21st birthday party next week and the final preparations are needed. Also, I'm really missing my spoilt cocker spaniel Tino, although I know he's being beautifully cared for by our good friend Carolyn. He soon licked her into shape, and on day one he convinced her he was allowed to sleep on the bed! There's also the small matter of my day job to return to.
I have been thinking about the things I've learnt on this trip – and here's my top 10:
1) The beautiful Marlborough Sounds make up 20% of NZ coastline. Probably one of the most picturesque places in the world.
2) Sperm whales dive underwater for 45 minutes at a time. They are also as big as an Americas Cup sailing boat.
3) I'm actually braver than I think and really surprised myself by enjoying the helicopter trip in Kaikoura.
4) It's virtually impossible to buy cloudy bay Pinot Gris away from New Zealand. Lucky there's a couple of bottles stashed in my suitcase.
5) There are a number of varying definitions of growlers and grinders.
6) You should always sniff the contents of a mini bar before drinking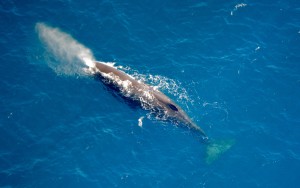 7) Sir Peter Blake was a devilishly handsome New Zealand adventurer who met a tragic end at the hands of pirates.
8) If possible, stay in the beach resort of Manly rather than in the city centre of Sydney.
9) Where has kangaroo gone from Australian menus?.
10) It's brilliant being on tour – but going home is even better. Particularly when there's a West Indies test series just around the corner.
March 15th: World Cup Day 14
Yesterday I said goodbye to Sydney. We had a last, lingering breakfast on the beach at Manly. Latest did a final round of radio reporting, bidding farewell to the England team as they made their way home from the World Cup, then it was another flight (8th for me, 14th for Jonathan) and back to Adelaide. For those of you who doubt my journalistic integrity when it comes to reporting the state of Latest's attire, I managed to take a sneaky shot of him in transit. I rest my case.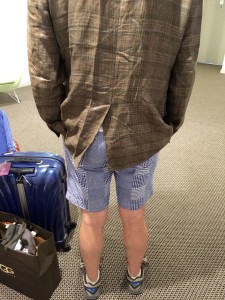 The odd thing about England being knocked out of the competition is that a lot of pressure eases from Jonathan's shoulders. Of course, he's still reporting on, and commentating on the final group matches, then the quarters, semis and the final, but he's now a COMPLETELY neutral observer. And now where was that better demonstrated when we arrived at our hotel which was awash with both the Pakastani and Irish teams and their supporters, and with the delightful WAGS of the Irish team holding court with copious glasses of bubbles. They are my kind of girls.
Both teams were very relaxed, mixing easily and posing for photos with supporters – no air of special treatment or tension around them at all. There was a lovely moment when a young Pakistani fan wandered into the restaurant and stopped, open mouthed, at the sight of all his heroes in such close proximity. Of course, such is the way in this modern day, he soon recovered sufficiently to whip his mobile out and started taking selfies,
But that Latest has even made it to the microphone at all this morning is something of a miracle. After a long day, he helped himself to one of those over-priced small bottles of wine that you find in a minibar. Knocking back the first mouthful he discovered, to his horror, that some scurrilous former guest had drunk the wine and substituted it with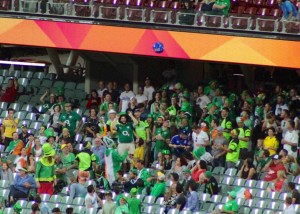 water to avoid payment. That water had been there sometime and smelt (and obviously tasted) utterly putrid. There was much panic in our room as Jonathan flushed his mouth out with toothpaste, mouthwash – I think he was tempted to try my perfume. There was also a fair bit of pandemonium with the hotel management when they realised they may have poisoned the BBC's cricket correspondent! I suggested a large brandy may prove medicinal. As I sit here (wearing a green dress of course) tapping away and watching the Ireland game, I can report he must have a constitution of steel. Young Henry, on the other hand, is rather quiet today – he claims it's a viral infection; I diagnose an alcohol infection!
Whatever the result of this game, you can bet the St Patrick's Day celebrations will start early. It promises to be quite some party.
 March 13th: World Cup Day 13
We were rudely awoken this morning by that most dreaded of hotel sounds; the middle of the night fire alarm. Ok, I am exaggerating; it was actually early this morning rather than the middle of the night, but we were sound asleep. You know how it goes- you hear the alarm, then expect an announcement or call to say it's a mistake. Only that didn't come so, stumbling around, we dressed and staggered down the concrete stairwell of the fire exit. Once we were up and out ( and ascertained the alarm had actually been set off by the restaurant next door) we decided we might as well head for our breakfast walk. Now, in his panic, it would be fair to say that Latest pulled on a somewhat eclectic mixture of clothes. In fact, the only things that WERE matching were those dratted trainers. So when we bumped into former fast bowler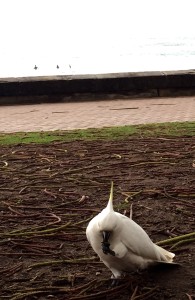 Brett Lee and his immaculately attired wife, in what has become our usual breakfast haunt, I suddenly felt the need to disown him. Brett lives in an exclusive nearby suburb and walks his dogs along the seafront. Shortly after that embarrassing meeting, we heard a cheery "morning Aggers" from one of his local twitter followers, followed almost immediately by coming face to face with Michael Bevan. The moral of this story is that it's important to actually check in the mirror before you respond to a fire alarm, as the risk of being burned alive is considerably preferable to the humiliation of meeting people you know when looking like a scarecrow. Curiously a flock of cockatoos was patrolling the ground as we finished, with their eyes on some sort of nut that had fallen from the Norfolk Pines. Someone will no doubt tell me what that is all about.
And so, with a heavy heart, Latest set off for the last match of England's World Cup campaign. There were showers forecast for the day ahead, and that's never a great prospect for a commentator, as it means he has very little action to talk about, but still hours of airtime to fill.
I decided I'd head over to the city and just stroll around doing a bit of sightseeing. I spent a couple of hours quietly strolling down from the Victoria and Albert statues down George Street to Circular Quay. I love the Queen Victoria Building (known locally as the QVB) which is a beautifully designed, high ceilinged arcade with a good range of shops and delightful tea palace on the third floor. Yes, of course I stopped for a cuppa.
Now, on the positive side, as Latest said yesterday, my dislike of the huge liners means he doesn't have to take me on a Round the World cruise for my significant birthday,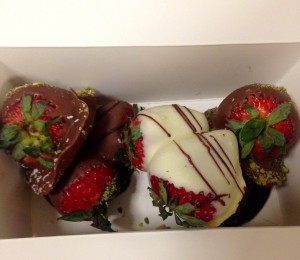 however I did start to blow that money on a little shopping splurge today. Not for myself, you understand, but I have got to take presents home for the friend looking after my precious cocker spaniel Tino and my daughter had put an order in for a pair of Ugg boots. When in Australia, that just has to be done (note: they are considerably cheaper over here).
Latest isn't completely out of luck though – I did pop into David Jones (a bit like Harrods) and bought him a little treat from the food hall. He does deserve something for having to watch the England games, doesn't he?
March 12: World Cup Day 12
The trouble with finding a rather nice breakfast cafe is that the early morning constitutional along the beach has rather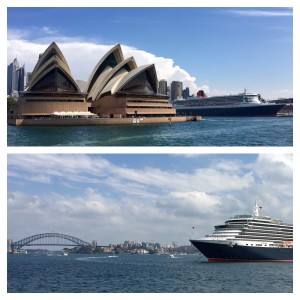 died a death; instead, we just head straight to the poached eggs and bacon. Ah well, one of us is on holiday. And while Latest headed off for the office on the Manly Ferry (the best money you will spend in Sydney) I took up pole position on the beach. I was nicely settled into my book, under the shade of an umbrella  (I'm reading the latest Graham Norton memoir which has made me snort out loud on several occasions) when I was disturbed by the frantic whistles of the lifeguard. There was suddenly a flurry of activity around me as the whistles grew more persistent and people began to run out of the sea. I thought at the very least there was a Great White Shark attack due any moment. It turned out that the eagle eyed lifeguards who patrol all the main beaches very diligently, had noticed a change in the currents, and there were two very strong "rips" just off the beach. Signs were moved, there were tannoy announcements telling swimmers not to enter the water, and suddenly the famous Manly surf was deserted. Clearly you don't mess with these currents any more than you mess with the sharks!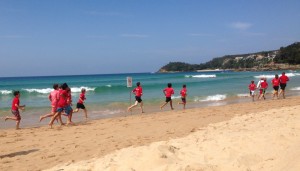 It was back to Graham Norton. A little later I was aware of groups of children pounding up and down the beach past my sunbed. They were around 11 years old, dressed identically in red "rashies" – the Australian swimwear tops that protect you from the sun – and clearly on some sort of military bootcamp. I discovered they were local schoolchildren who are routinely taught life saving and water safety skills as part of the school curriculum. They run to increase their fitness, then do a lengthy swim across the bay, before learning about the changing tides and currents. Today was a good day to be studying such things and I felt exhausted just watching them, but what a practical life skill to learn.
Dinner this evening was on Circular Quay – this is the main harbour area in Sydney, sandwiched between the Opera House and the Bridge. Meeting up with Jim Maxwell – the Australian equivalent of Jonathan – and his lovely new bride Jen, I had demanded a restaurant with a view. And we certainly got that! I was utterly appalled to find the view from my table obscured by a hideous cruise liner (!) I was virtually nose to nose with the couple on their balcony. And more importantly, it was blocking my view of the beautiful Opera House. My fellow dining guests seemed to enjoy the close of up of the Queen Mary 2;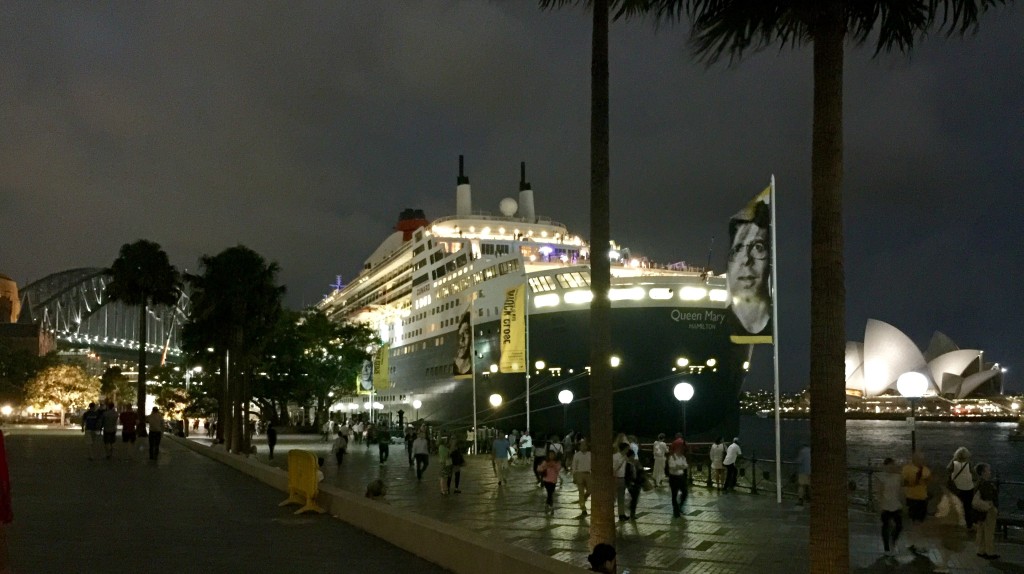 frankly I can't imagine anything worse than being on a floating monstrosity which just dwarfed the iconic city landmarks. Cruise ships have their place, but to me they're blots on the landscapes when they come into a harbour like Sydney. Fortunately, the liner chugged out halfway though our meal, complete with a spectacular firework display, and we raised (another) glass to all who were sailing on her. Give me the Manly ferry any day!
March 11: World Cup Day 11
After all the trials and tribulations of the past couple of days, we considered that the best form of therapy was the beach. An early morning stroll along the glorious, Norfolk Pine-fringed surfing beach at Manly kicked off proceedings. There's a manmade walkway the whole length of the beach – about half a mile – which bustles with mums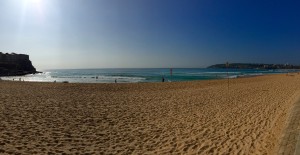 and push chairs; dog walkers; keep fit fanatics and then us, just strolling along enjoying the scenery and the warmth. There are any number of small cafes en route so we just plumped for one we liked the name of (Jellyfish) and had coffee with a fresh fruit platter and people watched for an hour.
 I had to send Jonathan back to our apartment to change after our walk. You will probably have realised by now that he is not exactly a fashion icon, and since my arrival out here I had noticed how very attached he had become to a rather tatty pair of trainers.  Now trainers are most acceptable when in the gym, or going for a brisk walk along the sea front, but he's been wearing them out to dinner; with shorts and socks. And to work.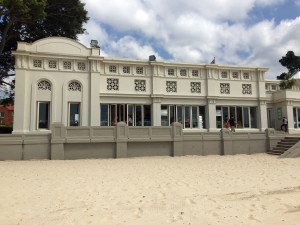 Today I took the bull by the horns and told him enough was enough. We are in the land of casual clothing and surf gear, and I managed to persuade him out of said trainers. He wanted sandals, complaining that thongs hurt his feet, so we compromised on some leather flip flops and then, like a sulky teenager, we set off  to Balmoral for the day. Not the draughty old Scottish castle; instead, a small sheltered cove on the Northern shore of Sydney. We discovered this gem a few years ago. It is beautifully sandy, has lots of shade, is accessible by boat or public transport and has a wonderful cafe and restaurant for breakfast, lunch and/or dinner. The beach also has the good fortune to be relatively shallow and therefore pretty much free from shark attacks in recent years. Now without wishing to sound neurotic, you dismiss sharks at your peril in this part of the world. Apparently the cleaner the waters are, the stronger the likelihood of a shark appearing. Obviously, the more recent high profile shark attacks have taken place in South and Western Australia, but I don't like to take a chance, so gently floating in shallow warm water is just fine for me! There is a netted area where you can swim, but I like to stay where I can put one foot on the ground and run out of the water if needs be!
Latest wasn't required to go to the England press conference, so he opted for the leisurely lunch option at the Bathers Pavilion. I may have mentioned before that I have an allergy to fish and so the poor deprived man never gets fish or seafood cooked for him at home. And he hardly does more than boil an egg for himself. So, when it come to places like Australia, he really indulges himself and today was no exception as he wolfed down crispy skinned barramundi, on the recommendation of one of his Twitter followers. He refused to join me for a post luncheon dip – saying he had important things to think about with his eyes closed. And before you all hurl abuse at him , don't worry, I remind him daily just how lucky he is!
March 10th: World Cup Day 10
It would be fair to say there have been better moods over the breakfast table. And for once, Latest wasn't even in trouble. It was the morning after the night before, when England had lost and therefore were out of the World Cup. Jonathan often stays in the same hotel as the team; that way he's on hand for press conferences, team titbits and generally gets to know the team and their support staff. When England are winning. it's great to feel the buzz and high spirits amongst the team and their supporters . But when they lose….well, you can imagine. Latest chewed the cud with chairman of selectors (and former schoolmate and Leicestershire colleague) James Whitaker, while I gave the lovely Stuart Broad a big hug.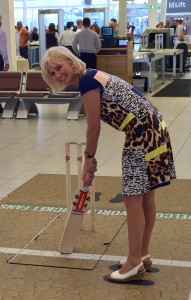 Actually, he's so tall I basically just managed to get my arms round his waist, but I think he appreciated the sentiment. There was also an embarrassing quarter of an hour when Jonathan had to broadcast on the Australian radio network, with the presenter clearly urging Jonathan to rip the entire team apart within their earshot. #awkward. He quickly scuttled off to the breakfast room
And then we were off again – to possibly the most iconic city in the world; Sydney. The signs of the World Cup were everywhere… and I practised my batting stance at the airport. Good job Sir Geoffrey wasn't there to lecture me (stick o' rhubarb/mother's pinny/corridor of uncertainty etc etc) but I still think I have an outside chance of selection for the game against Afghanistan on Friday.
And so we drove into Sydney over that most famous of bridges – the Sydney Harbour. If you do come to Sydney, you MUST book to climb the bridge. Not only is it exhilarating, it's a relatively easy climb. You get the best views of the city, and you learn so much about the bridge. Has to be done, as I told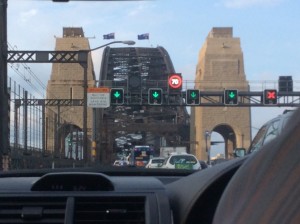 young producer Henry en route to our accommodation. Mind you, Latest isn't very good in lifts, so it definitely isn't for him…
It's a feature of the World Cup that you move from city to city, often only spending a night in one place. It's really not worth unpacking for a short time, so I have lived out of a suitcase for the past 10 days and that really goes against the grain for me. For a change we are not staying in a hotel in the city – we have opted for an apartment at Manly. I adore travelling to Manly on the famous ferry and have spent many a happy hour on the pine fringed beach here. So it's really lovely to a) have the freedom of an apartment and b) to be in such a vibrant place. And, as I press "send" on this, I'm sipping a lychee cocktail overlooking the fishing boats in Manly harbour. You know what? Perhaps Latest really does have the best job in the world.
March 9th: World Cup Day 9
We finally arrived in Adelaide, following a long, tiresome travelling day. We left Auckland at 0930 and finally chugged in, via Sydney, at 8pm. We fully expected central Adelaide to be shut; it was a Sunday night, after all. What we hadn't anticipated was that it is a Public Holiday, thanks to the running of horse racing's Adelaide Cup – it's like the Melbourne Cup, or 
Royal Ascot. That explained why restaurants and bar were still open on a Sunday evening, but not why there were hundreds and hundreds of people thronging the streets. It transpired that Adelaide is a hotbed of culture in what they call Mad March with the Festival of arts, a world music and dance festival in Botanic Park, and a fringe festival. How lovely to see this friendly and attractive city really buzzing.
Monday dawned and even Latest was rather tense at the prospect of the all important England/ Bangladesh game. We had breakfast with old pal Godfrey up in the North Adelaide suburbs. There are so many lovely outdoor cafés to enjoy in this city that it seems criminal to just sit in a predictable hotel breakfast buffet.
After waving the team and then Jonathan off to work, I was horrified to notice there was a huge Surrender flag on the outside of the team hotel – I do hope it's something to do with the music festival and not an omen for the cricket. With that, I retreated to my favoured habitat; the shops. When last here during the Ashes tour, it was pre-Christmas and there was a huge number of inflatable Santas and snowmen adorning Rundle Mall. Today, I was reminded Easter is just three weeks away as the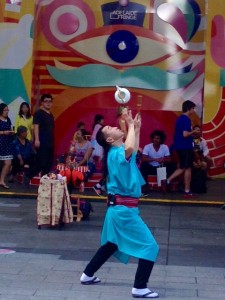 shops were full of some tempting Easter decorations (How much room do I have in those suitcases?) There is an amazing chain of chocolate shops called Haigh's in Australia – think of an up market Hotel Chocolat – and I was drawn like a magpie to the brightly packaged Easter eggs. Even I'm not so stupid as to think I could take those home for the family, so I made do with taste tasting a few… If I was a good wife, I'd have bought one for Latest. But I'm not, so I didn't.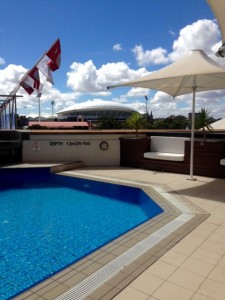 An enjoyable hour was spent  wandering round the street artists who are part of the Fringe Festival. There was a female juggler/ comedian followed by a Chinese man who did amazing things with teapots. We were all transfixed.
By now the sun was out, and time to adopt my favoured position when it comes to cricket; a view of the Adelaide Oval from the edge of the swimming pool. I tuned into the radio commentary to ensure I was gently lulled into an afternoon nap but was rudely awoken by the arrival of the Pakistan team who proceeded to have a fitness workout in the swimming pool. This cricket lark really does get in the way of a good holiday.
March 7th: World Cup Day 7
The lovely Gemma Broad sent me a list of things to do while in Auckland, including heading to the boatyard where the round-the-world vessels are in dock. I was just checking the details when I spotted a sailing experience in the harbour.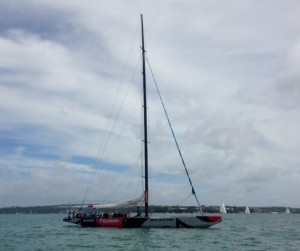 Now, I can be quite a darling on a luxury yacht, and the thought of admiring the hard work of a lot of nice young sailors while I reclined on the bow was rather appealing. How wrong I was.
The Americans Cup sailing experience is,well, a real experience. The boat you sail on competed in the 1995 competition, and got as far as the semi finals. At 79 feet long, she ( I think boats are always female aren't they?) is roughly the length of the whales we saw in Kaikoura the other day.
The 20 or so of us were given a full safety briefing, including being reassured that no-none had ever fallen overboard (yet), and reminding us to keep our hands clear of the ropes or we could lose our fingers. With that we cruised off. During the couple of hours at sea, all passengers are expected to take part in raising the mainsail, grinding, tacking and driving the boat. As a complete beginner, I found the experience absolutely exhilarating, particularly as the wind picked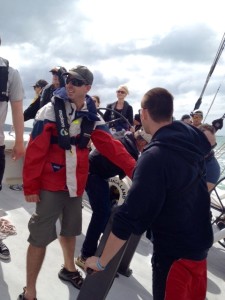 up and we seemed to spend our entire time at an angle of 45 degrees. Even a couple of show-off experienced sailors in our group seemed to have a ball. The crew are entertaining, knowledgeable and clearly live for sailing – including the newest member of the crew, Max. It transpires Max lives pretty close to us back in the Vale, and is spending his gap year out here. I'm not sure he was in any particular hurry to return home.
After a restorative coffee in the sunshine at a lovely little cafe over looking the harbour, I trotted across the bridge to wander round the Volvo Ocean Race village (You might know it better as the Whitbread Round-The-World challenge) They set sail from here next weekend for the Auckland to Brazil leg. For the first time since 2001 there's an all woman team competing in a pink – or magenta as they prefer to call it – boat. Apparently, all the competitors in the 45000-mile race spend around 9 months away at sea, which is even more than a cricket commentator.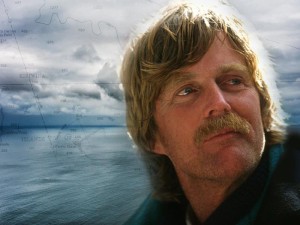 Rather taken with life on the ocean wave, I headed to the National Maritime museum, and discovered all about the explorer Sir Peter Blake. What a truly amazing adventurer he was, and there's a terrific part of the museum dedicated to him, including an absorbing documentary about his life. What a tragedy his life ended at the hands of pirates. Before we knew it, 6 hours had passed either on or wandering round the harbour. Crikey, I'm virtually a sailor – and certainly no time for sky diving or climbing volcanoes on this trip.
 March 6th: World Cup Day 6
What a difference 24 hours makes; yesterday, we were buying sun hats and plastering ourselves in factor 50. Today it was blowing a gale and the drought appeared over as it poured with rain during our drive from Kaikoura to Blenheim airport for our flight to Auckland.
Regular listeners to Test Match Special will be well aware that Latest and the team get sent a wide variety of delicious home made cakes (and Melton Mowbray pork pies!) throughout the summer. Well, Jeremy – the fantastic chef at Hapuku Lodge – dispatched us with an amazing looking chocolate creation. Of course, it wouldn't go in the hold, and we were already substantially overweight even with hand luggage, so it was left to me to use my womanly wiles to get said cake on the aircraft.
Luckily, the delightful man at check-in turned out to be a huge cricket fan, so he winked conspiratorially,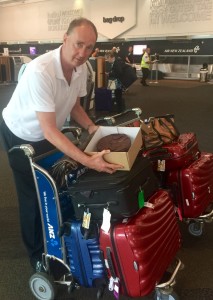 stuck a "checked-in hand luggage" label on it, and waved us through. There were a couple of nasty moments; firstly as we bumped through the clouds into Auckland and then as we walked to the terminal in a cloudburst. But I am happy to report that my task is complete; the cake is in the city – it's now down to Latest to ensure it's delivered to the commentary box. And I wouldn't put my mortage on it getting there untouched!
And so we resume the tour after a few days off. It will be good to get together with some of the TMS team, including "young Henry" – Adam Mountford's assistant producer. This is Henry's first trip to this part of the world and he has already run up a huge number of air miles criss crossing the Tasman. Henry is a simply splendid young man; very much the sort of lad you'd like to see your daughter bringing home. And he's single! Unfortunately credit card security seems to be a bit erratic out here; shops and restaurants routinely fail to ask you to put in a PIN – and then your home country declines the transaction. Poor Henry had his card withheld today when withdrawing cash – so maybe he's not such a great catch this weekend.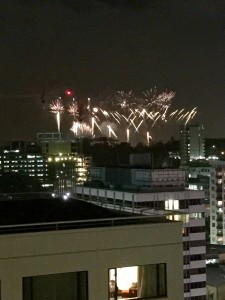 We dined tonight on the Viaduct Harbour. Being a Friday night it was really humming and the atmosphere in all the bars and restaurants along there is great. We were supposed to have been in the presence of greatness with Sir Geoffrey, but he clearly had a better offer, and stood us up. Actually, being an old pro I suspect he was having a spot of room service and an early night watching the West Indies game beamed in live from Perth. It is quite extraordinary to think this tournament is being played out across 2 countries with a 6 hr time difference between some venues. On the other hand, perhaps he was enjoying the fireworks that lit up Auckland this evening. What was that about? Anyone know?
It's funny how absence makes the heart grow fonder; Jonathan was rather looking forward to catching up with his old sparring partner. I was expecting the usual " hello Blondie"; I'm never quite sure if it's just because he can't remember my name, or whether it's a Yorkshire term of endearment! Either way, the two of them will be back on the radio tomorrow with the usual ribbing and banter of colleagues who are actually remarkably fond of each other. Weather permitting, I intend to take the ferry and do a spot of sightseeing. I'm thinking a gentle stroll up a volcano (preferably a non active one)  or taking in a vineyard or three. Latest is trying to cajole me into sky walking off Auckland's highest building. Frankly I think England have more chance of winning the World Cup.
March 5th: World Cup Day 5
This year I happen to be celebrating a significant birthday. One with a 0 on the end. And it's not 40. I have set out a sort of list of things I'd like to do, see, achieve etc; foolishly, one of them is to do something that scares me. I'm not a very brave flier; of course, I do travel the world to see Latest – but I'm not exactly a happy passenger. And I'm extremely reluctant to fly with him when he takes his small 4 seater up, even though he was amateur pilot of the year when he first started flying. And I don't do helicopters. At. All.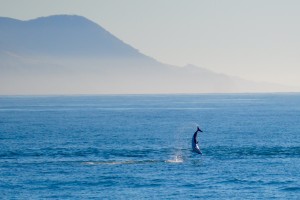 When he suggested we whale watch at Kaikoura by helicopter, I wanted to wallop him…but of course he reminded me that it would tick that " be scared – be VERY scared" challenge off my birthday list. It was with a huge amount of trepidation (with me unusually silent) that we set off this morning. It was one of those perfect late summer/early autumnal mornings with glorious sunshine and not a cloud in sight as we rolled into Kaikoura. In fact, the sun was so intense (sorry to rub it in to those reading back home) that we went hat shopping for jaunty matching pink sun hats (very Howard and Hilda from Ever Decreasing Circles).
But such is the changeable nature of the weather with the sea and the mountains – and the high level of safety from all the operators – that both boat trips and helicopter flights were cancelled. There was huge relief on my part and I immediately became chatty and entertaining, while clouds of depression gathered over Latest. It's a good lesson though, if you are planning a trip around the South Island, do allow some room for manoeuvre with your itinerary as the weather can seriously scupper the best laid plans.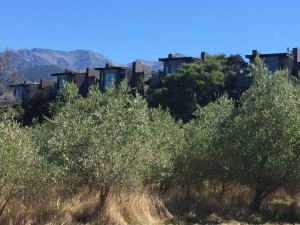 We did see a wonderful pod of dusky dolphins swimming just off the shore; playing, somersaulting and back flipping all along the coastline, where we followed them to the Pier Hotel – a great place to watch the sunset with a cold beer apparently. There were around 50 in " our" pod – but there can be as many as one thousand gathered at a time along this bay.
Back at Hapuku Lodge – which is the most magical treehouse setting imaginable – I settled down with some Jeeves and Wooster for entertainment. Then came the news I was dreading; the sea mist has vanished and the flight was back on.
Captain Dan was very reassuring. He was born and bought up in Kaikoura so totally understands the shifting weather patterns. He explained how they track the huge sperm whales and explained how we had to be on the look out for spouts of water being blown up into the air.. These enormous 18 metre mammals ( to put it into perspective that's about the length of a cricket pitch) surface for only 4 or 5 minutes of oxygen before diving as far as half a mile underwater to feed for three quarters of an hour.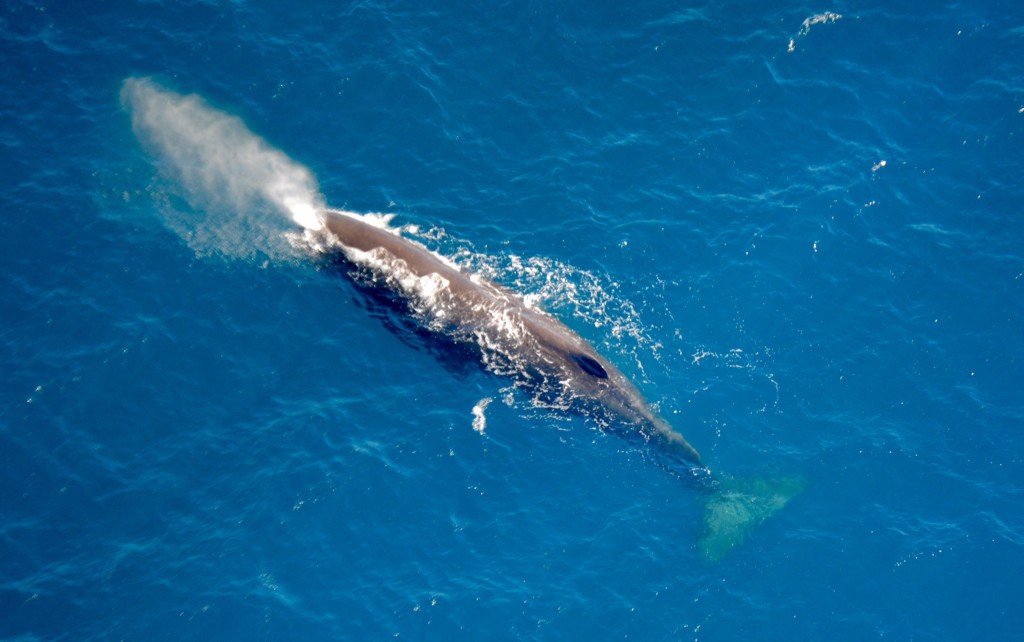 So the pilots and guides really need to time the trips to perfection  -and you need some luck. We saw more dolphins on our journey of about ten miles out to sea. And then – bingo! Two whales surfaced and kindly posed for photos. Dan circled the helicopter round and round, just 500 feet above the water. Instead of being terrified, I was mesmerised by these giant creatures, watching until they dived and disappeared from our view. It was utterly thrilling. WATCH THE WHALE HERE!
And also, (although I hate to give him credit) what a great call by Latest, as the sea remained too rough for boats to sail. Yes, it gave his credit card a serious bashing, and although passengers booked on the boats are given full refunds, there were lots of disappointed people who just couldn't spare the time to stay on for a further day. If you come all this way to go whale watching and the boats can't sail, 30 minutes in a helicopter salvages the trip and the views are amazing.
A final evening of relaxation beckons before we fly to Auckland tomorrow with Latest back to work. And that's when my holiday really starts.  
March 4th: World Cup Day 4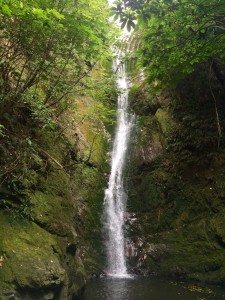 It was with some difficulty that Latest managed to drag me away from Marlborough and the beautiful Cloudy Bay vineyard. He managed to bribe me with a couple of bottles of Pinot Gris carefully packed in my bags and the promise of attempting to source some more back in the UK. We started the 130 km drive South to Kaikoura, which takes you along State Highway 1 running along much of the way along the coastline. Driving in New Zealand is a pleasure; there's very little on the roads and breathtaking scenery at every turn. It's a good job the countryside is stunning, because there really is very little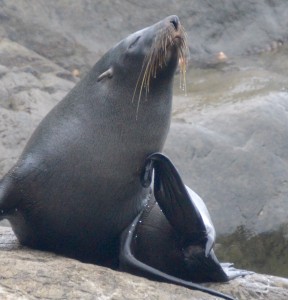 else along that route, bar a small town called Ward ( blink and you miss it) and a rather good coffee shop called The Store at Kekerengu which looks out over the beach and also happens to have spotless toilets!
As we neared Kaikoura I spotted young seal pups frolicking on rocks along the side of the road. We pulled up (you can do that in New Zealand) and spent an hour just watching a large colony of seals basking in the sunshine and playing in the water.
 I managed to hobble across the rocks (hobbling courtesy of a knee injury sustained before I came out) while Latest was like a mountain goat on the beach, taking about a million photos of the seals. It's so good to see the colony thriving after nearly being wiped out through hunting and I could have watched them for hours although, to be honest, the smell of brine and (presumably) dead fish was quite overpowering!
We then walked (limped) up the Ohau stream to a lovely waterfall. In about 6 weeks time this is where the seal pups come to play whilst their parents go off hunting. The sight of 200 or so gregarious youngsters playing in the pool at the bottom of the waterfall must be quite something and I'm only sorry that we were a bit early in the season to see it.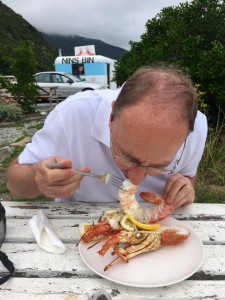 Yesterday we were educated about "the Growler" ( I prefer to think of it as a vessel for carrying beer as opposed to the urban dictionary definition) and today it was the infamous "Nin's Bin". No, not a dubious after-dark establishment; instead, Nin's is THE place to eat fresh crayfish. Caught locally and cooked in her caravan, Nin's has been a roadside institution since the 1970's, where you eat the delicacy on picnic tables overlooking the ocean. I guess it's the New Zealand equivalent of a roadside cafe with a view. Sadly, I'm allergic to fish and shellfish of any kind so, not wanting to cause a medical emergency, I could only watch while Latest troughed into his chosen crayfish (£25 for a whole one) – which included a lesson in how to extract meat from the legs.
The clouds were rapidly closing in when we finally pulled into our accommodation. Now, you've gathered I'm not the sort of girl who is very good at roughing it. In fact, in all honesty I'm pretty rubbish at roughing it, and it's likely to make me extremely grumpy. So, it was with a certain amount of horror that I saw the word "treehouse" as we turned off the road into Hapuku. We've been married nearly 20 years, so Latest had better not have had some sort of aberration if he wants to make it to our next wedding anniversary…
March 3rd: World Cup Day 3
It was a less than promising start to the day, and there was nearly a tantrum, when we were (both) foxed by a tin opener.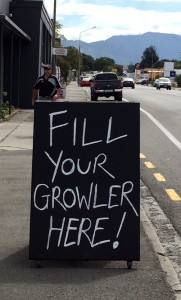 Twenty five minutes later, and the tin of pears remained opened; who needs them in fresh fruit salad anyway? There was also a moment of genuine confusion followed by a lengthy silence at seeing this sign on the roadside. Any thoughts?
A brisk stroll round the vines (why are some netted and others not?) then we hot-footed it to Picton. This is a town previously best known for the Olympic Gold medallist, rower Joseph Sullivan who is now a local fire-fighter. It's a place one would as "picturesque but sleepy" and therefore somewhat surprisingly there were TV crews and crowds gathering on the waterfront. It transpired a young woman had a "lust at first sight" moment with a jogger and his pooch, so she'd launched a handwritten appeal for him to meet her. He had agreed – and the big moment was imminent. I won't spoil the story, but if you want to know how it went, you can read it here.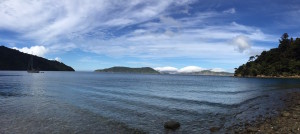 Clearly the best way to appreciate this stunning part of the world is by water, and we had booked onto the Beachcomber Magic Mail Run cruise; a four hour trip round the Marlborough Sounds but where you really are delivering letters and parcels to isolated homes which can only be accessed via the water. Captain Jason had some wonderfully laconic stories to tell during the cruise, and was also a mine of information; for instance, that small area represents 20% of New Zealand's total coastline. Well, it's as close as Latest gets to education! We also stopped in Ship Cove, where Captain Cook moored up a number of times to replenish his water supplies and tend to his sailors during his circumnavigation. And, just as an aside, the toilets on the beach were immaculate, which begged the question who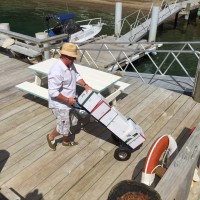 cleaned them on this uninhabited stretch of coastline? Now much as I like a bit of peace and quiet (particularly when Latest is away on tour) as much as the next woman – but those homesteads…wow, they really are isolated. Apparently the government passed a decree that every home should have electricity and a telephone landline – but clearly not human company! The arrival of the mail boat was obviously the social event of the week, with kids (educated at home) parents and even the family dogs standing on tiny wooden jetties while Jason handed over the post. Mind you, some deliveries were clearly more essential than others – namely at one gorgeous guesthouse, where cases of wine were quickly wheeled off our vessel. As most of the houses were built precariously up the hillside, there is then an elaborate system of ropes and pulleys to get the parcels home.
Feeling full of fresh sea air, and with rather more sun than was good for us reflected in glowing red faces, we stumbled back to our base just in time to watch the sun setting over the Richmond Ranges. Tomorrow we head south east towards Kaikoura in anticipation of seals and whales – apparently a #NZmustdo. In the meantime, I'm going to have one more crack at that tin opener.
March 2nd: World Cup Day 2
And so our four days of R and R got underway. Latest isn't needed on duty until South Africa play Pakistan on Saturday, so we decided to sample some of the best that this stunning country has to offer. Namely scenery and wine.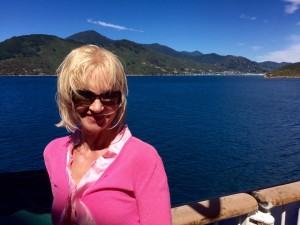 Checking in at Wellington docks for the Picton ferry was just like checking in at an airport; our suitcases (yes, 4 – we don't travel light) were weighed and whisked away, and we were given boarding passes. The three and a half hour cruise from Wellington to Picton is well worth the £30 or so it costs. Although I simply adore the Manly ferry in Sydney on which I spent many a happy hour last winter, this is an altogether different experience. Apparently, the crossing can be very choppy (I was somewhat alarmed by the stacks of sickness bags placed strategically around the vessel) our trip was across the Cook Strait like a proverbial mill pond. The last hour of the journey takes you through Queen Charlotte Sound – a beautiful network of inlets surrounded by stunning mountains and lush greenery. The clarity and colour of the water is unbelievable and photos just don't do it justice. In some ways it reminds me of the Grenadine islands in the Caribbean or, probably more accurately, the stunning Bay of Islands at the very tip of New Zealand's North Island.
We had a hire car to collect on arrival and made our way out into wine country, there was a bit of a "moment" when the GPS stopped working and we found ourselves heading confidently in the wrong direction.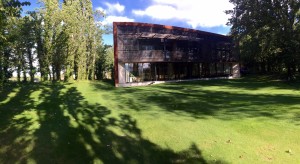 Our "home" for the next couple of days is one of the best known New Zealand vineyards- Cloudy Bay. We had been kindly invited to stay in the quaintly named " Shack". Now, I'm a girl who doesn't camp and never goes anywhere without a hairdryer, so I must admit to a little trepidation about our accommodation. I should have known; it was a complete misnomer and the place is stunning. Set in the heart of these famous vineyards and with a bedroom called "The Cloud" , I may stay here for the rest of the World Cup. There's lobster in the freezer and with written instructions to "help yourself to the well stocked wine fridge", Latest is doing his best to work his way through the 2002/2008 and 2012 Chardonnay,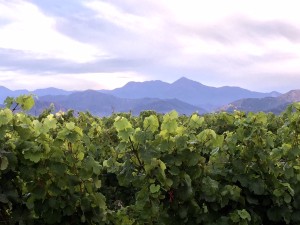 while I am sampling the Pinot Gris and the pink fizz. I think it may take several bottles before I can say with any certainty which one I prefer!
But before you think this is all one long holiday, let me tell you we have important work to attend to in these parts. Later we will be back on the water as postmen, helping deliver mail by boat to some of the most isolated properties in this part of the world. If Latest ever finds himself out of work, I can't think of many more beautiful places to stay and earn a living.
 March 1st: World Cup Day 1 (for me, anyway)
There are compensations to being the wife of a cricket correspondent. Namely, the fact that your husband is away for long periods of time leading to a tidy house, the ability to eat toast in bed and control of the television remote. It also means I get the chance to visit some amazing parts of the world.
And so, just a year after the 2 months of Ashes cricket Down Under, I find myself heading to the Antipodes once again. 10 flights and a ferry in 20 days as the World Cup takes place in both Australia and New Zealand; this really will be a tour of duty.
 It might be a case of stating the obvious – but it is a very long way to New Zealand. 12 hours to Singapore … Quick stretch of the legs …10 hours onwards to Auckland, then a further hour down to my final destination of Wellington. I genuinely never thought the journey was going to end. However, thanks to a) feeling exhausted b) a couple of ' medicinal' champagne cocktails at Heathrow and c) a little magic sleeping pill, I managed to get 8 hours sleep on that first leg. More than I get at home!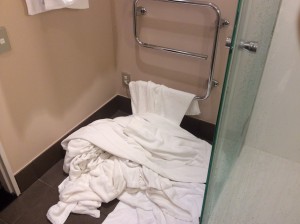 Feeling pretty chipper, I waved Latest off to work for the England Sri Lanka game. We had already had our first spat after he used all the towels, and the bath robes… dumped them on the floor, leaving me just a flannel to dry myself with. I don't think he will make that mistake again!
 I settled down for a coffee with my lovely friend Gemma and contemplated the prospects of sightseeing in Wellington on a Sunday. She is out here doing a sort of adult gap year, including volunteering in various jobs in exchange for accommodation and food. They are, of course, quite variable, but tomorrow she's off to a stately home where they breed thoroughbred horses… Sounds almost too good to be true. I'll keep you posted on how she gets on.
She then produced a couple of tickets …for the cricket! Talk about a busman's holiday! Still, the sun was shining and it seemed as though most of the city was shut for the day, so off we trotted. Oh dear oh dear – it felt as though nothing had changed from Australia a year ago. There were a number of positive notes though; firstly, the enthusiasm of the Sri Lankans was a joy to see..,singing,dancing and playing the drums all day. I don't know now they managed it in the fierce sun…and secondly the bars at the ground serve extremely passable chilled Sauvignon Blanc to help ease the carnage on the pitch and thirdly, Latest finished work slightly earlier than expected and we headed down to the waterfront for a splendid supper and to drown England's sorrows.
Monday morning sees us boarding the Picton Ferry and heading to the South Island for a few days of R and R in the beautiful area of Marlborough. Expect stories of wine tasting, foodie heaven and watching the wildlife. And no, we are not taking Sir Geoffrey with us!