The Ashes 2014/2015
January 9th: Day 60
So here it is, the very last post from Mrs Aggers on tour. In a few hours time I will be tucked up, with Latest, in our lovely cosy home in The Vale of Belvoir in Leicestershire. The log burner will be going and the pink Aga guzzling oil. We will almost certainly nip next door for one at our local pub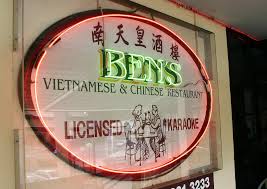 to catch up with friends. What started off as a few words to keep in touch with family back at home has turned into a lot of fun. I'm so pleased that many of you have enjoyed my slightly irreverent and alternative view of this Ashes Tour. Latest and I both absolutely love Australia and I hope that has come through. Despite the results ON the field, we have had a ball. If coming here is on your bucket list, my advice would be; just do it. And here are 60 of my personal highlights across the past 60 days. 1.) Best place to blow away the jetlag and feel sun on your face is walking the Bondi to Coogee coastal path 2) For a most unusual evening : Ben's Vietnamese karaoke evening near to the Gabba in Brisbane (Just don't invite ABC's Quentin Hull to sing) 3&4) Best FREE trip: free bikes in Adelaide and riding the circle tram in Melbourne 5) Best value for money trip: taking the return ferry to Manly. 6) Best luxury trip: travelling in style on the Ghan from Darwin to Adelaide. 7&8) Best lunch: The Lanes winery in the Adelaide Hills and Stoke House, on the beach at St Kilda, Melbourne. 9) The place to watch the best sunset: staggering colours at the Trailer Boat Club in Darwin, having a glass or two – just don't swim in the sea (crocodiles) 10&11) Best beach: Cottesloe. End of. And the Cottesloe Beach Club for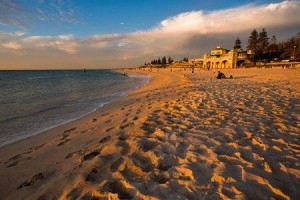 sundowners. 12) Best alternative outdoor experience: taking a bush bath in the Barossa at the wonderful Kingsford Homestead. 13&14) Best kiss of the trip: tough one this, so a tie between Alastair Cook and Glenn McGrath. 15) Best luxury of the trip: getting the chance to read again – huge number of books devoured. Favourite was probably The Razor's Edge. 16&17) Best setting for a restaurant –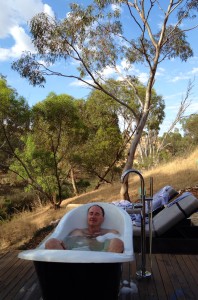 Doyle's on the Beach, Watsons Bay/ Frasers Restaurant in Kings Park, Perth. 18) Best value for a snack and a snifter – Jimmy's on the Mall in Brisbane. 19) Top travel tip: spend around 30 dollars on the longer internal flights for the extra legroom seats. 20) And to save cash: pre pay any excess luggage charges online – saves a fortune. 21) Best moment on Christmas Day – Geoff Boycott's lesson on batting against spin bowling. 22) Best foodie part of Christmas Day – Simon's oysters and Jenny's ham. 23) Moments of friendship on tour: being reminded that even if you only see people once every four years, true friendship means you just pick up where you left off. 24) Most humiliating moment (a)Latest taking his jacket off in the Adelaide Club and being told in no uncertain terms to put it back on again. 25) Most humiliating moment (b) getting a puncture on a bike ride to Henley and having to push the damn thing for the last 2km. 26) Most humiliating moment (c) John Cleese giving Latest the big brush off. 27) Nearest miss of the tour: NOT meeting Hugh Jackman. Damn. 28&29) Biggest surprise of the tour: not killing Latest after 60 days trapped in hotel living. In fact, not even a single domestic. 30) Diva moment: several room changes at the hotel in Perth. 31) And Darling moment – a day out on a luxury super-yacht on Sydney Harbour. 32) Cricketing highlight has to be Jane McGrath pink day at the SCG – reminding us how sport can be a tremendously unifying force. 33) And low point? Losing The Ashes at Perth. But then, see above – it's only a game. 34) Best place to spend New Year's Eve has to be the Opera House gala concert, then out on to the balcony for the fireworks. 35) Best bit about being married to a techno

geek is being able to watch the Downton Abbey Christmas Special beamed in direct to Oz from our bedroom in The Vale. 36) And being able to speak to my precious cocker spaniel, Tino, on FaceTime. Yes, I really am that sad. 37) Best place for shopping? Listen, I can shop anywhere! But Charlie Brown for fashion, and all the swimwear is fantastic. 38) The greatest character we've met on the trip was our cabbie, Darryl, in Darwin. He survived Cyclone Tracy all those years ago by hanging onto his toilet bowl for two and a half hours. 39) In contrast, one of the most irritating things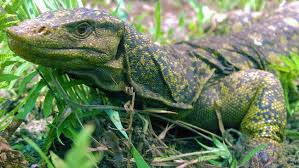 about this country is that the majority of the taxi drivers haven't got a clue where they are going!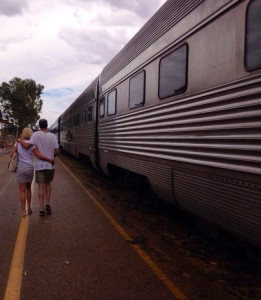 40) The best wine we've drunk? Er, that'll be all of it, everywhere. Stay local. 41) My biggest failure in 60 days is to fully understand the LBW rule. But then, do we care? 42) Best educational fact we've learnt was that goannas have two, er, penis' and can mate continuously for 36 hours. 43) And that Australia is the best place to get bitten by a venomous snake because their fangs are small and the medical treatment is good. 44) Best way to blow $100 was our VIP taxi ride for 10 people on our last night, roaring us round the harbour, under the bridge and back to the Opera House. 45) Best sledge of the tour was the Daily Mail's Charlie Sale calling Latest and me "Brand Agnew". 46&47) Saddest farewell was to Kerry O'Keeffe – insightful broadcaster with impeccable comic timing. And, of course, leaving Australia. 48) Blondest moment was spending an entire afternoon sitting next to John Bradman and not once mentioning his father, Don. Actually, I'm quite proud of that. 49) The best view of Australia is from the left hand window seat flying into Sydney; if the wind direction is right, you get a stonking view of the Harbour. 50) The cost of hotel wireless is extortionate and not widely available for free, so invest in a 4G mobile wifi device. (I know, more shopping, but trust me on this one – it'll save you a fortune) It also meant Latest could broadcast live from a ferry during the peak of the alleged Pietersen/Flower fall out. 51) Our most drunken evening; a private 60th birthday party in a wine cellar in the Barossa Valley. What happened in the cellar, stays in the cellar. 52) Moments to gladden the heart included the arrival of son Tom, who disappeared into the morass of the Barmy Army (thanks boys) and one of my best friends Annie and Andy who were on their first trip Down Under. 53) And talking of the Barmy Army; thanks guys for one of the best laughs of the series, when they struck up "Is she really going out with him?" every time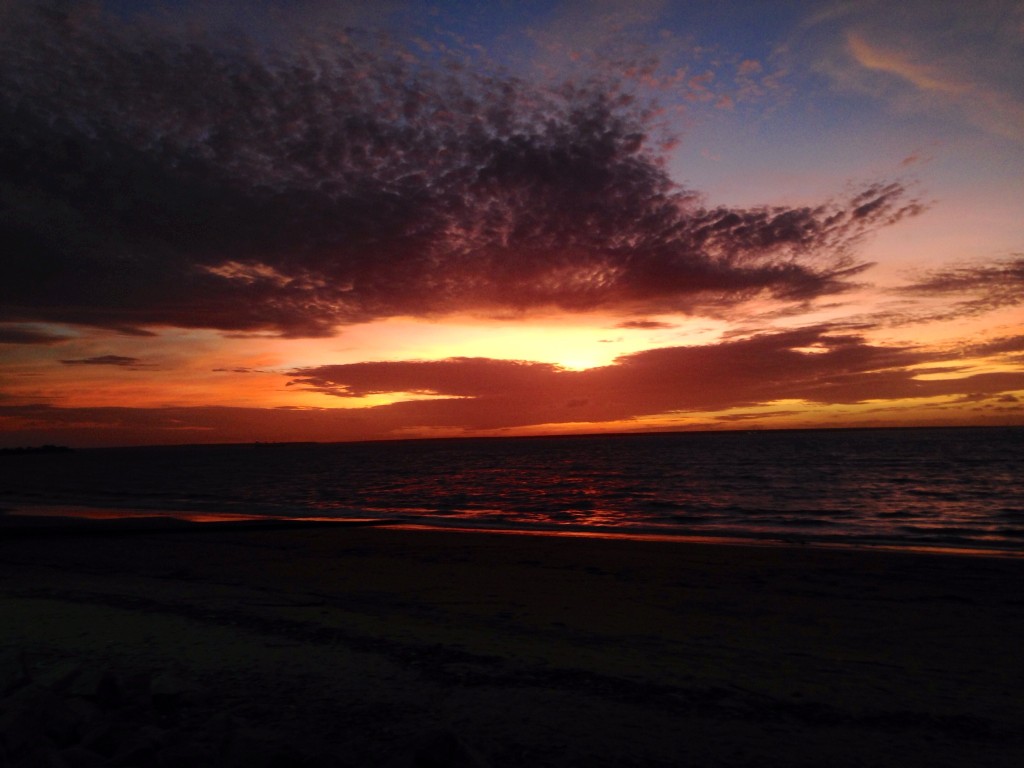 we appeared, much to my amusement and Latest's chagrin! 54) Top effort for the winter is, without any question whatsoever, the Barmy Army raising £50,000 for The Broad Appeal. Amazing. Well done everyone – MND is a wicked disease and claimed the life of my first husband. 55) And the question I'm most frequently asked is why to I refer to Jonathan as Latest? Well, see 54 above and I like to keep him on his toes! Treat 'em mean, keep 'em keen. 56) Most shocking domestic revelation of the trip was (in a darkened corner of a Chinese restaurant in Melbourne) that Latest can't actually use chopsticks, he just uses them subtly to stab food. Tip gratefully received by an initially startled Gorgeous Georgie. 57) And so on to the big question; what was our best meal? Impossible to choose, so I'm rather dodging this one by saying it will be Friday night, back at home! Where Latest has requested homemade shepherd's pie and baked beans. He really is that sophisticated! 58/59/60) My favourite place? Well, I'm hedging it on that one too. So, in no particular order, my top 3; it's Sydney for an iconic holiday. Perth for a laid back lifestyle and Adelaide for a place I could possibly call home. And finally, the best con of the year: persuading Latest to stand in the queue for a tax refund at the airport and successfully convincing him that the $300 he received means he's ahead of the game. You men are so gullible. To be continued. Sometime….
January 8th: Day 59
So this is it: my final full day in this amazing, addictive country. And it's beginning exactly where it started; a grey, overcast Sydney. But, determined not to be too mournful, I set about the day with vigour. First, there was shopping to be done- Uggs to be bought in preparation for the distinctly inclement weather back at home. Then I dragged Latest onto a ferry. Poor old boy, he hasn't had chance to get out on the water once this trip. I've been on luxury yachts, the Manly ferry etc etc and he's been tied to the cricket. So we hopped onto the Louise Sauvage supercat, and nipped across the harbour to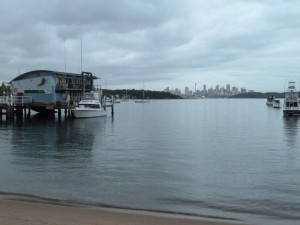 Double Bay. This suburb is also known as " Double Pay" and one glance at the seriously exclusive shops tells you all you need to know; I understand Nicole Kidman used to live in this area. In the spirit of generosity, I steered away from the ladies fashion boutiques; instead, I persuaded Latest to buy some rather natty shorts and bathers and matching polo shirts. Mind you, he needed a reviving glass of Chardonnay afterwards! And so it was onto our 'Last Supper'. We had chosen that Sydney restaurant institution, Doyle's On The Beach. If you haven't been there, it's, at heart, a beautifully quaint beach cafe at Watson's Bay. It's literally four steps from the sand, and serves the best fish and chips. Because I am the perfect wife, those of you who know me will understand how magnanimous I'd been in booking this restaurant because I'm allergic to fish. But sometimes, you just have to make your husband happy, and he adores oysters/barramundi etc – everything this restaurant is famous for. Luckily they also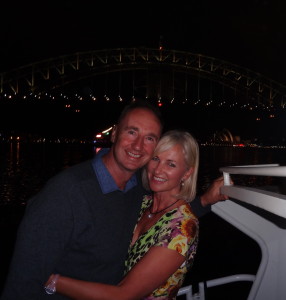 serve an amazing steak! So our riotous party included Derek and Viv from Halifax who are loyal England supporters and had endured the entire series, and well known after dinner speaker Bob ' the Cat' Bevan and his glamorous 'kitten' Laura (who has also been my sunbathing partner) The evening ended with one of the highlights of the trip; a personal water taxi whisking us home. I've said before that one of the best ways to appreciate Sydney is from the water, and tonight was no exception. The water was like glass; there wasn't a breath of air, and it felt as though we were only people out on the harbour. It was an absolutely magical end to our last day. If you get the opportunity to hop on a water taxi at any point, then I'd urge you to do so. Back in the hotel room there are cases to be stuffed (note I'm not even bothering to use the word pack, as I'll just be throwing everything in for the trip home) and all those little extras that I seem to have acquired along the way to be fitted in. There will be time for one last breakfast and a lingering look at The Bridge and The Opera House, before we head to the airport. I had an angry message from my sister last night – she's been looking after my precious cocker spaniel, Tino – he'd left a trail of destruction in her kitchen after wrecking all her cookery books. Uh oh, time for home methinks, and for Mrs Aggers' final blog entry tomorrow on Day 60.
January 7th: Day 58
It's the final day of the Sydney Test. Oh. Still, it meant we could have a lovely round of end-of-tour get togethers. But first, I sent Latest for the snip. The observant amongst you will have noticed he is, er, somewhat follically challenged. He has, of course, been in denial for some time, but the camera never lies and he has realised he's losing it. Rapidly. Amidst dark muttering of a comb-over a lovely young hairdresser, in the salon next to the hotel, was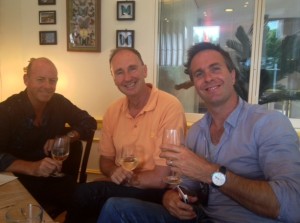 called in for his makeover. A number 4 ensued; much concern that he would come out a laughing stock and that I would disown him – but no, the transformation was a good one. He should have done it years ago. It cost a small fortune of course – along with everything out here – and he was conned into buying "products", but he is very pleased with himself, much in the same way as our Pekingese dog, Hoggard, when he has his summer trim. Then it was onto the radio team's end of tour lunch in a buzzy Italian restaurant. Glasses were raised for the forthcoming marriage of ABC commentator Jim Maxwell and his wife to be, Jen. Optimistic wagers were placed on England regaining the Ashes in 2015 back in England. We shall see. Michael Vaughan was warming up for a long night for the Barmy Army's last hurrah, with a couple or three bottles of rose. He declared his ambition was to have lost his voice by the morning through so much singing! Back at our hotel to begin packing, and Latest spotted John Cleese in reception. He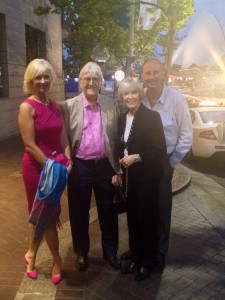 remembered hearing that John had been an enthusiastic cricket player as a youngster, he shot forward and introduced himself. He returned seconds later thoroughly chastened having been given the most abrupt brush-off! It just hasn't been his week, has it? Time for a quick change and we were off again, this time to meet the new sponsors of the England cricket team (a well known supermarket, others are available of course) Latest and I spent a most agreeable evening with old friends Sir Michael and Lady Mary Parkinson. Michael was on great form and Mary had us hooting with laughter over her tales of recent golfing exploits with one G Boycott. Suddenly it was midnight, and I couldn't persuade Latest to call in for a nightcap with the Barmies at the Bungalow 8 party; instead we strolled quietly back to our hotel around Circular Quay, reflecting that in 48 hours time we would be on our way back to The Vale.
January 6th: Day 57
It's been a total car crash of a tour, and today the Agnews also had a car crash – literally. Just as Latest was returning from doing a final interview with Andy Flower, a taxi driver crashed into the side of him. Fortunately he wasn't injured, but the car has had a door rearranged. A flurry of paperwork/pictures being taken and heated words ensued then, in a supportive wifely move, I left him to it. After all, I had a date on a multi million pound super-yacht! Earlier in the tour, I had been very generously invited to Ladies' Day by the financier, Sir Ron Brierley. Apparently, he invites a number of ladies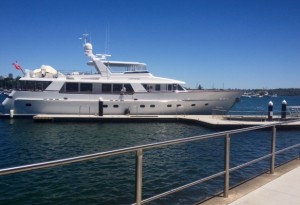 onto his boat on the fourth day of the Sydney Test. Of course, this year as it turned out, there wasn't to be a fourth day, so our numbers were somewhat swelled by a number of menfolk. Poor, poor Latest – not only having to deal with car insurance, but now his wife AND a number of his friends were off gallivanting round the harbour while he was slaving away. Shame eh? And what an afternoon we had. The splendid Lionheart picked us up in Rose Bay (home of one of my fave restaurants in the world, Catalina ) then off we cruised. What a magnificent vessel it is. Don't ask me anything technical about it, all I know is that it was immaculate with gleaming woodwork, beautiful leather sofas, and every bit of metal and brass polished to glinting perfection. When we were greeted with vintage Dom Perignon I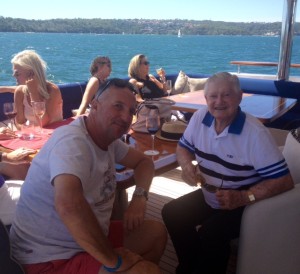 thought I'd died and gone to heaven. There was a great mix of people on board, including some I had met during this winter. Among them were Neil and Barbara Harvey. Neil is a legendary Australian cricketer who is now into his 80's – and I snapped him chatting away merrily to one of our cricketing heroes, Sir Ian Botham, although officially there was to be no talk of the "c" word! We cruised under the Harbour Bridge, moored up in Lane Cove for a sumptuous lunch, then back to Rose Bay, stopping briefly for a little dip in the sea. It was an utterly divine day. Returning back to the hotel, I found Latest's humour pretty low, so I managed to play down my delightful exploits and fortunately the effects of the champers had worn off. After all, we don't want a major domestic at this stage in the trip, do we? He's still working away on the radio and I'm preparing for a final evening with the travelling supporters. Last night we had a great evening singing our hearts out with the Barmy Army at their final Broad Appeal Motor Neurone Disease fundraiser, which as you know by now is a cause very close to my heart. The Barmies have raised a staggering £41,000 on this tour, which is amazing, well done! If my day hasn't been fabulous enough, this evening I received the icing on the cake. Who is one of my favourite men? One of my favourite Australian men. (OK. Second to Hugh Jackman?) Glenn McGrath, of course. And he's just started following me on Twitter. Oh yes: just a perfect day.
January 5th: Day 56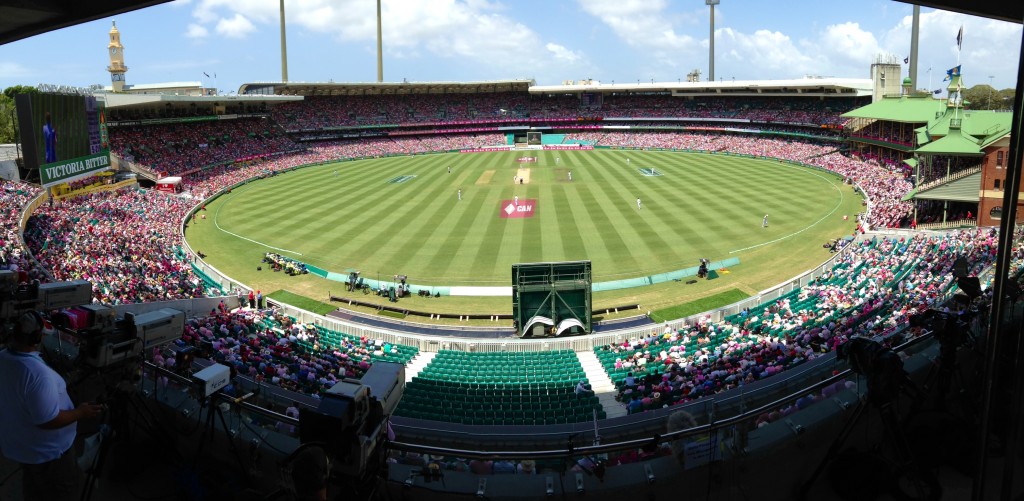 If ever there was a day for putting cricket (and all sport, actually) in perspective, then this was it. Today the SCG was a vision in pink as spectators, encouraged to don something pink on Jane McGrath Day, came out in support of breast cancer. Everyone seemed to enter into the spirit; Geoffrey was wearing a fetching baby pink polo shirt; Henry Blofeld was top to toe in matching trousers and shirt; the Steve Waugh bronze statue wore a jaunty pink scarf and the TV presenters shocking pink blazers and sunglasses. Latest had bought out his favourite rose pink shirt from home, and I had (of course) bought 2 dresses especially for the occasion. I know, you'd never have guessed I needed an excuse for a new purchase would you? As it happened, Latest instructed me to wear "as much pink as possible" so I wore an 'old' maxi dress with matching lipstick. It's all in the detail you know! There was hardly a dry eye in the house as Glenn and his two children, James and Holly, unrolled a giant picture of his late wife's smiling face. That, combined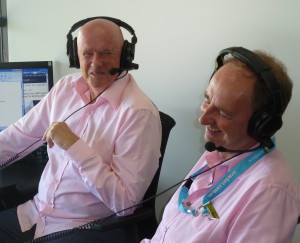 with a moving interview with a breast cancer survivor, which left Jonathan with tears streaming down his face, and we were all in no doubt about the things that really matter in life. On a personal note, it was the death of a good friend and colleague during the Ashes series in England last summer that was one of the deciding factors for me to take extended leave from work and come out on this tour with Jonathan. I raised a glass of Pimms to her at lunchtime. It was a day packed with emotion; time to say goodbye to Latest's fellow broadcaster on the ABC, Kerry O'Keeffe. Described by his former producer as "a very naughty boy", Jonathan has admitted to always being slightly scared when he got in front of the microphone with Kerry – he never quite knew what might happen! Kerry always accused him of "batting above his average" when he married me. Well, he did, didn't he! So, the cricket is over. The good news is that it means an extra two days at leisure with Latest – if that can be viewed as good news! I'll try to persuade him to climb the Harbour Bridge (not a chance, he's such a baby with heights) or an early morning swim in the glorious outdoor Iceberg freshwater swimming pool at Bondi. Either way, I have plans for tomorrow; I've got a date with the girls for a glorious lunch cruise round the harbour. I do hope he won't be expecting me to cancel my plans and entertain him, or we could fall out big time! Oh, and this isn't quite my last blog – I intend to go right to the very end of my trip. No 3 day Test Matches on this tour!
January 4th: Day 55
Uh oh! Another hotel another room change. Does that mean I qualify for further Diva status, Charlie Sale? In all fairness, when we moved into our current hotel on New Years Eve, I didn't even contemplate complaining about our room. We just dumped our suitcases and got out amongst it. But the room was, as they say, compact. So compact that I had to use our (five) suitcases as a mounting block to get into bed….and there is certainly no chance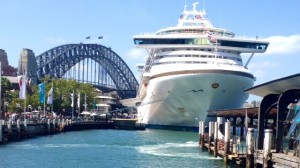 of more than one person in the bathroom at any one time (unless the second person was standing on the toilet (don't go there) and neither of us could fit in the bath at all ( I'm nearly 6 feet tall) So I very politely went to speak to the manager and she agreed that the room was fairly bijoux for two people. So today I oversaw some splendid young men come and move all our luggage into a much more acceptable room. It doesn't exactly have a harbour view (I'm not complaining) and frankly today I'm relieved. What can be more outrageous than a hideously large cruise liner parked up between those icons of Sydney; the Bridge and the Opera House? My suspicions were first alerted by a coachload of Americans of a certain age filling reception early this morning. I was appalled by a particular couple announcing to anyone who would listen that they were "disappointed" by the Opera House and asking what "that La Boheme story" was all about? I felt that 'chewing-a-lemon' expression crossing my face. Anyway, the liner was there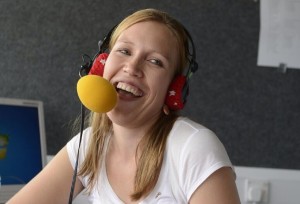 when I woke up, and it is still there this evening. I'm so hoping it's long gone tomorrow. Meanwhile you won't be surprised to hear that I ducked the cricket today. A pleasant morning by the pool with a group of cricket widows seemed a good alternative. But a girl can have too much sun, so I hopped onto the good old Manly ferry. A stroll down the market stalls involved much trying on of sundresses but – hold the front page – NO PURCHASES! Clearly, a girl can have too much retail therapy, too! Tonight Latest is chairing another forum for the MCC touring party. Sadly, their mood was as low as (I suspect ) that of the England dressing room. But here's a high point to end today; a cause to charge your glasses and have a celebration. The lovely Gemma Broad (team analyst) celebrates a special birthday today. She's cracking fun and has been spending the day in Margaret River. So if you see her, make sure you wish her Happy Birthday – Latest and I so wish we could be with her. Lots of love, Gemma, and see you back in The Vale.
January 3rd: Day 54
If there is an "Ashes Urn" for enjoying Australia and boosting the economy, I would have retained it for England single-handed! Last night, after a quiet steak in The Rocks, we joined the Barmy Army at their HQ on Circular Quay. Sadly, because Latest did actually have some work to do, we missed the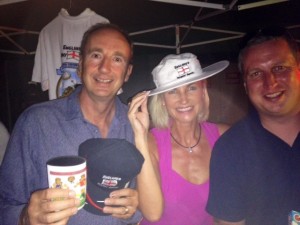 singing. Personally I think he was still smarting from me airbrushing him out of a photo taken by professional photographer @dudleyplatypus. He's calling it my Kim Jong Un moment which is a bit unfair – after all, I haven't actually deleted him entirely from my life. Yet. Latest had a high old time selling some merchandise and meeting the supporters who were remaining determinedly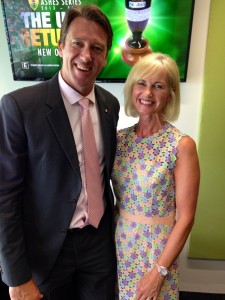 optimistic about England's prospects in Sydney. Various scurrilous rumours abounded about my son, who has been noticeable by his absence since his arrival here. On the one hand, it's a good thing as he hasn't been asking for cash – on the other, I was concerned by the "ah yes, he certainly knows how to have a good time" comments. Tom: don't forget your flight home is 8th January! Before we knew it, it was gone midnight, which is far too late for Jonathan on a 'school' night; he just gets grumpy! Didn't the SCG look a picture this morning? There was a real feeling of an event about the day – more like Royal Ascot or Henley with the marquees dotted around and members sitting and picnicking on the remarkable grass rug! I couldn't resist a squeeze with another of my favourite men – the gentle giant Glenn McGrath. The third day at this Test is now officially 'pink day' in support of Glenn's cancer foundation established in memory of his late wife, Jane. She died far too young leaving two small children. Of course, everyone wears pink on that day (the stumps are pink for the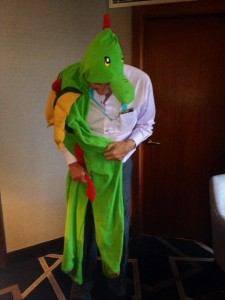 entire game) I have a selection of, oh, four or five pink dresses to choose from – I know you're surprised to hear that. Latest has just the one pink shirt – although it is very flattering and I love men wearing pink – so I had to ensure it was laundered today in readiness for Sunday. A wife-on-tour's work is never done. I slipped quietly away from the ground at lunchtime, genuinely hoping that we were on course for a last gasp victory. Luckily, I can report a far more successful afternoon in the shopping areas of Paddington and Surrey Hills (well worth a stroll round for an hour or so) A few new purchases for Anne and me, a spot of lunch in a trendy cafe and bookshop and then one of the most shocking retail experiences ever. A Onesie shop. Yes, really, a whole emporium dedicated to those ridiculous garments. I mean…does anyone really wear them for anything other than a bet?! And before you ask, no we didn't, although I have got my eye on a rather fetching navy and red version to keep Latest warm on our return to the perishing Vale next week . In the meantime, his old school friend Duncan has lent him a novelty 'dragon' onesie: do you think it suits him? Finally, you think England finished the day badly? I rather added to today's expenditure by returning to the car to find I had a parking ticket; I'd had such a lovely day though, I even smiled at that – let's hope Latest takes the same view! (Just learnt that he got two in Hobart)
January 2nd: Day 53
Back to work again today for Latest; the final preview day of this tour. Gosh! How time has flown since 20th November when, full of hope, we set off together to preview the first day of The Ashes in Brisbane. It was a boiling day at the SCG as we fought our way through the builders and the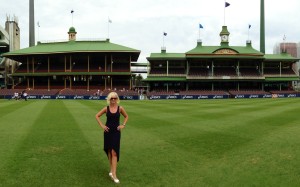 underground rabbit warren to emerge onto the hallowed pitch to wait for Captain Cook. He was as polite and honest as ever, and revealed that, even if they win here in Sydney, he will go home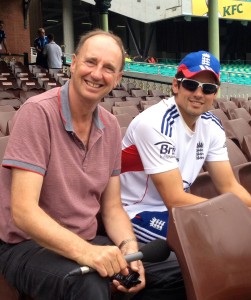 disappointed. Hey ho, some of us have had a fab time! We were just leaving the ground when Jonathan's school friend and Leicestershire colleague, James Whitaker, appeared. Latest always claims that James was his "fag" at school, and had to warm his toilet seat for him on winter's mornings. I'd suggest he lay off those stories if he wants to maintain good relations with the England camp! It was so oppressively hot by the time we got back to the hotel, that I was driven to quench my thirst with a glass or two of Pimms. I'm not wishing to complain about the heat, but I did feel that an air conditioned shop or two might just be the answer; after all, I had opened the wardrobe this morning and declared myself bored of all my clothes – after all 2 months is a long time to be away from home. The bottom line is I now have a couple of fresh items to liven up the final week – I think I deserve it. Tonight will be a casual supper somewhere in The Rocks, which is an area full of history around the Harbour Bridge. It was once a renowned and notorious part of the city; now it's buzzing and full of many great eateries and bars. I think a nightcap at Barmy Army HQ might be in order, before an early night ahead of the final Test starting tomorrow. Will it go five days? And, more importantly, can we get have a win – please!
New Year's Day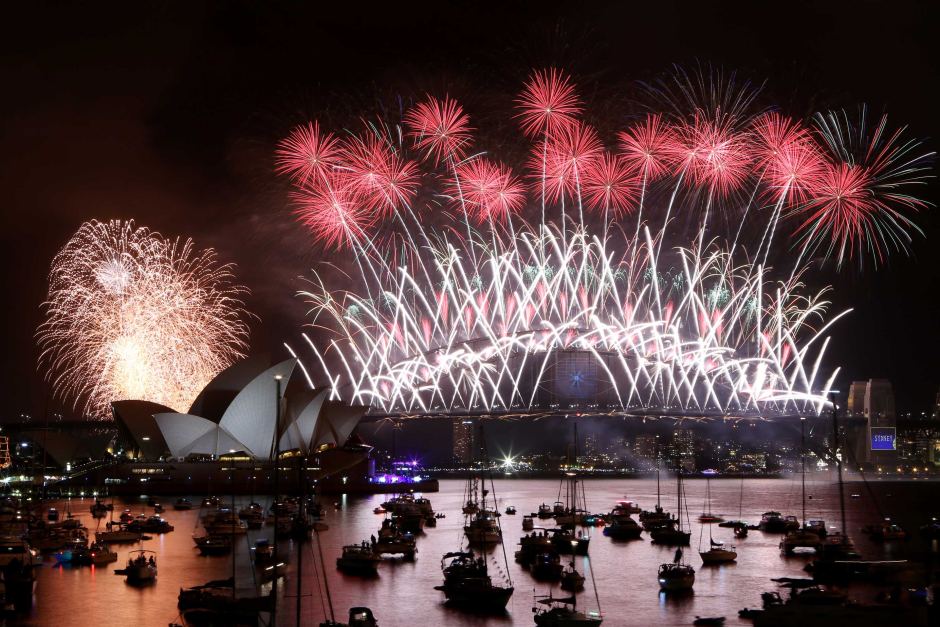 It had to be done – when in Sydney, where else to be on New Year's Eve but at the Opera House, celebrating her 40th birthday. And so, dressed in his and hers matching pink, we took our seats for the Gala opera concert. Iconic from the outside, the Opera House is even more impressive on the inside (they do daytime tours if you can't get a ticket for a performance) Speaking as someone who isn't a great fan of NYE, this was a great way to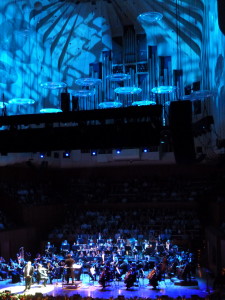 pass the evening. A glass of something cold on the balcony, then a selection of 'the best of opera' tunes (you know, all the ones that have been used for adverts and that you can tap along to). We were astounded, nay horrified, at the stampede shortly before the end of the first half when the locals left early to jostle for position ahead of the 9 o'clock fireworks. It certainly wouldn't happen at a theatre in England! The countdown to midnight passed very pleasantly with us standing on the balcony in pole position facing the Harbour Bridge, eating substantial canapés and sipping champagne (or wine or beer) Dare I say it, an even better view than from a boat which we have done for the past couple of trips. The fireworks are all about the Bridge and, as ever, didn't disappoint; particularly the James Bond-style display from the back of synchronised jet-skis! Just as we were getting post midnight fatigue, a 15-piece Big Band struck up and we danced into the early hours, before strolling home round a now deserted Circular Quay. I'd definitely book it again for four years time, and you certainly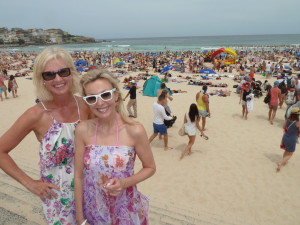 don't need to be an opera buff to enjoy it – just a top party at surely the best venue in the city. If NYE is all about the Opera House, then surely New Years Day is about the beach. In our case, it was Bondi. A stroll with Latest and Anne along the coastal path towards Tamarama, learning all about 'Nosey Bob' the local hangman who lost his nose in an accident – and that Bondi is the Aboriginal name for "water breaking over rocks". Judging by the surfing swell this morning, it's a pretty apt name. A late lunch at a packed and trendy beach cafe dismissed by Latest as "too loud" (he can be such a fuddy duddy) then back to our hotel. The build up to the 5th and final test starts tomorrow (yes, I know we were all trying to forget about the cricket ) so it's back to work for him and I'm hoping to find out if I can have a lesson at the boomerang school. Who ever knew there was such a place?
December 31st: Day 51
And so to Sydney for New Year's Eve. I've enjoyed Melbourne; I think the man who told me that it was easier to understand the city when you lived there rather than as a visitor made a fair point. But I've thoroughly enjoyed Victoria on this trip – made, once again, by the wonderful friends we have made there over the years. The flight to Sydney didn't get off to a particularly good start; Jetstar (the equivalent of Ryan Air) couldn't cope with the huge amount of luggage; NYE is the busiest day of the year for both domestic and international travel in Australia. But, the spirit of blitz was evident, and – as the majority of the travellers seemed to be British – we patiently queued out of the terminal building. It was lovely to catch up with a young supporter called Harry and his family. Latest had last seen them in Nagpur last year, just before his father set off on a tour of Afghanistan. Safely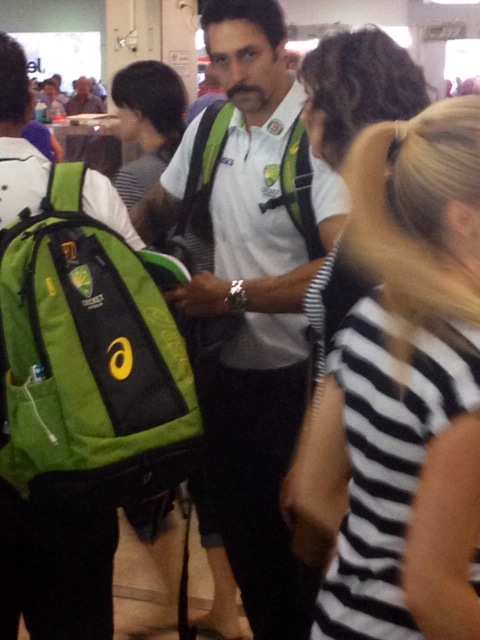 back after his 7 months stint out there, they had treated themselves to Christmas and New Year Down Under. Also queuing was Stuart Broad's stepfather Nick. He's a great character and former Leicester Tigers rugby player – he and Carol live fairly close to us in The Vale and are lively Sunday lunch companions! Then we saw him. Dark, brooding – weighed down by probably the only thing to slow him down (his baby) – his moustache growing to the left, growing to the right. Yep, it was Mitchell Johnson. I took a snatched photo and scurried away. Once aboard the flight there was yet another hold up; the plane had been overbooked by one seat – and the rep from Howzat Travel had nowhere to sit. Offers of a later flight and substantial compensation persuaded one man to leave the aircraft to a huge round of applause. Then it was au revoir Melbourne and hello to one of the greatest cities in the world. Top travel tip: for all his chaotic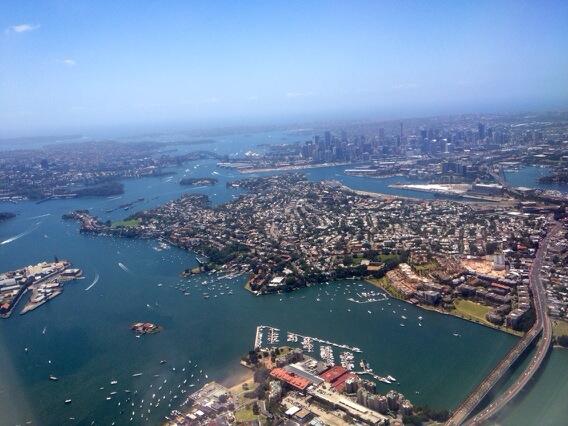 organisation, Latest advises a left hand window seat on a flight into Sydney, so if the wind is right you get your first sight of the Opera House and the Harbour Bridge from 2000 feet. This will be my third New Year here; previously, we've been lucky enough to be on a boat out on the harbour. If you ever get the chance to do it, grab the opportunity with both hands. It's a magical way to see the hundreds of thousands of people who cram onto the shoreline to be part of the celebrations – and of course you get an unrivalled view of the firework spectacular. This year we thought we would do something different: we are off to the Opera House. We will be drinking champagne, listening to a gala concert, watching the early fireworks at 9pm, more opera then out onto the balcony for a champagne party and dancing into the wee small hours. When I say dancing, of course, I mean Latest will be shimmying awkwardly and drinking chardonnay with his Australian counterpart Jim Maxwell. My friend Jen (soon to be Mrs Maxwell) will probably be doing her Kate Bush impression (it's amazing and has to be seen the believed!) and Anne and I will be a whirl of lip gloss, new frocks and bling! Pics will follow. Errant son Tom, the patient and gorgeous Georgie, and Dirty Dave from our village who has just arrived in Oz, will be 'giving it large' down at the Barmy Army party right on Circular Quay. I'm not sure I'll be able to publish their photos! So here we go for the last few hours of 2013. Latest is recharging his batteries (i.e. afternoon snooze) I'm taming my unruly mop of hair and Sydney is bathed in sunshine for the thousands of fellow Poms who are enjoying the trip of a lifetime.
December 30th: Day 50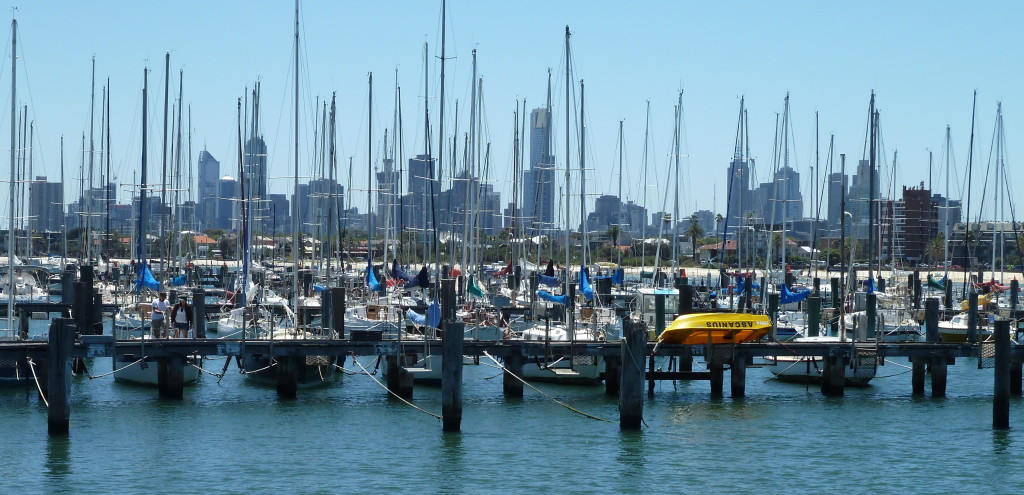 The England management go big on "taking the positives" out of every performance. So here's my take on yesterdays massacre (quote the BBC cricket correspondent). Firstly, we got a lie in past 7am as the coach generously doesn't call his press conference until 0930. Interview done – Latest feels more hopeful that Andy Flower (who he rates hugely and likes a great deal) will stay on with England – we decide to head for the beach. The tram service in Melbourne is very efficient, but you can no longer buy tickets on board. We stopped off at the nearest 7/11 store, where the assistant assured us that it would be cheaper to go by cab. In reality it's $6 for the card then $7 top up. I put my best sulky face on and demanded to travel by tram whatever the cost. Guess who won. St Kilda looked a picture, albeit with a chilly breeze. Latest, producer Adam Mountford and I took a stroll along the pier, admiring the stunning views of the city, before rewarding ourselves with one of those long, long lunches best savoured when you have no other commitments in the day. Three years ago, when England won the Ashes on the fourth day at the MCG, we took a riotous party to The Stoke House, including the Family Vaughan and James Whitaker (Latest's school fag but now National Selector). A kindly stranger sent over a rather splendid bottle of Chardonnay to help us celebrate. Today, exactly three years later to the day, our somewhat subdued party returned to the same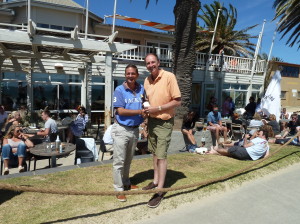 table and blow me, if that same family weren't there again. Andrew Williams and his lovely party despatched another bottle in our direction, which we were, of course, duty bound to sup. Many thanks and here's to 2017, Williams family! Lunch over, we retired to sit outside on the beach. There we bumped into an old friend from BBC Radio Leicester days. Latest used to be my tea boy when I worked on the breakfast programme ( I like to claim I taught him everything he knows) and Kevin was a station assistant. He's now a cameraman for BBC Sport and out here covering The Ashes with reporter Dan Roan. There was much air kissing (it's what we TV luvvies do). 7pm seems to be a civilised time to finish lunch, so we headed back to our hotel to pack. We are on the early morning flight to Sydney – it's New Years Eve, after all, and are there many greater places in the world to celebrate? We have seats at literally the best venue in the world. Rest assured, Jonathan and I will be sharing it with you.
December 29th: Day 49
I don't know about the rest of you, but I've had a cracking couple of days. Plenty of soaking up the sun by day, and great entertainment in the evening. You can't travel all this way and NOT enjoy yourself, can you? We had a great night out with another branch of our adopted "Aussie" family yesterday. They had been to stay in the Vale a couple of summers ago, when Latest proudly took a group of them for a 'pleasure' flight in his little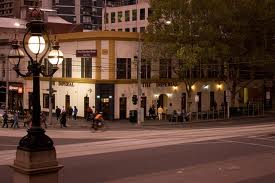 plane. Sadly, one of the party took exception to the steep turn he did over Skegness caravan park and, er, had to avail himself of the sick bag! Recalling that incident seemed to be the only way we could possibly bring these Aussies down a peg or two! Tonight we've been back with the Barmy Army at the Imperial Hotel. Gosh, haven't they sung their hearts out today? For two and a half hours we all chewed the cud over a variety of topics, from England's immediate crisis to working with Geoffrey Boycott. Oh, and where to spend New Years Eve in Sydney. I was delighted to hear a number of them are following my blog and a super lady called Jane was travelling in memory of her dad and has booked to go to Williamstown tomorrow following my recommendation! Afterwards we strolled to Chinatown, Melbourne style, where Latest pompously ordered "Ashes chicken" aka lemon chicken (he knows which number it is on the menu in the Jasmine House, Melton Mowbray) Basically, we all know how lucky we are to be out here and we intend to enjoy the last week, but in the short term I'm thinking of a tram to St Kilda for lunch tomorrow. See you there?
December 28th: Day 48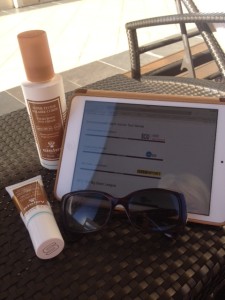 It's official; the best way to experience the Ashes this winter is in the Melbourne sunshine, next to a delightful rooftop swimming pool – but listening on the radio so you can turn it off/call for more wine/ move into the air conditioning when it all gets too much. And so, as I packed Latest off to work, I set up camp In our hotel. Sun cream (factor 50) sunglasses (polarised) new book downloaded (Gone Girl – a real page turner) iPhone tuned into Test Match Special; sunbed correctly positioned, and we're off! I couldn't decide which bikini to wear this morning, so I rashly decided to change every time a wicket fell. Crikey, was I kept busy during that first hour; my fellow sunbathers must have thought I was seriously incontinent. But then it began to get exciting and when the Beautiful Boy reached 50 I even considered trotting across the road to watch him make his hundred – after all the 2nd best place to watch the Ashes is from the Test Match Special box! Sadly, it wasn't to be, so I decided to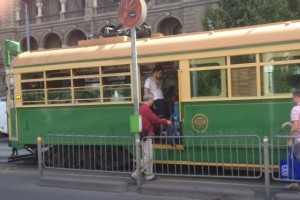 step out and see a little more of the city. As a visitor, one of the nicest ways to see Melbourne is the free Circle Tram. This is like the London sightseeing hop on, hop off red buses, only you don't have to pay. You can get on at all the major City centre attractions, such as Parliament House, Flinders St. Station and the Docklands – or you can just stay on as it trundles slowly round the loop (about an hour in total) which is exactly what I did. I stepped off just in time to hear the most enormous roar go up from the MCG – KP was out! It's looking increasingly likely that Latest will be having (another) unscheduled day off on Monday.
December 27th: Day 47
I was still smarting from the disappointment of no Hugh Jackman when I awoke this morning, so I hit him where it hurts – I went on strike, refused to get up and make the coffee! For the first time in 47 days, I lay there snoozing while Latest stuffed himself with a full English and went to work. The weather in Melbourne is so totally unpredictable that although it was grey and cloudy, I lathered myself in factor 50 sun cream and set off for the river. Proving once again what a small world it is, the lad selling boat trips on Federation Wharf was from Leicestershire – the beautiful market town of Ashby de la Zouch to be precise. Well that was it. He could have been selling us a rubber dingy trip round a duck pond, but we had to buy his trip.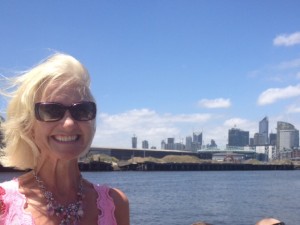 So it was all aboard and off to Williamstown, about an hour or so down the river. Williamstown is a very attractive maritime suburb of Melbourne with a lot of historical buildings along the 'front'. It was originally planned as the capital of the new settlement, but there was a lack of fresh drinking water so the centre was moved along the river to what is now Melbourne Central. Passing some seriously expensive-looking riverside apartments, with even more seriously pricey boats moored outside, we cruised gently along the Yarra. Such a relaxing way to travel, don't you think? I briefly checked t'Internet for cricket news (at that point I was planning how to keep Latest amused on yet another unscheduled day off) The naval and boat building industry is still very much in evidence with huge container ships, cranes and industry all along the shoreline. As we steamed into Williamstown there was a lovely marina with some weekend cruisers that I would look a darling on! The area is clearly concentrating on tourism these days, as there's a plethora of eateries including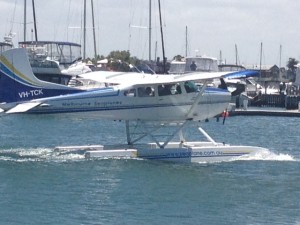 more ice cream parlours than you can shake a cone at. FYI I tried tiramisu; Anne went for creme brûlée and errant son scoffed mint and butterscotch. Well, it would have been rude not to, wouldn't it? It was a lovely place to spend the morning and if you really want to travel in style, the smartest way to arrive is by seaplane. One day, one day. It's also worth noting the harbour is allegedly still haunted by the jangling of the convicts' leg irons as they were unloaded from the ships. Oh, and apart from ice cream, the town's most famous export is probably tennis star Mark Philippoussis (that's a lot of s's and p's!) After a morning of sightseeing, what better way to while away a couple of hours than a spot of lunch on the buzzing Southgate area of the city. It's a bit like Covent Garden by the water, with street entertainers and restaurants. Latest rang to ask if I'd heard him interview Piers Morgan during the lunch break – I had to confess that I'd been deep in conversation about ice cream flavours at the time. As I'm a fellow journalist, he often asks my professional opinion when he has to handle a potentially controversial or difficult interviewee. It is clear Piers very much divides opinion, and while encouraging different views, I know that Jonathan was keen to ensure that Piers' view of mental health issues should not in any way be confused with his own. Say what you will about the man though – and I hear what you say about his self-publicity – but you've got to admire someone who is prepared to face Brett Lee's balls, even if Latest tells me the result was very painful.
Boxing Day: Day 46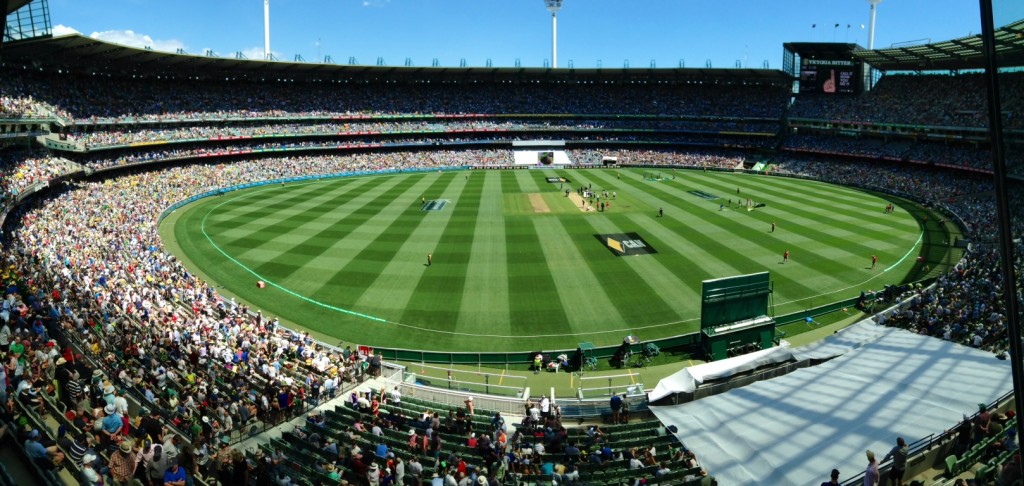 And so Christmas was over and it was back to what passes as work for Latest. I must admit that I'm still finding it quite hard to deal with the three-hour time difference from Perth, and struggled to leap out of bed with my usual vigour when the alarm went off. At least, I'm assuming it is jet lag rather than the copious amounts of champers some of us consumed yesterday. We marched to the MCG with over 90 thousand other believers; those who believe it's about time England had a change of fortune, and those who believe it's going to be a 5-0 drubbing. The Boxing Day Test is a veritable Who's Who of cricketing and show biz society, and most of them pass through the broadcasting box at some point, so it's a great place for me to position myself. Over the years Latest has interviewed pop stars (most of whom he hasn't heard of); MPs (he's keenly interested in politics); Actors and actresses (he was particularly delighted when he persuaded Penelope Keith to come on as he's a huge fan of The Good Life but don't ask him about the time he interviewed Edward Fox) etc etc. But today he failed me. As the sun came out around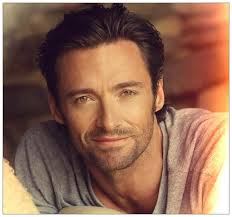 lunchtime, I was just contemplating retiring to the pool when I spied one of MY favourites; there, perched on a stool chatting away to Shane Warne was the luscious Hugh Jackman. Trying hard not to imitate one of the love struck teenagers who have been hanging around outside our hotels hoping for a glimpse of the touring Justin Bieber, I thought I'd just wait to see if he could be lured into the Test Match Special box. Hugh spent part of his gap year teaching at Jonathan's old school, and Latest was hoping they could swap school memories (obviously several decades apart). Sadly, it was not to be today, so I returned to the hotel. My displeasure was compounded when I discovered that, due to the architecture of the buildings, the pool was in shade. There was also a text from Latest offering me tomorrow's TMS lunch guest, Piers Morgan, as compensation for the missed opportunity with HJ. Life can be so disappointing, can't it!
Christmas Day: Day 45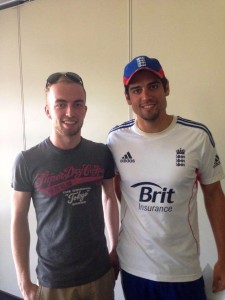 I know we had had a "no present" pact, but I was still faintly gutted that there wasn't even a teeny weeny gift from Latest at the bottom of the bed when I woke up. Why do you men take things so literally? And here's another thing fellas; we don't actually mean it when we say we don't want anything. Anyway, I dutifully trotted off to work with Latest, son and the gorgeous Georgie in tow. With the Test starting tomorrow, there was a training morning for the team and therefore work to be done. I may not have had a visit from Santa, but my dedication was rewarded by a kiss from the Beautiful Birthday Boy, Alastair Cook. He was very entertaining in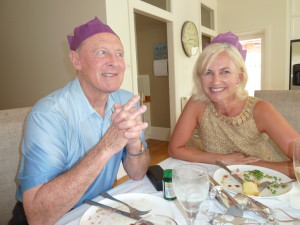 his interview with Latest, and recounted tales of making his brothers wait for their Christmas presents while he enjoyed his birthday first. Given the pressure he must be under as captain, he was as charming as ever and readily agreed to make Tom's day by posing for a photo. See, we are easily pleased! Work done, it was time for the festivities to begin. We traditionally spend Christmas Day with Jonathan's 'Aussie Family'; the Tobins. This is a family who Latest first met back in the 1970's when he was the overseas player for a local cricket club, Essendon. Our families have been closely connected ever since. Little did they know, when they extended their usual kind invitation to us, that we'd bring with us a posse of friends including fellow Vale resident and TV presenter Anne Davies and the irascible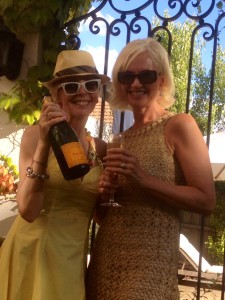 Geoffrey Boycott. He was on top form, and held court on a number of subjects including marriage, sex and oysters, Reality TV, golf, South Africa…and in depth coaching of the youngsters of the party on how to play spin bowlers. As you can imagine, he's an expert on all of them, and finally drew breath at 7pm. We feasted on turkey, ham, prawns, an indecent number of Sydney rock oysters, all served under their beautiful ivy strewn veranda in 30 degrees. And so tomorrow – we will make the 20-minute pilgrimage through the Fitzroy gardens to the MCG, along with another 80 thousand people. It really is one of the great sporting occasions; enough to make the hairs on the back of your neck stand on end when the roar of the crowd goes up as that first ball is bowled. I know what you're thinking: lucky beggar. Yep, I know. What a life I am currently leading. Merry Christmas everyone xx
December 24th: Day 44
At last it feels like Christmas. Latest was persuaded to download some Christmas music amongst his Wagner on his iPad. I put up the few cards that I've been hoarding in my suitcase since the beginning of November, and we went Christmas shopping – along with everyone else in Melbourne! Tom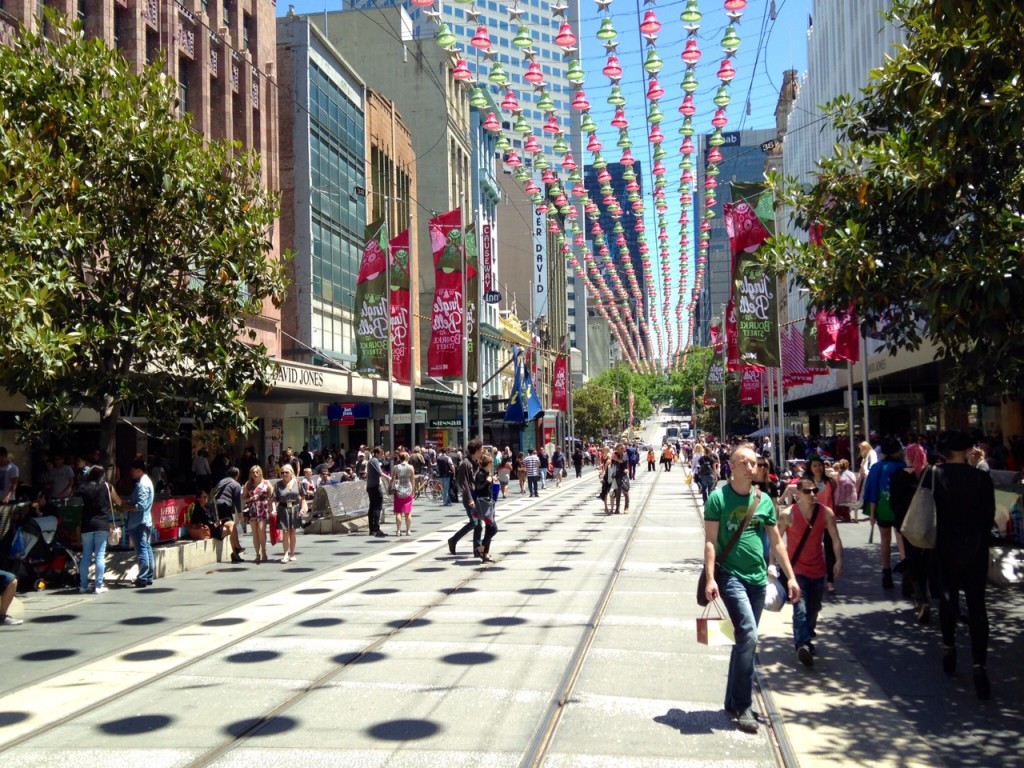 had suddenly announced he wanted a particular pair of headphones for Christmas: a specific model and colour. The major department stores assured me they'd sold out weeks ago. Great. He did this once as a small boy; Christmas Eve he announced the only thing he wanted in the world was a Buzz Lightyear toy, which had been sold out for weeks. By some fluke of nature, I happened to be near a toy shop at lunchtime when a lorry load was delivered ; Christmas had been saved ( although I'm not sure he ever played with the damn thing, but I suppose that wasn't the point). Latest played a blinder today by spying the last pair of said headphones in an electrical shop. He subsequently rewarded himself with a trip to the wine section of a well know upmarket department store. Everyone in our hotel seemed to be doing last minute present wrapping; there was a queue for the scissors and sellotape! Frankly the usual carefully coordinate wrapping and ribbon has all gone out of the window this year; folks, you've just got what was available, but I have had fun attaching some jingle bells to the pressies which I suspect I will regret by lunchtime tomorrow. Jonathan was so high after his success out shopping, that he decided to reward himself with a mid afternoon nap (I hasten to add that he had been working this morning) I absolutely love Christmas Eve and can't wait for the first pop of a cork around 6pm tonight – that'll be just as everyone back at home is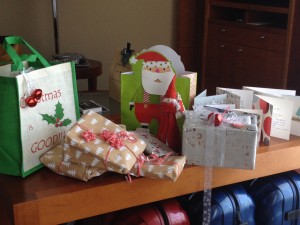 waking up. I've taken a punt and booked a supposedly trendy restaurant in Federation Square. "Trendy" probably means hugely expensive, very noisy and with those impossibly modern toilets where you don't know how to turn the taps on. Although we are a long way from The Vale, one of my closest pals arrived in Melbourne this morning. It was nip and tuck whether she'd get here for Christmas; her plane was diverted to Delhi because a fellow passenger had a heart attack and she nearly missed her onward connection. But Santa must have been keeping an eye on her as she was safely delivered in time for coffee. She will be spending Christmas Day with us tomorrow, and so too will Geoffrey Boycott. I know what you're all thinking; aren't we honoured?! I'll have my camera at the ready to capture him playing Christmas party games with a 'stick 'o rhubarb'. Please send any suggestions for what might entertain him to @mrsaggers
December 23rd: Day 43
And so, some 6 weeks after I first flew into Sydney, it suddenly feels as though we are on the home stretch, with just Melbourne and Sydney to go. Tomorrow will be Christmas Eve for us. If I was at home in The Vale, it would consist of last minute present buying, wrapping (am I the only one to run out of Sellotape and tags?) and delivering. Then I'd be peeling vegetables for the five thousand (we have had 20+ for Christmas lunch for the past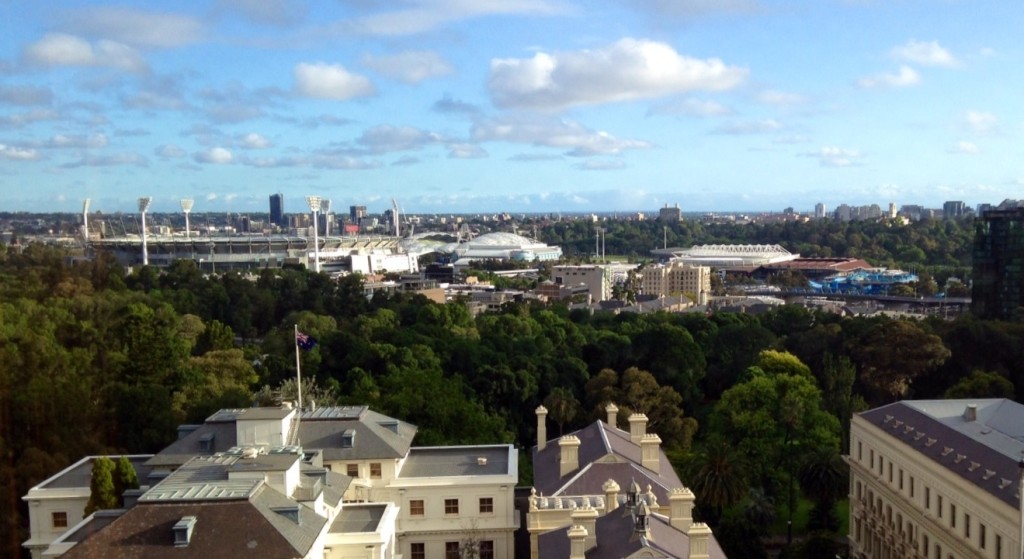 two years) laying said table with whatever colour scheme I have decided on (last year it was purple and silver) then meeting up with friends in our lovely village pub. That's always a splendid affair when the prodigal children return from Uni or wherever, bemoan how "boring" it is to be back home, then meet up with their friends over plentiful supplies of festive cheer before collapsing into bed shortly before the turkey goes into the Aga! Carols are sung and mince pies are eaten in the pub; last year Latest kicked off the village sing-song on the piano with his unique rendition of "Once in Royal David's City". So this year, Christmas Eve won't be quite the same. He will off to the MCG to interview the players (I gather there's been some coming and going?) and preview the fourth Test. I will be scurrying round the shops picking up a few little stocking fillers for the roguish Tom (I'm thinking disposable razors for a start to shave off his beard) Latest and I have had a 'no present' pact this year – hope he sticks to it, because I have. Then I intend to settle back and get into the Christmas spirit. It will be very relaxing with absolutely nothing more strenuous to do than lift another glass of something cold and fizzy to my lips and look forward to spending Christmas Day with good friends. But truth be told, I've rather missed all that frenetic build up – the parties, seasonal colds and coughs and the overspending. We might have lost the Ashes, but nothing beats England at doing Christmas.
December 22nd: Day 42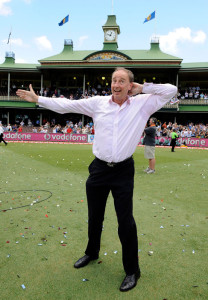 There's no such thing as a Sunday morning lie-in when you're on tour. Just as I was contemplating a leisurely breakfast, the news broke that Graeme Swann was to retire. Latest opened his suitcase full of wires and cables (often causes quite a stir going through airport security) and within a couple of minutes was broadcasting live back to the UK. I'm not sure I have much to thank Swanny for; last time we were here in Australia, he invented "the Sprinkler" dance, and Latest promised the Barmy Army he would perform it if we won. The rest, of course, is sporting history, and so the hallowed turf of the SCG had to witness him performing his moves. It wasn't pretty, but he's a man of his word! Of course breakfast time in Australia is the middle of the night back home, so the main bulk of his work today will be done this evening our time (ie Sunday breakfast in UK, if you're still with me!) which meant that Jonathan still had time to indulge in one of his real passions in life – flying. Some years ago, in an attempt to ward off a mid life crisis, he and a doctor friend decided to learn to fly. The plan was that the two men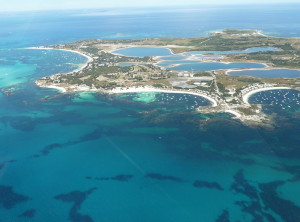 would get their licences, hire a plane, and fly the two wives to Le Touquet for lunch. They are both qualified pilots, but Vicky and I are still waiting for that lunch! While I'm supportive of the flying hobby, my preferred mode of air transport is a jumbo jet with a few hundred other passengers, so as he went off to the airport, I set off with friends to cycle along the Canning River. No flat tyres, no hills and a good cafe – what could be better? I am seriously considering buying myself a bike when I get home, although there are some pretty steep hills in The Vale! Latest came back VERY pleased with himself – he'd flown down to Fremantle and over Rottenest Island. I have to say, it looked absolutely stunning from his photos. He also managed to take a couple of 'selfies' in the cockpit – I'm sure that breaks some sort of aviation law. He's now back in front of the microphone and I'm trying to pack very quietly – we fly to Melbourne tomorrow morning, where I gather the weather today has been wet and grey. Oh joy. It also means a three and a half-hour flight, a three-hour time change so we pretty much spend the whole day travelling AND I need to remember to alter my watch this time.
December 21st: Day 41
I think I'm correct in saying we have been in Perth longer than any of the other cities on this tour, and I've become very fond of it. I've also discovered quite a few unusual facts about the place, although I hasten to add I can't vouch for the veracity of any of them. But here goes. You can fit 12 United Kingdoms into Western Australia, but there are less than three million people in the state. Most of those live in the city of Perth, which is also the sunniest city in the world, leaving a huge amount of space with not many people living there!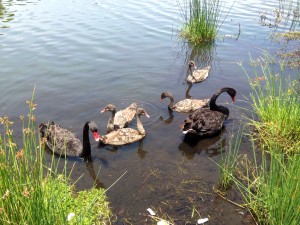 Don't be fooled by this seemingly idyllic family of black swans we saw when on our bike ride – there's every chance this is Dad and Uncle with the kids. Wildlife experts don't know why, but 25% of black swans are homosexual. The males allows the females to lay and hatch the eggs then kick her out of the nest and bring up the cygnets themselves. Have to say, sounds like a good deal to me! Broome is the capital of the worlds pearl industry. I spent a good deal of window shopping for said pearls yesterday and now understand what to look for in terms of size, shape, lustre, inclusions etc etc. I also know exactly what I'd like for Christmas. Thank you Santa! Kings Park is the largest inner city park in the world; considerably bigger than Central Park in New York. It's also a wonderful place to go at sunset and watch the city light up down below. There is the highest number of self-made millionaires per capita. This has been put down to the boom in the mining industry. It probably explains why it's a pretty expensive place to come and visit and to eat out. It has a grass airstrip right in the city centre; Langley Park. The country's first commercial airline was set up from here back in the 1920's, although it was taken over by Qantas a year later. Every year there is a 'fly in' and many old planes come and use the airfield to help ensure it retains it's operating licence. And talking of flying, Latest will indulge himself with his favourite hobby tomorrow, by flying a light aircraft around Perth. He passed his Private Pilot's Licence some years ago, and tries to fly in every country he visits, work permitting. And no, I don't go with him – what do you take me for?!
December 20th: Day 40
This morning I agreed to indulge my husband; after all, we have had nearly 6 weeks of (almost entirely) marital bliss and it seemed churlish not to go along with his rather "boyish" desires to take a Segway tour. Segways are those machines that look rather like pogo sticks with two wheels and people balanced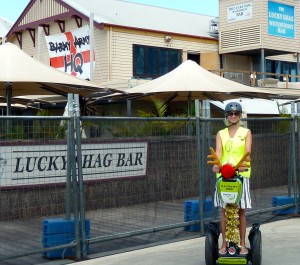 precariously on a small platform. Anyway, Latest had taken a fancy to doing an early morning tour on one. The Son had pityingly dismissed the suggestion on the grounds that we would all look daft wearing a helmet and a fluorescent jacket – he wasn't wrong – but I was in the mood to humour Latest. Segway Tours WA is located on the river by the Shag and our tour guide, Paddy, was a larger than life character, who painstakingly showed us how to manoeuvre the machine using the slightest shifts in weight. I was extremely cautious (I ride a jet ski as though I'm on a mobility scooter) but I soon found my confidence and we were off! As you can see, I preferred the tastefully "pimped" machine complete with tinsel and antlers! Wired up to Paddy with small earpieces, we were regaled with great stories of the history and ecological environs of Perth. There was one dodgy moment when I found myself tootling through a rounders game on a park, but they were a friendly bunch who seemed to realise I was a beginner, and they didn't swear too much. I must confess to being rather sad when the trip was over, and although it's not a cheap excursion, it's very safe and something a bit different. I also took great pleasure in shouting at Latest to get a move on – I wonder if that was my first road rage experience?
— Jonathan Agnew (@Aggerscricket) December 20, 2013
December 19th: Day 39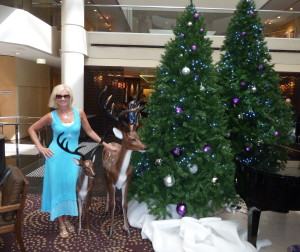 So we set off in search of Christmas Spirit! Firstly: our hotel. While we have been here, they have been putting up decorations. We rather admired the tasteful trees – but then the plastic reindeer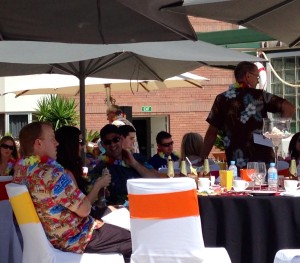 arrived everywhere. There was a nasty moment as Latest took my photo with them; I hadn't realised quite HOW plastic they were, and we almost all went over like a pack of cards. This being the last full working week before Christmas, the party season is in full swing. Our swimming pool was transformed into an Hawaiian party, complete with palms, coconut wearing hula hula girls and a huge number of cocktails with umbrellas in them. It was time to retire quietly before the dancing started – and this was only midday. I contemplated another gentle bike ride along the river to South Perth, but an acute memory of the total humiliation of being overtaken by a jogger yesterday – who also carried out a full conversation with us – confirmed my suspicion that Latest is no longer one for strenuous activity, So I hailed a cab. In a delightful riverside restaurant, amid tables of partygoers, we decided to hold an impromptu Brand Agnew Christmas party (note to the Daily Mail, this was privately funded). Well with England en route to Melbourne for a break with their families, what else were we to do? Now I'm not sure about the rest of you, but I get a) very entertaining and b) into huge philosophical discussions when I've had a couple of glasses of wine, and Latest and I have been arguing over our preferred Australian cities. His are #1 Adelaide #2 Perth. I may, out of sheer devilment, have to disagree with him.
December 18th: Day 38
Today I got back on the horse. I'm talking metaphorically, not literally of course. You'll probably recall that some 10 days ago in Adelaide, myself and Michelle Wright (hugely glam and extrovert wife of the Nottinghamshire chairman, Peter) had an ill-fated bike ride to Henley. Flat tyre, ruined inner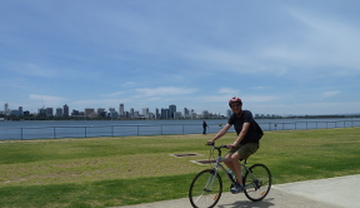 tube, no repair kit and ignominious taxi rescue home. So this morning, after Latest had finished the press conference with Andy Flower (there's only so many ways you can say you are gutted with the team's performance) I persuaded him to hire a bike with me. Now Latest isn't very good at forms of transport other than fast cars and planes. Earlier this year, I took him on his very first London bus as we were heading for a wedding in Islington. He loved it and was even allowed to ring the bell to get the bus to stop because he behaved so well (although he had to fight a small child for the honour). Of course, we did our trek down through the Red Centre of Australia on the Ghan, which proved a huge hit. But he didn't approach the prospect of a bike ride with quite the same gusto. I bribed him with the promise of several nice coffee shops en route and said he could wear the red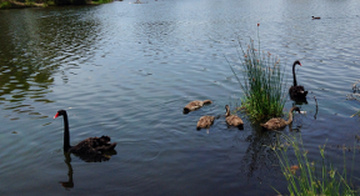 helmet, and so we set off. Well, actually, we finally set off when he remembered he had to flick up the metal bike stand, so there was nearly an accident before we started. Perth is such a perfect city for cyclists; specialist tracks run for miles along the Swan and Canning rivers. It is virtually flat and with lots of shade, and there are plenty of places to stop for a coffee or a snack. And so, peloton-style, we motored into South Perth and its glorious row of classy restaurants and cafés. We stocked up on essentials like water, antihistamine tablets (those mozzie bites are still causing me hassle) and wine (for a BBQ tonight) and remounted. With the good old Fremantle Doctor behind us, we positively roared Wiggins-like along the Causeway, past the Lucky Shag and deposited the bikes back without incident. It's much quieter in the hotel today; many of the supporters have flown home for Christmas and others, who are here for the final two Tests over Christmas and New Year, haven't yet arrived. The players have a few days of R and R with their families and Latest will be writing reviews of the year etc. I still don't feel in the least bit Festive; perhaps tomorrow I should go in search of Christmas spirit? After all, a week today is Christmas Day Down Under.
December 17th: Day 37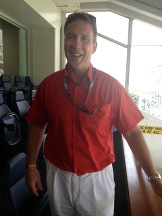 I can officially reveal to you the man who cost England the Ashes; Mr Broad (Senior). You see there's great superstition when watching cricket: if England are doing well, everyone has to stay in their seats and after lunch you all return to the same place. If we are doing badly, then equally it's important to move around swapping companions and hopefully bring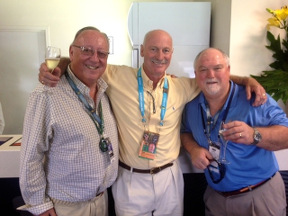 about a change of energy and luck. When we resumed after lunch this afternoon, we took guard in our earlier positions – all except Chris, who moved to the front row. Bang, Stokes was out almost immediately, and the Ashes were lost. In Chris' defence, he was at least showing great patriotism by wearing red white and blue. The Chairman of Cricket Australia gave the most gracious celebration speech afterwards. The box was a "who's who" of cricketing heroes: here's 3 Presidents with Bob The Cat (Kent) Dennis Lillee (Western Australia) and Mike Gatting (MCC) I was also hobnobbing with the likes of Sir Tim Rice, as you do on a Tuesday afternoon! Now I'm sure you've been losing sleep over the state of my 44+ mozzie bites? Well today they are red and angry and very, very itchy, and my legs are definitely NOT fit to be out on parade, despite entreaties from Sire Geoffrey! We are out for dinner tonight, and I clearly don't want to wear trousers in this heat. What's a girl to do? Nothing for it but to buy a new maxi dress. Yes, I know I've got several, but I've worn them already on this trip, and if us Divas want a new frock, we'll jolly well have one!
December 16th: Day 36
They say absence makes the heart grow fonder and, surprisingly, I found myself rather looking forward to seeing my money-hoovering university student of a son who I hadn't seen since he set off for Newcastle in September. Of course, he'd asked me for cash before he even headed to Heathrow (as they do), muttering something about Duty Free essentials (fags/vodka I assume). The answer was no! But he looked surprisingly sprightly when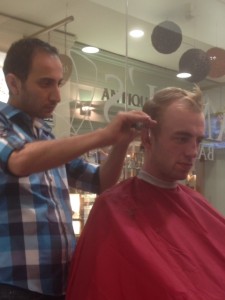 he arrived at our hotel this morning; well, as sprightly as someone can who hobbles in on crutches. He claims it was a hockey injury, and somehow it managed to earn him a upgrade on the flight out, which just goes to show how charming your children can be to other people although they can barely grunt a "good morning" to you unless it's asking for money (see above!) Tom had been responsible for packing his own suitcase, so he sadly omitted a few essentials eg: sun cream, sun hat and sunglasses. I was several hundred dollars lighter and he hadn't even been in the country more than a couple of hours. I also frogmarched him off for a hair cut as I could only imagine the comments that Sir Geoffrey, let alone his stepfather, would make if they saw him. I then packed him off to the cricket with his Godfather and settled myself down by the pool. I reopened What is a Googly as I feared the Ashes would be over before I'd finished it. Sadly, the next chapter was: "who's winning?" So I quickly skipped over that one to page 49. Ok, it's only chapter 5 but I have had lots of other cricketing education since I started it so I think there's definitely been an increase in my knowledge of the game. Finally, I heard that nice Mr McGrath saying how his late wife, Jane, would say that everything in Australia was out to get you; well something was definitely out to get me last night, as I have 44 bites out of my leg, and counting….
December 15th: Day 35
Frankly, it was a very good job that The Lucky Shag was cancelled last night, as Latest came home from work absolutely exhausted. This is when one curses hotel living. Of course 99.9% of the time it's a wonderful privilege to stay in nice hotels in some of the greatest cities in the world. But, as we all know, there's really nowhere like your own bed. So, when he staggered through the door after a day working in those blistering temperatures and having suffered so much ribbing from his Australian colleagues that he looked as though he had lockjaw from his forced smile, he just collapsed on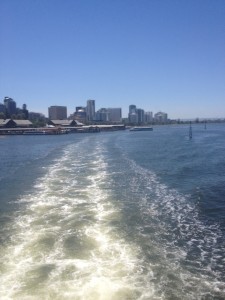 the bed. Being the perfect wife (for two months only, remember!) I ran him a bath and made him drink plenty of water. He slept while I ordered in some fish and chips and then we caught up on the last episode of Downton Abbey. Yes, I know it finished weeks ago, but we haven't had chance to see it! It was a proper 'Saturday Night In' but sadly, without the doggies. I'm pleased to report that after a full 10 hours of sleep, he was as fit as a flea, which was a good thing as I had plans! As Latest plodded off to work, I hopped on a boat with a couple of friends and headed down river (or was it up river?) to Fremantle. It really is the most scenic of boat journeys. Perth is such a pretty city. We passed the most expensive house in Australia, which had been on the market for $85 million (best part of £50m) Apparently it eventually went for a snip at $53m. There were so many boats out on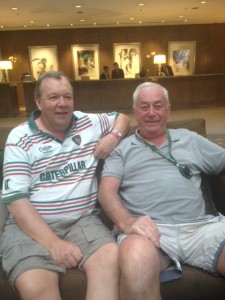 the water – everything from jet skis and dinghies to sleek gin palaces. I vote it even prettier than Sydney. It does lack an Opera House, although at Fremantle the Maritime Museum looks pretty impressive. Known locally as Freo, the town is well worth a stroll round. Because I'm a shallow diva, we just found a small cafe and ordered lunch. A spot of shopping was also on the cards – I can scarcely believe I'm admitting this but I actually bought tea towels, oven gloves and serviettes – all pink of course to go with the Aga. There was even wine tasting on the ferry on the way home, but lovely young James – a Cambridge student – and his father, Paul, drank our share. So, if you find yourself in Perth, then this is a fabulous way to see the city. My roguish son is currently at 39 thousand feet on his way out here – if you seen a tall, skinny lad on crutches in Singapore then give him a poke – but the latest (thirsty) members of the Leicestershire mafia, Trevor and Gordon, arrived in our hotel today. I bought them a local beer then saw them off the premises! Like so many of England's supporters they have been bitterly disappointed by what they've seen on the field, although they are loving Australia. There are so many experts – both official and unofficial – chewing over the cricket performances; all I can say to those of us lucky enough to be escaping the weather back home is that it could be worse. We could be battling though the crowds and doing last minute Christmas shopping. I know where I'd rather be.
December 14th: Day 34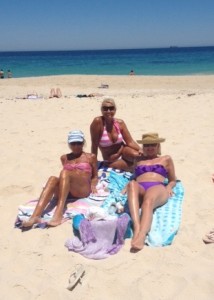 What an absolutely perfect day it's been today. One of the nice things about travelling and making return trips to the same cities, is that you get the chance to make new friends and maintain those relationships over the years. The Nortons are one such family. Ayn is distantly related to Latest (we think it's third cousins) but, along with her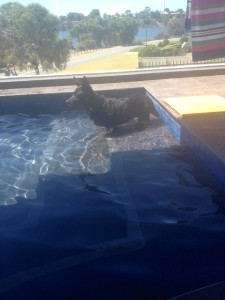 husband Richard, they always keep me greatly entertained when in Perth. I decided I couldn't face the heat in the WACA (both on and off the field), so they insisted it was a perfect morning for the beach. It took me about a quarter of a second to accept! A glorious morning working on the tan and cooling off in the sea – we sent Richard out slightly further than us girls as shark bait! The sun is simply too fierce to spend too long out there, so we retired to the air conditioning of their home on The Canning River. They have a simply bonkers rescue dog – part kelpie, part corgi, part staffi – who loves nothing better than practising her diving skills into their pool. I could have watched her for hours. Tonight we were due to be finishing the day with a few at the Lucky Shag – one of the liveliest venues in Perth and HQ of the Barmy Army in Perth. However, by all accounts it got a bit too lively last night; so the Shag is off. After the emotional roller coaster of today's performances on the field, I was hoping to let off a little steam tonight. And let's face it, as one national newspaper back home has labelled me a diva, I thought I had better practice my vocal skills. The official Oxford dictionary definition is a female singer of popular music. Presumably that's what they mean, isn't it?
December 13th: Day 33
Perth really turned the temperature dial up today – just in time for the start of the Test. I was all hot and bothered by the time I'd arrived at the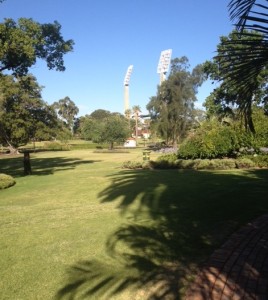 WACA – and that was 10am! Thousands of us streamed across the beautiful Queens Gardens – there can be surely no better approach to a ground. The scoreboards urged us all to cover up and keep the fluid intake high; judging by the early queues at the bars, many were taking this literally, but by the end of the day I can assure you the queues for the water fountains were even longer. Many supporters were sitting in the full glare of the sun all day : in the media tent (a canvas marquee with no air conditioning) they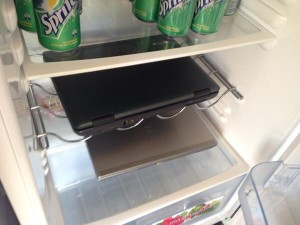 were having to put their laptops and phones in the fridge to cool them down and keep them working. It was blisteringly hot, with temperatures reportedly 38 degrees, and even the Fremantle Doctor failed to lower the temperature. I was pleased to hear our Leicestershire pals Gordon and Trevor, who flew in last night, had made it safely into the ground; cheeky beggars asked me to bring them a couple of cold beers – as if I'd be leaving the air conditioning of my box! And talking of my home county, it was a bit of a Leicester reunion in hospitality today. My fellow guests included Pat Howard, former coach of Leicester Tigers who lead them to the double in 2007 and the Aussie fast bowler Graham McKenzie who was the overseas player for Leicestershire CCC back in the 70's. There was plenty for England's fans to cheer about before lunch, but as the ground got hotter and hotter, you could only pity our fielders toiling away out in the field. I had a fascinating conversation with Pat about how the Aussie players have spent the week having internal assessments to see how their bodies cope with extreme heat and regulate their internal temperatures. Apparently Michael Clarke copes well, while David Warner doesn't. The specialists can then customise their fluid breaks accordingly. It just goes to show the great lengths to which these professional sportsmen go to get the absolute maximum out of their performance. There was a doctor in our box (always reassuring) and he was called on to deal with a number of people who were found slumped against the concrete walls outside the ground. After tea I'd had enough, and the thought of a cooling dip in our pool proved just too much. Latest has always told me how much he loathed ice baths as a player – I'm thinking he may be grateful for one when he finally returns home tonight.
December 12th: Day 32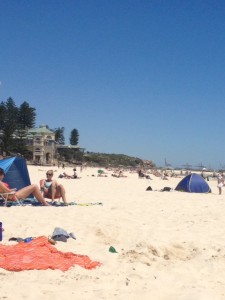 Today I've been on the beach. Cottesloe Beach to be precise. It's a wonderful stretch of sand and sea about 20 minutes from the centre of Perth, and where I feel very much at home! As you may know, there have been a number of fatal shark attacks in Western Australia this year, and the locals take these creatures very seriously. Cottesloe is a pretty safe place to bathe; there's a natural reef, there are apparently sonic alarms in the water and regular airborne shark patrols up and down the coastline. When the children were little, Tom (now aged 20) used to hang around at the waters edge for hours, hoping the alarm would be sounded and he could run out of the water screaming: "Shark! Shark" just like in Jaws. It was pretty hot there today and I couldn't resist a cooling dip,but didn't venture too far out just in case! My friend Ayn and I then had a late, leisurely lunch at the new beach club – it had a distinctly Ibiza cool vibe about it – before I had to tear myself away and return to wifely duties. Latest had been interviewing Captain Cook again this morning, and had been on the look out for the newly-wed Blowers, who has just arrived for his honeymoon. Poor old Valeria is spending her first weeks of married life with her husband at work commentating. Then it was all change and off to the Inverairity's for early evening drinks (I'd met John in Brisbane without having a clue who he is – just thought he was what charming company). As we hauled ourselves out of our taxi, who would be waiting to hop in – but Captain Cook (aka Beautiful Boy) and his stunning wife Alice. They were off to a restaurant where we had a poor experience last night. I SO hope he has an outstanding day tomorrow: it's his 100th Test. Good luck Cookie!!
December 11th: Day 31
I'd forgotten that Perth is probably the best place in the world to wake up. It's so clean and bright and fresh, and everyone is out and about along the two main rivers, The Canning and The Swan. Not to be outdone, Latest and I had to join them. When he arrived out here for the warm-up game some six weeks ago, he was going through a bit of an upper-mid-life fitness phase involving diet and exercise (wrong on so many levels) and he frequently FaceTimed me from his early morning walk among the kangaroos. So this morning he took me to see them. He and I were ambling along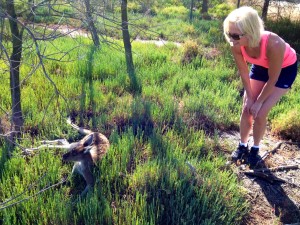 at what is best described as a dawdle, with cyclists on their way to the office and heavily laden with rucksacks irately ringing their bells at us as we meandered all over the dedicated riverside path. But we managed to get to Heirisson Island and there they were; a family of roos lying nonchalantly in the shade (I'm guessing it was around mid 20's at 0700). They are so incredibly tame that you can get really quite close to them, and I never get over seeing these animals that are the ultimate symbol of Australia for me. The walk takes about an hour at our pace, and it just sets you up for the day with that: "It's great to be alive," kind of feeling. There is a longer loop, between the 2 bridges and down across the river to South Perth, and I'm trying to persuade Latest to hire a bike and come with me. He keeps muttering darkly about a lack of Lycra and puncture repair kits, but I'm sure I'll use my powers of persuasion and get him out on two wheels after the Test. Meanwhile, the temperatures are really beginning to soar here in Perth, and there are warnings out to the thousands of English who are arriving in the city to take precautions against heatstroke. I have taken that as an excuse to go shopping – more sun cream and a rather fetching sun hat have been purchased this afternoon. Tonight we plan to head up to one of the highest points in Perth: Kings Park, and watch this beautiful city light up. It goes without saying that this may involve a glass of wine from the local Margaret River region. Well, it would be rude not to – wouldn't it?
December 10th: Day 30
Never let it be said that a travel day is a dull day – in fact, it's been very much one of 'those' days! This morning we were up with the larks, preparing for our flight to Perth. First though, Latest had to interview Andy Flower. He had very kindly agreed to meet Jonathan ahead of the scheduled press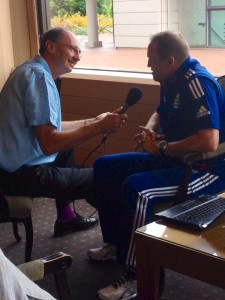 conference – he must have heard that I was somewhat prone to missing flights. The toughest part of Jonathan's job, and one he least likes doing, is interviewing the coach when the team are under such pressure. He actually spends quite a lot of time planning his questions and really thinking about what the listeners would like to ask if they were in his privileged position. He thinks very highly of Andy and, from my perspective, they seem to enjoy a pretty honest – if sometimes robust – relationship. So, interview completed and filed to London, we took a fast car on a very slow trip to the airport. And there we encountered the first of Latest's ' senior moments'. Firstly, a tip for anyone travelling internally in Australia: the basic baggage allowance is substantially less than the international flight allowance. Of course, with all his broadcasting kit, we had racked up an excess baggage fee: if you pre-empt this by buying extra baggage allowance online, you can save yourself a small fortune. Well, of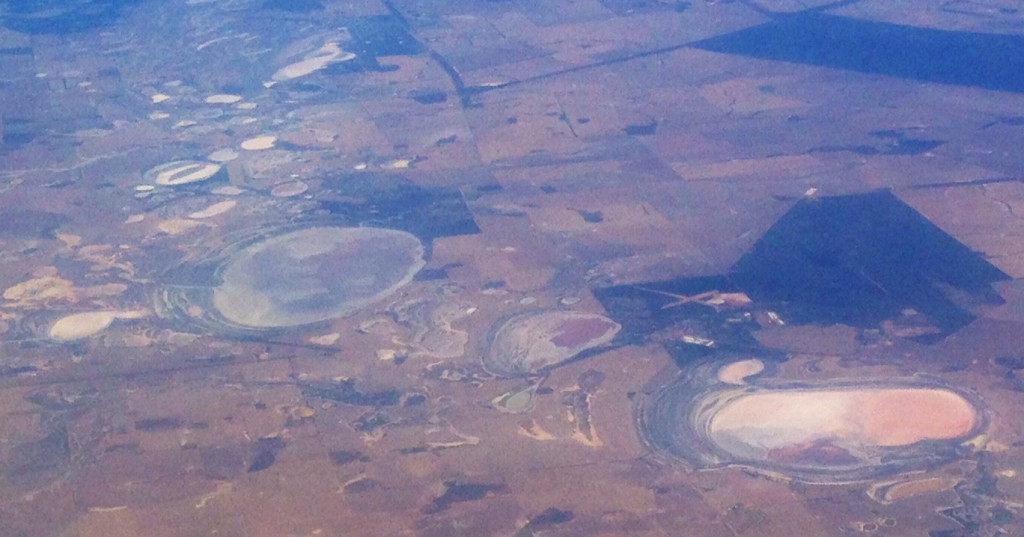 course, I proffer this advice with the benefit of hindsight…so Latest had to wave his magic credit card…. then promptly left his wallet at check in. Oh, the humiliation of being tannoyed across Adelaide airport, much to the amusement of several hundred cricket fans who were also making their way to Perth. I just stalked ahead of him and pretended I didn't know him (you get picture) although my cover was somewhat blown by a number of people asking if I'd recovered from my traumatic bike ride to Henley the other day. So kind. The flight to Western Australia was uneventful – some spectacular scenery with firstly lunar landscape and then the long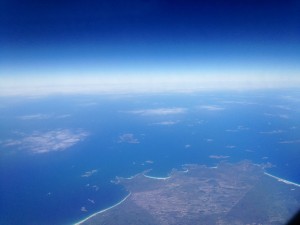 sweeping beaches synonymous with this part of the country. We nipped off the plane and were standing at the baggage carousel when I realised Latest had left the entire bag of Christmas presents which had been so lovingly wrapped by my daughter and sent out ready for the festive season, in the overhead locker on the plane. I glared. He ran, setting off several security gate alarms and ignoring no entry signs: clearly WA immigration officials are less scary than I am! Luckily, the final elderly passenger was just being helped off the plane, so he grabbed the parcels and returned in time to haul his (overweight) suitcases off the carousel. Well, I might have chipped my nails…. At last, the hotel – perfectly located for The WACA. They say these things come in threes, and I'm afraid I threw my first tantrum of the tour. Our first room was overlooking a busy main road; this in a hotel when most of the rooms overlook the beautiful Swan River. So, without even putting the (overweight) suitcases down, we moved. The second room had a view of the pool…but no bath, and I'm afraid I'm a " shower in the morning, soak in the evening" kind of girl. So we moved. Again. By now, Jonathan had retreated to the bar (he hates complaining) but I tend to think that if you're spending two weeks in a place, it's got to be right. And if I'm not happy, I'm going to make pretty sure HE'S not happy either! But now we're settled; there's not a cloud in the sky, all watches have been altered to Perth time, the wireless is working and the helpful concierge has booked us somewhere for dinner where we can watch the sun go down. Hopefully a perfect end to an eventful day.
December 9th: Day 29
And so it's goodbye to Adelaide. It's been fun; splendid food and wine, catching up with old friends, naughty days and nights with girlfriends,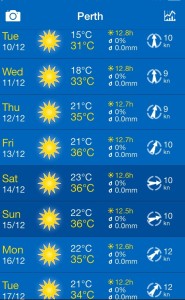 shopping. Shame about the cricket, but you can't have everything I suppose. Yes, I could happily make this beautiful, friendly city my home. I was intending to head to the cricket late morning, but I was pounding away on the treadmill in the gym (OK, a slow trot) when I saw a flood of people heading back across the bridge. It was over. So instead, I went to have my nails done! I also dropped off a mountain of washing at a small launderette
I'd found close to the hotel (remember my earlier rants about the cost of hotel laundry service?) I was slightly alarmed by the apparently haphazard piles of washing lying around the premises, so I won't be surprised if we only receive half our clothes or there are some unfamiliar ladies garments among our packages. Latest is, as you would expect, working flat out delivering his verdict to everyone waking up back at home: a makeshift studio on the terrace is where Mark Pougatch and the Five Live team are broadcasting from, and our bedroom has been turned into an alternative Radio 4 booth. I have to remember not to run the bath and flush the toilet when he's on air! It's an early start for us tomorrow: Jonathan will be grilling Andy Flower before breakfast then we're heading off to Perth on the equivalent of Ryanair. Oh yes, it's luxury travel all the way – NOT! Just as I'd got used to the time difference here (there was a nasty moment when Latest nearly missed the start of play one day as I hadn't altered my watch from Brisbane time) we have a two and a half hour time change – either forwards or backwards, who knows – in Perth. Quite ridiculous! But the weather looks set fair, and up in the high 30's, the beaches are fantastic and best of all we have my 20 year old rogue of a son, Tom and his beloved godfather, Trevor, flying out to join us. Let the partying get well and truly underway!
December 8th: Day 28
Today has been the best of days; one of those days when you laugh so hard and so much your stomach hurts! Michelle Wright and I set off after breakfast to hire bikes for the day – free of charge in Adelaide as long as you leave your passport as security. Now I was anticipating that the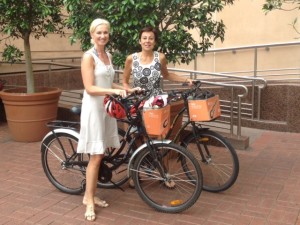 glamorous Michelle would be clad in Lycra top to toe but in fact she was in a lovely sundress and flip flops. I knew we were talking the same language! We basically followed the River Torrens for some 15 kms – a picturesque cycle route with a few gentle inclines. If I'm honest, it was slightly disappointing that the only person we overtook was a small child with stabilisers, but let's gloss over that small detail. Then disaster struck. I suffered a rear tyre blow out and nearly knocked Michelle off her bike. For the next 2km we suffered the ultimate humiliation of pushing our bikes along the path to Henley. There was much ringing of bells for us to get out of the way of other smug cyclists roaring past us. One kind man stopped to offer his puncture repair kit, but saw we were beyond help – the inner tube was hanging out. When we arrived at our destination our bikes were unceremoniously flung against a tree, and we spent the next 2 hours lunching In a lovely beachside restaurant to assuage our trauma. Finally the splendid Michael collected us in his bus, and deposited the broken bike back to the city centre. Further confirmation, if it is needed, that exercise is bad for you! Thanks to our splendid little wireless gizmo, we were able to keep up with the cricket during this most eventful of days. We were gutted Root didn't get his 100, but hey, they say it's going to rain all day tomorrow! Meanwhile, latest and I are off out with our fellow Howzat travellers tonight – it will be lovely to meet up with Melton Mowbray locals Ian and Leanne Kerr and meet their baby daughter for the first time.
December 7th: Day 27
Today when I woke up the sun was shining and I decided to abandon the cricket and head for the beach. Oh boy, am I glad I made that decision. There was a merry band of three of us and we hopped onto the train at the main Adelaide station, which conveniently is right next door to our hotel. Glenelg was our initial choice, but we'd been recommended a quieter and more laid back beach. A day return ticket for the 30 minute or so journey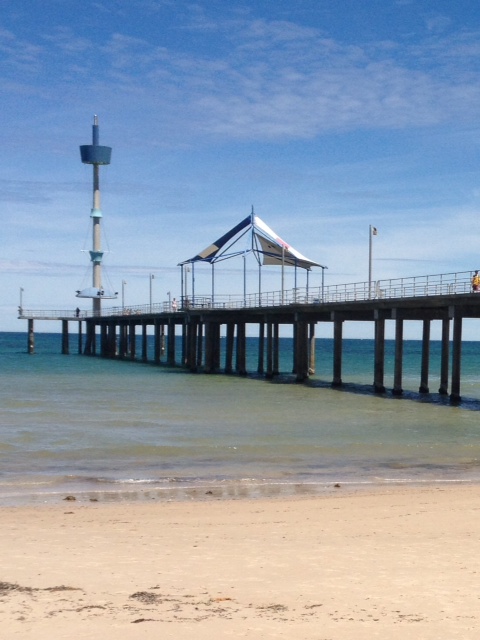 seemed good value at 9 dollars (just over a fiver) in a country which is shockingly expensive for us Poms. It's surprising how many stations with English names we passed through; Mile End, Ascot, Hove…until we got to Brighton. It was just a short walk from the small country station, down a rather quaint high street (clearly we had to stop for coffee and breakfast) then onto the beach. Despite being a Saturday, it was virtually deserted and we settled ourselves down on the sand. Apart from the name, it bore some resemblance to its English namesake: there was a pier and some very swanky houses along the beach, but the water was distinctly warmer! There are no facilities like sun beds and umbrellas to hire, but we were armed with towels, bottles of water, and listened to the cricket as England's batting crumbled. I felt England might need me to bat at number 3, so I left the girls after a couple of hours and headed back to the city. The station manager at Brighton was also listening to England's calamitous performance; he was from India and an avid fan. He was also a mine of information about Adelaide and clearly loves the city he now calls home. He reminded me every much of the Manager, Maurice, at our local Grantham station, who loves nothing better than a good old chat, particularly when you're late for a train! Tonight Latest will be chairing another supporters forum; last night he hosted Vic Marks, Mike Selvey along with a boisterous former Aussie player, Greg Matthews. The former all rounder was, shall we say, an outspoken character – I think Jonathan will have to keep him on a tighter leash tonight with the good men and women of the MCC. Tomorrow, weather permitting, I'm planning to hire a bike and head to Glenelg with our near neighbours and Nottinghamshire Chairman Peter Wright and his wife Michelle. I rather fear that they are keen cyclists, whilst I haven't been on a bike since the kids were little. They assure me it's a flat road to the beach with no hills – I suspect it will still be a better bet than going to the cricket.
December 6th: Day 26
There are few things more maddening than a taxi driver who doesn't know where he's going to in the town where he's working. So last night, when Latest pompously said " The Elephant pub in Cinema Square my good man", and the cabbie looked blank, it didn't augur well for a good evening.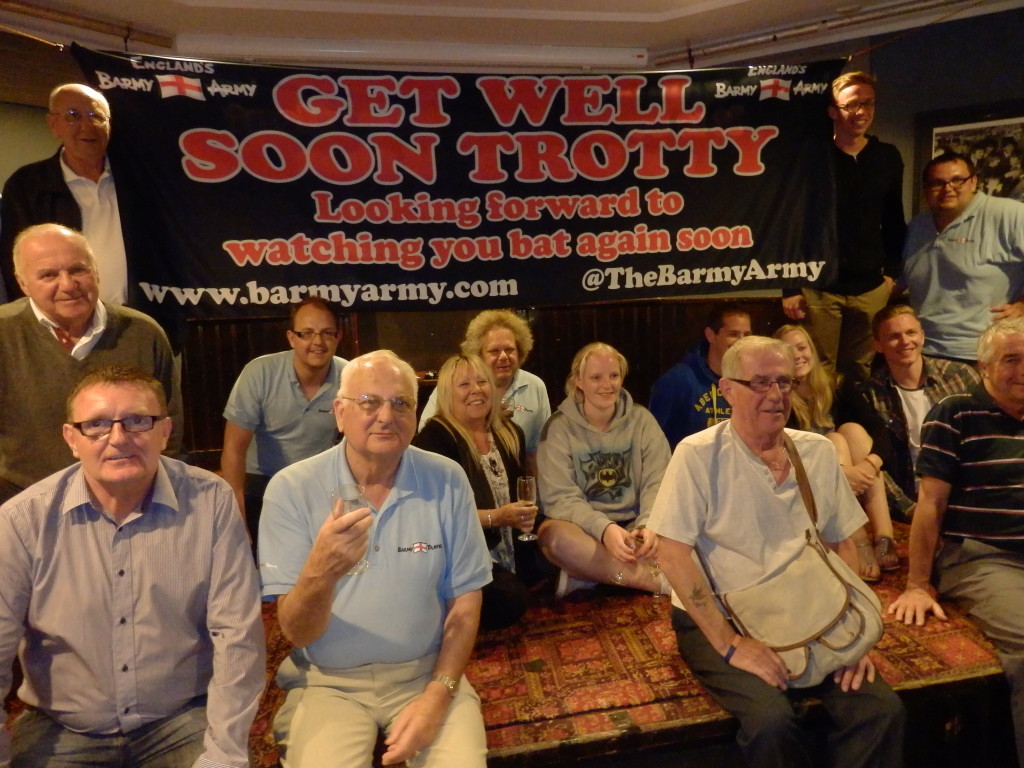 How wrong we were. It was a night with the hardcore Barmies; that is, those who are travelling with the Barmy Army for the full 5 Tests. What a great bunch they are; from the youngsters who have taken on seasonal work to pay for the trip, to people who have given up work to follow England. Some great banter and questions, just sitting round drinking, eating and talking cricket for a couple of hours. They'd also had a banner made especially for Trotty – great effort guys, and catch up with you again in Perth. Sadly, when we left, it was raining AGAIN! And cold. Cue a potential sense of humour failure; luckily I think Latest was too tired to complain and he was asleep before I'd even cleaned my teeth. That's the high rolling life we lead during the games. The news of Nelson Mandela's death spread like wildfire round the breakfast room, And it was great that the entire Oval fell silent at the start of the days play. Then the misery started, but at least I was in the presence of cricketing royalty – Don Bradman's son, John. Now I know this will be a massive disappointment to many, but we didn't mention the cricket once. In fact, I never even asked him if he WAS Don's son. I always think it must be totally infuriating for the child of a famous person to be constantly asked about them, and Latest subsequently told me that at one point he had changed his name by deed poll to escape the Bradman association. No, we talked Mandela (he termed him a colossus of humanity) politics (Mugabe/ apartheid) children (tremendously proud of his opera singing daughter and his youngest son who's just passed school exams) and between us we demolished the most fabulous selection of desserts that were served on a cricket bat! His beautiful wife Megan joined us and we nattered away about horses for a while (as you do) and before knew it, Australia had notched up 570 runs. Oops. Still, a great day for me, and Latest is HUGELY jealous of me spending so much time in illustrious company. Shame, eh!
December 5th: Day 25
You could have been forgiven it was the first day of the Old Trafford Test rather than the Adelaide test; it was drizzling, grey and positively chilly here this morning. The good news was that the new bridge leading from our hotel to the Oval was – if not exactly finished – open for business . We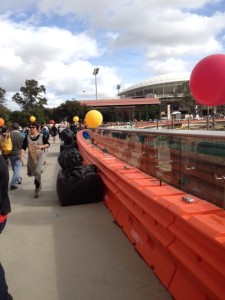 knew that when we heard some hideous band playing outside our bedroom window at 0630 this morning, heralding the official opening. The bridge pretty much reflected the stadium; it'll be lovely when it's finished! I went to inspect Latest's broadcasting position (very nice and spacious) then off I trotted to find the committee room where I was fortunate enough to be spending the day. It's a shame that our view was directly opposite the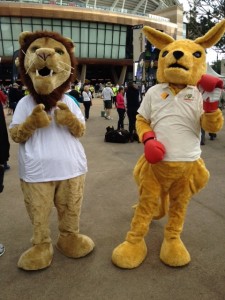 huge empty unfinished stand, giving the impression of the ground being half empty; in fact, the rest of the Oval was pretty much packed to the rafters with plenty of Brits to join in singing the National Anthem. There were old friends and new to meet as the play ebbed and flowed across the day, including Mrs Bob "The cat" Bevan (aka Laura the kitten) – now there' s a woman who loves wearing pink almost as much as me! But best of all, it was lovely to say au revoir to the funniest man I know – Dusty Miller. Geoff is flying home tonight, officially ending his 14 years as a selector. He spoke movingly about how difficult it was to say his final goodbye to the team. While we were chatting away, an official appeared with a signed England shirt. It was from a certain Mr K Pietersen; he'd written a personal message on it thanking Dusty for all his help with his career. At that point, we all went misty eyed. Anyway, back to reality and I'm in the hotel waiting for Latest to return; his text reads: " Get your blog done. Back 645. Get the wine in." Do I read that as a good or bad day at the office I wonder? (Should say lunch included not one but TWO former Australian Prime Ministers. Julia Gillard and John Howard….both very small)
December 4th: Day 24
Oh the shame of it. The humiliation. Latest may never be able to show his face In public again after committing a flagrant breach of Adelaide society rules. While escorting two blonde goddesses (yes, that included me!) out for dinner last night to that beacon of respectability, the Adelaide club,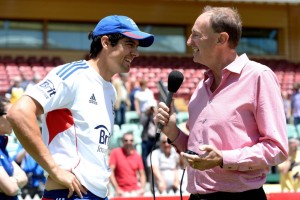 Jonathan committed the ultimate faux pas. Yes, after dinner (and despite the fact we were the only guests remaining) he removed his jacket. The not-very-discreet waiter ostentatiously leant over him to inform him in a stage whisper, that jackets were to be worn at all times. Suitably chastened, he quickly slipped it back on, with Lucy and I cackling like a couple of witches. Latest is wondering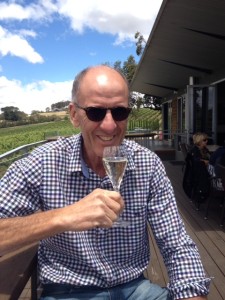 if his "home" club in London will have been informed of his misdemeanour – I'm pushing for him to be blackballed; that'll puncture his self importance! Today he returned to work to carry out the Eve of Test Match interviews with captain Alastair Cook (also known amongst my girlfriends as the "beautiful boy"). What a relief – I got chance for some much needed me time! I headed off into the Adelaide Hills with my official tour guide for the day, old friend Godfrey. Although he's actually a Kiwi, Godfrey has a passion for, and knowledge of, South Australia that is truly endearing. He patiently showed me the original sandstone settlers cottages around North Adelaide; the more grandiose manager's houses made of blue stone, then took me to the summit of Mount Lofty for a wonderful panoramic view of the city right out to the coast and Port Adelaide. All that sightseeing is thirsty work, so we stopped at a winery for lunch. It was an alcohol free day for me, so I only had a glass of fizz – after all champagne isn't alcohol; it's one of your 5 a day …isn't it? We made our way home via the bustling Central Markets – great coffee, fabulous meats and cheeses and a stunning flower stall. Apparently an early breakfast on Saturday is the time to see it at its best. Back in the room, and Latest was having a power nap after his exertions which, to be fair, had started with a live TV appearance at 0730. He'll need his energy – tonight we're out to celebrate the 40th birthday of the Beeb's chief sports writer, Tom Fordyce. If you don't read his column, then you should; he's brilliantly incisive and witty. It won't be a late night though – big day ahead tomorrow as the second Test gets underway.
December 3rd: Day 23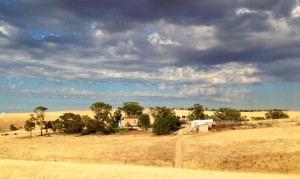 I'm feeling a little bit grumpy this afternoon; principally due to lack of sleep caused by a late night and Latest snoring his head off thanks to over imbibing on the red wine. What a splendid evening we had down the cellar at Kingsford Homestead last night. I was lucky enough to be sitting next to fifth generation winemaker Stephen Henschke – also known as a Baron of the Barossa! He was fascinating company, not only about the wines we were drinking, but he regaled us with tales of the persecution of his Lutheran ancestors in Germany who were driven to board boats and sail thousands of miles to South Australia and settle there. More than half their number perished on board, but the survivors planted cuttings of vines they had bought with them, and so a famous wine region was born. Now it's easy to become a bit confused with all the wines you're sampling during a long dinner…but I think I loved the Riesling and Chardonnay…..disliked the Semillon (described by Stephen as a "complex" wine, which probably explains it) and simply adored the world famous Hill of Grace Shiraz. I followed Stephen's example by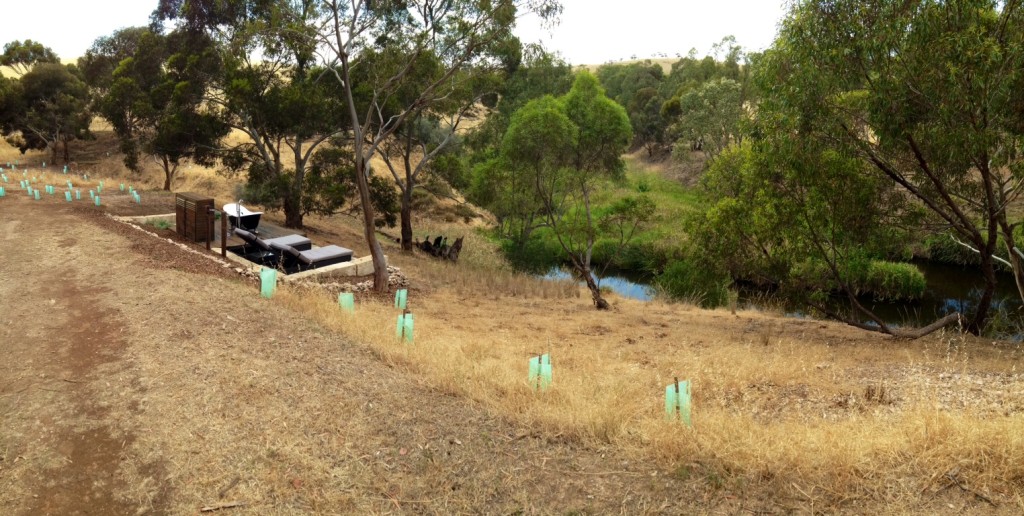 only drinking a small amount of each wine and reluctantly tipping the excess into a central ' bucket'. However, Latest and David Gower simply quaffed the lot, hence the snoring (of Jonathan not David, just to be absolutely clear!) There was to be no leisurely lie-in for the wicked though; one of the highlights of Kingsford is their bush bath. This is, literally, a bath out in the bush. We were driven to the furthest corner of the Homestead and left with just the bath, kookaburras and parakeets for company. What an amazing way to see daybreak. I should imagine it would have been somewhat more romantic if we had been armed with a bottle of bubbles and watching the sunset, than being there with a rather sluggish constitution and a bottle of mineral water! But it was still spectacular. After a hearty breakfast we returned to Adelaide and now it's the countdown to the second Test. I don't expect to see Latest much over the coming days: plenty of time for me to catch up on my sleep and restore my good humour.
December 2nd: Day 22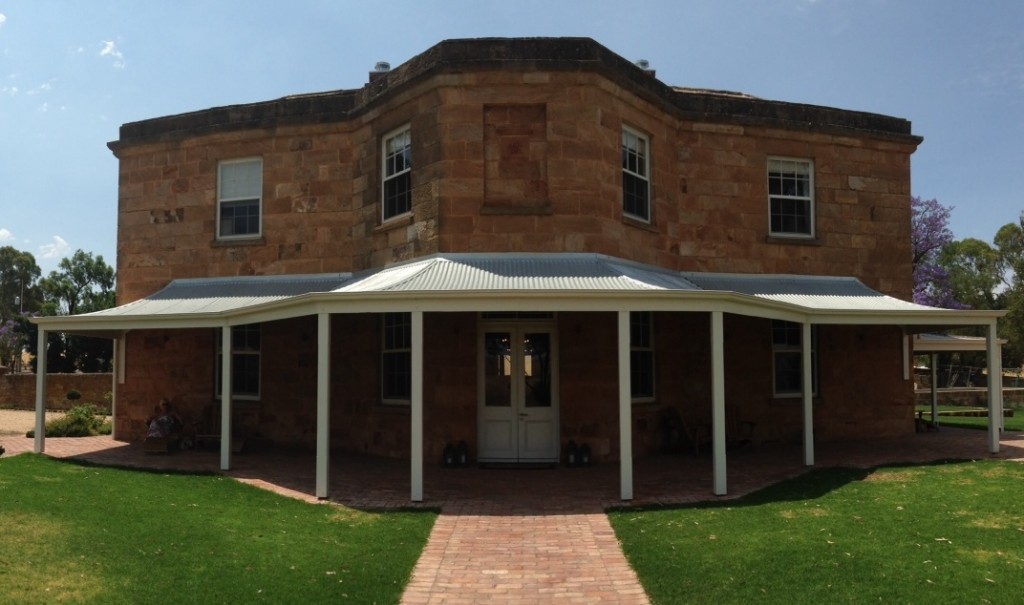 Today is the last day of peace and quiet before the Test series winds up again. Players, press and punters have slowly arrived into our hotel in Adelaide. Some have been at Alice Springs and they said the locals gave them a tremendous welcome but the three hour plane delay on the way out nearly finished them off. Michael Vaughan has had a great couple of days in the jungle with Ant and Dec (he reckons Joey from TOWIE will win) and there's plenty of fresh white legs and faces amongst the followers who have just arrived from the UK and can be found wandering, blinking and slightly dazed, up and down Rundle Mall trying to stave off jet lag. We have hired a car and headed out to the country. Wine country to be precise – the beautiful Barossa Valley. We have been invited to stay with friends at an old homestead out near Gawler. This was originally the first steam powered flour mill back in then1800's, started by a Lincolnshire man Stephen King. I mention he's from Lincolnshire because both my family and my in-laws come from that little known county, and its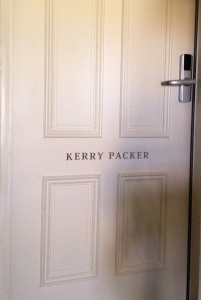 not often we get chance to puff it up! More recently, it was the set for a long running Australian TV drama called McLeod's Daughters. I'm thinking this might have attracted the same sort of cult following as Poldark did many years ago, along with tortured family relationships etc etc but I have to confess that I've never seen an episode of it. Perhaps I should buy a boxed set to watch if the rain predicted for later in the week actually arrives. McLeod's Daughters was a Channel 9 production, and Jonathan has spent a lot of time recently bringing me up to speed with the whole Packer, World Series Cricket thing in the 1970's. Suffice to say he, as the BBC's man, was only mildly amused when we were shown into the Kerry Packer bedroom for the night! We've had a gentle stroll round the estate, but the sun (and my fear of potential venomous snakes) drove us back to the cooling breeze of the veranda. Oh boy, I'm so in love with verandas, I WANT ONE back at home. Tonight Jon and I will be dining underground in a beautiful old cellar with our fellow guests including Giles and Judy Clarke, David Gower and Derek Pringle. The area is renowned for its Shiraz, and that means only one thing – Latest will be snoring and I will be fuming.
December 1st: Day 21
Today I've felt a little bit homesick. Well, it had to happen – I was, after all, the child who couldn't even do sleepovers at a friend's house without crying to go home. Well, the day started well enough with a leisurely breakfast, but on our return to the room, there were countless missed calls and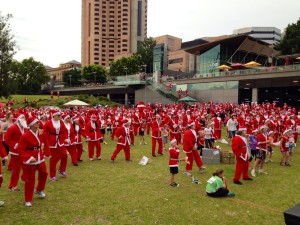 from both my kids saying "phone home ASAP urgent". Someone or something must have died. So with a heavy heart, I rang home. To my enormous surprise and pleasure, youngest daughter had got engaged – boyfriend (clearly mad, drunk or both) had got down on one knee in front of his family and popped the question. There were huge celebrations going on in Leicestershire and I couldn't be part of it. Such is the way with touring, and I know that Jonathan feels he has missed too many Christmas's, kids birthdays etc. Then my sister rang. She was "going well" as we might say – and she was full of champagne and recounting tales of her birthday party which I had also missed. Then we face-timed our fabby neighbours who were in the process of decorating their Christmas tree, accompanied by Michael Buble Sings Christmas or whatever that album is called. By 10am Sunday morning I was feeling nostalgic for the frosty Vale of Belvoir. So there was only one thing for it: walk off the malaise. And there we bumped into hundreds of Santas warming up for the annual charity fun run, although I did note that very few had beards! Feeling distinctly brighter, we headed out to the trendy suburbs of North Adelaide for lunch. While I may have been longing for family back home, the great joy of touring is the mix of new friends you make along way. Last night we had dinner with friends that Latest has been visiting in Adelaide for over 20 years – you could say it's a regular four-yearly dinner party. Today we met a host of interesting people including Kyra, an amazing woman who runs a charity in Ethiopia; Anna, a photographer from New York who exhibits all over the world, and Ben who farms thousands of acres of crops, using monster combines that operate fully automated GPS systems so all the drivers have to do is stay awake. He is currently functioning on three-and-a-half hours sleep a night for the duration of harvest. So a roller coaster of a day for me emotionally – but tonight the England team will arrive into our hotel from their game in Alice Springs, and with them the excitement to the second test will begin build and that, after all, is what we are here for.
November 30th: Day 20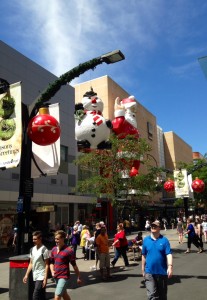 I simply don't believe it. I blame the sun. And the wretched time changes. I mean how could I, the Queen of shopping (known affectionately in the office as Lady Jessop from the days when our local JL store was called Jessop's) miss Black Friday? So, although it's Saturday here, I had to right a wrong. I went shopping. The streets in Adelaide are incredibly wide – just like in Bulawayo, Zimbabwe – not sure if it's for the same reason; there they were made wide to accommodate the bullock carts travelling through the town. I must find out why they are so wide in Adelaide. Anyway, I went shopping to Rundle Mall. Of course, the great thing about shopping in a foreign city is so many of the shops are, well, foreign. Unfamiliar names and brands. There's also the currency exchange to work out (thank goodness for those phone apps where you can surreptitiously slip in the figures then decide whether or not it's good value). And oh! The Christmas decorations. I still can't get my head round seeing Santas and snowmen in 30 degrees of heat. There's something very wrong about it. And they do lack a certain taste. Now please don't be offended Adelaidians: I feel fully qualified to make that observation as I'm a girl who usually has a pink Christmas tree in her pink kitchen, just to put the word 'taste' into perspective! Anyway, I'm a bikini and a sundress heavier than when we checked in for our last flight, but I reckon that's offset against the toiletries I'll use before our NEXT flight. You can see how my mind works. And anyway, they were cheap compared to the haircut that Latest had; the ratio of dollar to hair made it the most expensive thing we've paid for on this trip!
November 29th: Day 19
Forty nine hours on a train…eight hours off for good behaviour (sightseeing), 3000 kilometres, too much excellent food and wine and no rows to report. Nothing short of a miracle! What a great bunch of fellow travelling companions we have met too. Proving what a small world it is, you fly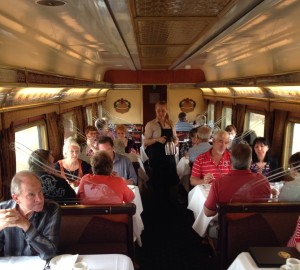 thousands of miles across the world, get on an iconic train taking around 250 passengers, and find yourself sharing a bottle of wine with six other people who live within half an hour of The Vale, including a farmer and his wife who buy their calves from our village! The majority of our fellow travellers have been mainly Australians, who have spent a lifetime wanting to do The Ghan trip and they've been determined to have a party, including a couple who liked it so much they travelled both up and down with just a night in Darwin. The food was top drawer – Murray Bridge beef cheek/lamb from Port Augusta/Nullarbor Plains kangaroo/barramundi and salmon, all washed down with splendid wines from across Australia. It would be fair to say that Latest had boarded the train with a sense of trepidation, a host of downloaded books and monopoly on his iPad. However, neither of us picked a book up as there was always something new to look at, and I had to prise his fingers away from the cabin door when it was time to get off in Adelaide. A great train trip should be on everyone's bucket list – apparently through the Rockies is fabulous too.
Ahhh! Adelaide. How I've missed you. Possibly my favourite part of this stunning country, it always feels as though I am coming home. With the beautiful River Torrens meandering through the city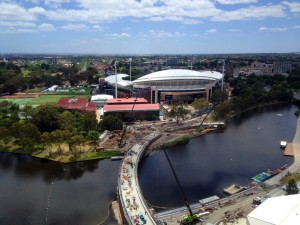 and past our hotel, it is rather like Cambridge – but with distinctly warmer temperatures than when I was there just before I flew out! Of course, Latest wanted to inspect the Adelaide Oval. It's a building site. The new multi-million dollar footbridge over the river is a building site. The whole
of the city is, yep, a building site as they develop a new hospital and medical research centre. That said, what's finished looks a really stunning piece of architecture – very modern and yet not a monstrosity in this beautiful city. Tonight we are meeting up with an old friend, Godfrey. Amongst other things, he's a sort of fireman of the skies, flying planes that water bomb bush fires. We have had some fantastic adventures flying around South Australia with him in the past – visiting old cattle stations and landing on bush airstrips where he had to fly low the first time to scare the roos away! He's just sold up his beautiful B and B in cockatoo valley in the Barossa, and moved into the city. Godfrey's a splendid cook, and while I'm certainly not complaining, it will be great to get out of the hotel lifestyle for an evening and put my feet up at someone's home.
November 28th: Day 18
I retired to our cabin replete from dinner – lamb, couldn't face eating roo – to find the wonderful Susie had laid out chocolates and bedtime liqueurs.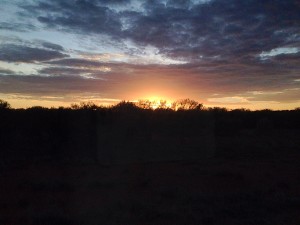 What a life! Latest made me listen to some Wagner (apparently Hitler found him uplifting) before settling down to the gentle rumble of the train. I am a notoriously bad sleeper, averaging only a few hours a night, but I found the gentle rocking of the train extremely soothing. Every time I 'came to' I was able to fall asleep again very quickly. When we awoke to a stunning sunrise, the landscape had changed from lush vegetation to that rich ochre colour so typical of the centre of Australia. Susie bought tea to our cabin, and procured a hairdryer for my unruly frizz. I was able to face the day. We chugged into Alice Springs ahead of schedule and trotted off to the reptile centre. The great news is that if you're going to be bitten by a snake, make sure it's in Australia. Apparently, the teeth are small, the anti venom is the best in the world, and an average of only two people die every year. Reassured, I went to face Terry the crocodile who frankly I'd rather have met as a handbag or a pair of shoes. I was also introduced to the goannas. These reptiles can mate continuously for 36 hours because they possess two 'appendages'. They simply alternate and use one while the other is resting. The guide told our group, consisting mainly of pensioners, that if it were one of us, we would be 'rooted'. Surprisingly, much laughter all round –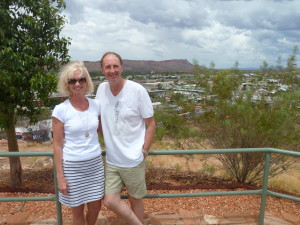 that's Australians for you! The amazing Flying Doctor Service was our next stop – what a top job those people do providing a medical service for the rural parts of this vast continent, and funded mainly by voluntary donations. Then it rained – for the first time since July 10th. Perhaps England's rain dance had kicked in just a few days late, but our driver Harry was completely elated and said he was going home to crack open a few beers, sit on his veranda and watch it. That clearly passes for entertainment in Alice Springs. We are nearly half way to Adelaide – and that is our last scheduled stop. Just under 24 hours to go, and we haven't had to open a book or have a row yet – such is the fascinating nature of this trip. Don't worry: I do know how very lucky I am.
November 27th: Day 17
So that was Darwin – hot and humid as hell and don't mess with the crocodiles. On the plus side, totally laid back and friendly – and great sunsets. During our early morning walk round the wharf, we learned that during WWII, more bombs were dropped on Darwin than at Pearl Harbor, and that Darwin Harbour is 7 times bigger than Sydney Harbour. You can tell Latest was out of breath and needed to stop and read the notices can't you? But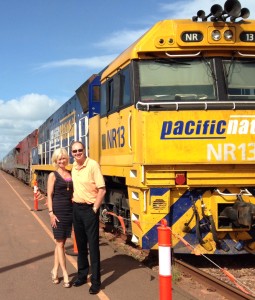 coming here was all about the Great Ghan Train Journey. 3000 kilometres from the Top End to beautiful Adelaide. Our cabbie, Darryl, was just typical of the people we met in the Northerrn Territory. He was a survivor of devastating Cyclone Tracy back in 1974. Then just 20, he was celebrating Christmas Eve with friends, when the police sent them all home to safety. His house was ripped apart by the winds, and he graphically described how spent the next two and a half hours clinging to the only thing left standing in the house; the toilet. Puts a whole new spin on the phrase "talking on the great while telephone". When the winds subsided, he found all the houses round him had disappeared, and his neighbours had been killed. Despite that, he rebuilt his life up there ( he told us his current cyclone shelter is built under that toilet!) and is organising a party in the city next year to commemorate 40 years after the cyclone. He'd been on the Ghan last year, and couldn't speak highly enough of it. And so we boarded our train. Susie will be looking after us for the next 50 hours; she was a £10 Pom, and has worked for Great Southern Rail since the Adelaide-Darwin line was finally finished in 2004. She wasted no time in bossing Latest around, telling him what he could and couldn't do! It's fair to say our cabin is bijoux but perfectly appointed, it's like one of those London flats when the bed folds down out of the wall and one of you has to sing very loudly when the other is on the toilet. But it is absolutely beautiful, and it's like stepping onto the set of Poirot. A couple of pre-lunch snifters in the bar (well, I'm on holiday remember!) then it was down to the serious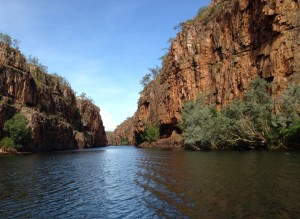 issue of eating. And boy, there's some serious eating to be done over the next couple of days. No time for an afternoon nap though – 4 hours into our journey and we opted for the Katherine Gorge River cruise. Spectacular, although I became obsessed with crocodiles when they pointed out the traps laid out along the riverbank. I can tell you the difference between a saltwater croc and a freshwater one though; one of them eats you and the other just gives you a nasty bite. Both of them make good handbags. That's reassuring then. Back at the cabin, and Susie had nice cold towels and an iced drink laid out for us. Our dinner sitting is at 830, although I suspect we may be heading to the bar a little earlier; most of our travelling companions seem to be Aussies and, as you'll have gathered, they are a pretty gregarious breed who are sickeningly bouyant at the moment thanks to the result in Brisbane. However one who clearly does not follow the great game dropped a clanger to much amusement when he asked Jonathan what part of Australia he comes from. In the meantime, it will be easy to while away the hours simply looking out of the window at the ever changing countryside; it's very lush at the moment as it's the wet season. I haven't seen my first Kangaroo yet, but Damien assures me I'll probably get the chance to get up close to one at dinner….yum!
November 26th: Day 16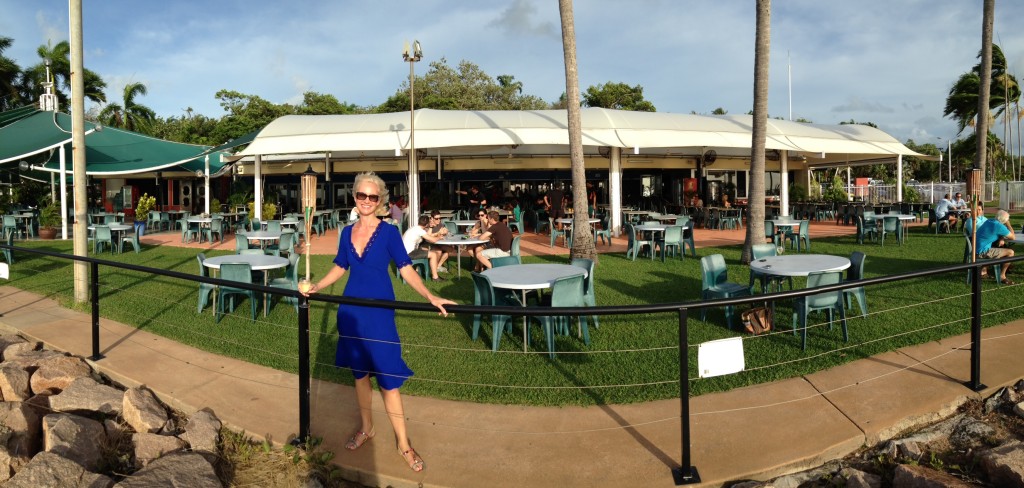 And so the tour rolls out of Brisbane and onwards. For the team, it's off to Alice Springs and a chance for them to regroup after the horrors of the 'Gabbatoir'. For Latest and I, it's a few days of downtime starting at the Trailer Boat Club in Darwin, which is famed for its beautiful sunsets. Much will have been written over the past day or two of the stresses that professional sport, combined with long periods away from home, can put on the sportsmen AND their families. Jonathan and I have spent the past 20 years with extended periods apart, and we've worked pretty hard to try and make the best of it. When the children were growing up and locked into school holidays it was, of course, much harder. He invariably missed parents evenings/school plays etc etc due to being the other side of the world. But, all our four children (his two girls and my two) could at least hear where he was on the radio, and had the chance of some fabulous trips thanks to his job. For him, the time between tests no longer confines him to plenty of net practice (I'm not sure he ever indulged in too much of that!) so we are free to get out and see the country we are touring. We try and go off the beaten track wherever possible. On last year's tour of India, for example, in typically rebellious Emma fashion, I eschewed the well worn path to the Taj Mahal, and we travelled to the Pench Tiger Reserve to track a tigress and her young cubs for three days. On a previous trip to Oz we set off from Adelaide to the beautiful, unspoilt conservation spot, Kangaroo Island (funnily enough Oprah was there at the same time!). We've also been black water rafting in New Zealand (Latest had a complete sense of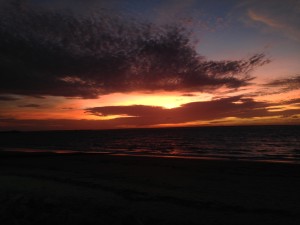 humour failure in his wetsuit); game viewing in Zimbabwe (he's a whizz at spotting different types of antelope) and visited most of the wineries of the Southern Hemisphere(me on Sauvignon, him on Chardonnay). We know we are privileged to be able to take some time out from the tour and really relax. It also gives him some great material to talk about during the next Test Match. So what to do this time? Well, there is a press trip to Ayres Rock – but we've been there, done that, so I turned to my motley collection of cuttings that I pin up on the fridge at Agnew Towers. You know the sort of thing; recipes you cut out and never cook, incriminating photos, hotel recommendations you never use. Well, I had a cutting from many years ago of a review of The Ghan. This is the train that runs for 1884 miles from Darwin in the Northern Territory, to Adelaide in South Australia. Originally used by the traders to move goods across the country, it now takes passengers. I'm not sure Latest quite appreciates the confined space we will be in for 50 hours, or at 6'4 that he will fit into bed. But one thing is for certain, you'll be hearing all about it during the Adelaide Test Match – that's unless you hear there's been a murder on the Great Southern Railway! I'll do my best to keep you up to date during the journey, but that will depend on the Internet situation in the Red Centre.
November 25th: Day 15
"Is she really going out with him?" sang the Barmy Army when Latest and I finally made it to the charity evening in aid of the Broad Appeal last night. How I laughed – how he scowled! The Barmies are such a great bunch of enthusiasts; I spoke to people who had even given up their jobs to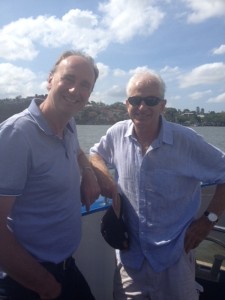 come on this tour. And, despite the, ahem, disappointing result on the field earlier in the day, they were still full of love and encouragement for our national team. Billy the Trumpeter led a rendition of all the old favourite songs, and everyone was in full voice – SO much better than the previous evening's karaoke, and it raised over £3000. Well done folks – see you in Adelaide. With our unexpected day off today, a group of us, including Jonathan's old Leicestershire team mate David Gower, hopped on the River Cat and headed off for some lunch. Much like the Manly ferry in Sydney, it was a few dollars well spent as we took in the sights of the city. There were some spectacular riverside apartments and houses – including a pink one I particularly took a shine to. The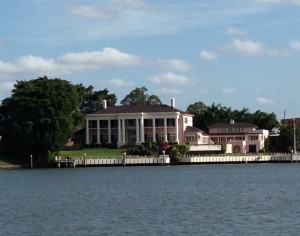 trip didn't go quite as swimmingly as it might have; the ferry didn't actually take us to the destination we had been recommended so by the time we DID finally reach dry land, we had less than an hour before we needed to head back in time for a press conference with coach Andy Flower. Funnily enough, David and I had enough time to slurp back a bottle of Australia's finest rose, while the professionals, who had to work later gave us disapproving tuts! And just as we were preparing for a big night out to say farewell to Brisbane, the news broke that Jonathan Trott has gone home due to a stress related illness. Very sad and certainly, everyone who spends extended periods away from home will appreciate just how hard it is to deal with problems when you are separated from the people who really matter to you. Latest is now likely to spend the rest of the evening in the lobby of our hotel doing radio and TV work (you won't have failed to notice it's Monday morning back at home). I'd better start the tortured process of packing everything up, as tomorrow we head off to the Northern Territory and Darwin, where we will be climbing aboard the Ghan for our three-day train adventure. That really will be a test of domestic relations!
November 24th: Day 14th
If you thought things could only get better for me after yesterday's morning in the laundrette, then you'd be wrong. Latest hasn't exactly covered himself in glory with our evening arrangements, so I decided to take matters into my own hands, do some research, and book a nice casual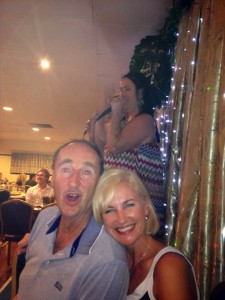 overlooking the water. Then, at teatime, the order came to cancel it; "We're going out for a slap up Vietnamese meal with the ABC team," he said. Latest has been broadcasting for the ABC when he's not on duty with Test Match Special, and they're a good fun bunch. So, we piled into taxis with the rest of the BBC boys, including head honcho Adam, Jonathan's fellow commentator Simon Mann (known as Grumps) and 5 Live's
Mark Pougatch (aka Pougers) . To give the restaurant some credit, it was big and it was busy. It was also a karaoke joint. As you could bring in your own booze, Latest was immediately dispatched to the bottle store next door to purchase copious amounts of decent wine – well, if you're going to make a fool of yourself it's best not to remember too much about it. Our table was conveniently situated right next to the stage – WHAT a bonus! Before long the old favourites were being belted out, with the good people of Brisbane falling over themselves to grab the microphone. Now a little known fact about Latest is that, as well as being a cricket scholar at school, he was also a music scholar; he likes a good sing song. My recollection of the rest of the evening is fortunately hazy – but there are photos, and videos that you'd pay good money to see… and I'm not publishing! In comparison, tonight's evening with the Barmy Army will be genteel affair. It's a charity night in support of the Broad Appeal in aid of Motor Neurone Disease – the illness that claimed the life of my first husband. Fingers crossed it's not held in a karaoke bar.
November 23rd: Day 13th
If you think it's glamorous being on tour with the BBC's cricket correspondent, think on. Even in Australia for the Ashes, there's still the chores to be done. I don't know what it's like in your house; Latest has many talents like commentating (obviously) and booking cheap flights (very handy) and he's a whizz with anything gadget-wise. But, when it comes to domesticity he's a disaster. He wouldn't know where the vacuum is even kept in our home back in The Vale, much less be able to turn it on. Ditto the iron and ironing board. 'Ah, but bet he rustles up a great meal', I hear you say. Er, no.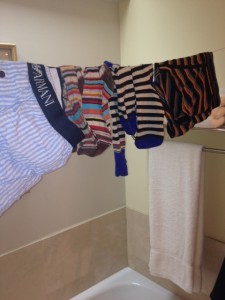 Precisely three meals in 20 years, and only two of them were edible. The saucepans never did recover. So, when it comes to matters of a household nature, I'm afraid it's down to me, and I blame his mother (sorry Margaret!) I do resent paying the extortionate prices of hotel laundry services so if I'm around, I tend to hunt out a local laundrette. Which is why I found myself trekking off to the Chinatown area of Brisbane after breakfast – to wash his smalls. Mind you, it was probably less stressful watching pants dry than witnessing the slaughter at the Gabbattoir. You need to make polite conversation when you have half an hour watching washing go round if there is no Nick Kamen on hand (remember him from that advert?) so first I went off for coffee with Viv from Halifax who was also a cricket widow. Then, on our return, we found another supporter, Kevin, wrestling with the intricacies of the machines. Well, he was a man (clearly, with a name like Kevin) and admitted to being a launderette virgin. "I can't believe I'm washing my stuff with Aggers' pants", he said, before telling us he'd blown his divorce settlement fulfilling a lifetime's ambition watching England in Australia. That's devotion for you. Sadly, I suspect he will be having an unscheduled extra day at leisure on Monday, which he probably won't consider money well spent. There, that was my Saturday morning taken care of; it's how I roll when on tour. Being the perfect Stepford Wife, I'm now back at the hotel ready to ask him if he's had a nice day at the office. I'm as sharp as a tack, and suspect humour will be poor, so maybe I'll dispense with the glass of Chardonnay, and just order a bottle for the poor old boy.
November 22nd: Day 12
If you haven't caught up with what's happened in the Ashes overnight, I can tell you not much happened on the field…ha!…. So best to concentrate on off field activities!
In Brisbane our day starts early – it gets light around 4am and as both of us are still struggling a bit with the jet lag, and I'm a terrible Insomniac at the best of times, we are up by 5. This morning I was treated to a personal audience with Sir Geoffrey. I was helping him with his iPad (yes, GB has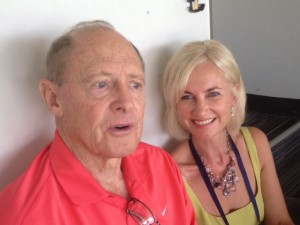 come into the 21st century) and he was sharing his top travel tips for South Africa with me. Latest is commentating for 40 minutes in every hour out here, including running up and down a flight of 33 steep concrete steps in between. He could do with the exercise. I, on the other hand, am very comfortably seated with my lovely waiter Zachary ensuring I have a steady supply of hot and cold drinks, ice cream etc – what's not to like? Jonno, the catering manager of the hospitality box, produced an amazing picture of members of his family (below) watching the Eton vs Harrow game at Lords after World War II – it was a scene much reminiscent of the demurely dressed ladies
in the box today! I don't have the greatest stamina when it comes to watching cricket, so I tend to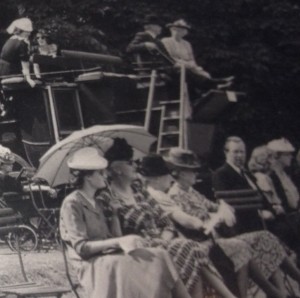 stroll back to the hotel sometime after tea. It means I can take a leisurely stroll through the gardens, go to the gym/not go to the gym, have a long soak in the bath, and generally wind down from stressful day of watching a spectacular England collapse. When Latest staggers in at around 7pm, he's usually hot, tired, grumpy and all talked out. Being a marital goddess, I'll run him a nice hot bath, pour him a glass of Chardonnay and ask him nicely how his day has been. He's managed to be relatively civil so far! By the time we finally make it out for something to eat, the restaurants are heaving, so last night we ended up in a sports cafe on Queens Street Mall. Perhaps it says something about me, but the evening hit an all time low when Jonathan preferred to watch the cricket on the big screen rather than engage in scintillating conversation with this wife! He certainly knows how to show a girl a good time.So back to the cricket – what an exciting day. The Aussies barracking our players; the Barmy Army chanting at Mitchell Johnson; a plane flying overhead as KP was batting pronouncing "KP: you're not even English " – a generally aggressive, explosive day both on and off the field. The same might be said of Mrs Aggers if Latest doesn't take me somewhere nice for dinner tonight.
November 21st: Day 11
And lo, the sun was shining in the Southern Hemisphere when I woke at 5am, although Latest made an unpleasant snorting noise when my photo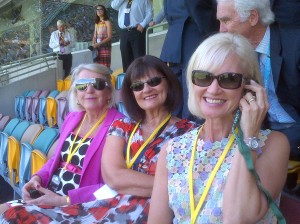 was retweeted by Piers Morgan! By 0630 Jonathan, Michael Vaughan and I were at the Gabba – and already there were streams of people making their way to the ground to soak up the atmosphere. I have to say, even I was excited – not least by sitting with the charming Michael Kasprowicz at another Aussie brekker – I'll begin to look like a croissant before too long! Then Latest scuttled off to start his round of radio previews, and I queued up on the pavement with hundreds of others, including my dear friend Judy Clarke, waiting for gates to open. I'm not sure that our National Anthem was designed to be accompanied by the didgeridoo, but when in Australia….and I was very much a lone voice singing my heart out in the Cricket Australia box. Those Aussies do have a charming turn of phrase; they'd devised a natty little tune to welcome Stuart Broad stepping up to bowl – it rhymed with banker. Thankfully, actions speak louder than words, and they were soon silenced. Watching cricket is a hugely convivial affair, although Kerry, Judy and I couldn't quite bring ourselves to sink the seemingly obligatory pints before play started. At lunch I sat with the National Selector, Geoff Miller. Geoff lives fairly locally to us and is a brilliantly funny after dinner speaker who will shortly be leaving his selector's role to spend more time with his wife: "She's had to share me with cricket for 40 years, " he told me. Then a vaguely familiar, strikingly handsome man appeared at our table and started chatting; it was Tony Greig's son, Mark, who was delivering copies of his recently published book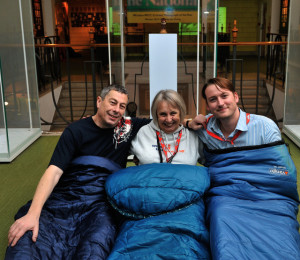 his father. Crikey, talk about being a chip off the old block. I relived a couple of my memories of his father, including dancing wildly in the aisles with him at the stage premiere of Mama Mia in the West End. What a night that was. And talking of nights, as promised yesterday, here's how Pam Nash and a group of cricketing tragics spent THEIR night back in England…

"Surreally, I found myself spending the first night of the Brisbane Ashes in the Museum at Lord's. 50 of us were privileged to be there to watch the Test in order to raise money for, and the profile of, Chance to Shine – the charity which educates young people through cricket. We were a varied bunch, the youngest a 14 yr old, Ben Jackson, who had to be at school on time on Thursday morning and the oldest…..well I *think* there was one person there older than me – great atmosphere, cheers as loud as anything heard in the Mound Stand, copious amounts of Yorkshire Tea and, most important, a terrific start by England to the series! A major treat for me to spend the night at the Home of Cricket – surely the best place on earth to be if I couldn't be at Brisbane…..Happy Days".
November 20th: Day 10
"'Ello Blondie" bellowed an instantly recognisable Yorkshire accent from across the courtyard of our hotel. That meant only one thing. Geoffrey Boycott is in town. I'm never sure whether he genuinely thinks it's a term of endearment, or whether he just can't remember my name. In the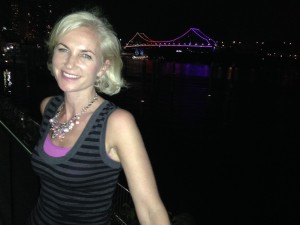 ensuing 10 he managed to tell me that I should have married him not Jonathan; I'm a typical Snake in the Chinese calendar ("what you have you never let go of"); he and Mrs B have his and hers lounges in their new home back in Yorkshire and he showed his affection for the lovely Bairstow family by saying he hoped Johnny would be playing tomorrow. GB has amazing energy but is quite exhausting, so luckily his glass of red and fish and chips arrived and I was able to leave him to it! There is a real sense of anticipation in the air today; almost crackling with excitement. Latest went
off to work nearly an hour early and with a spring in his step – he said he wanted to watch the Aussie training session. He tried to tempt me to come with him with the promise of close contact with Alastair Cook. The former choirboy is gorgeous in the flesh and has been christened by my friend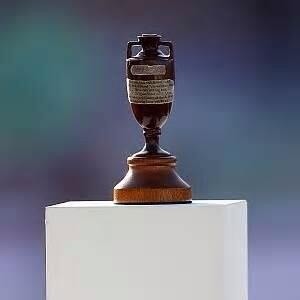 Julia Ball as "the beautiful boy" . But no, even that couldn't lure me away from the pool today. All the sunbeds were taken this morning, as the English supporters have arrived in town; it's so easy to forget, with this having been Jonathan's job for 22 years and it being the 13th Ashes series he has covered, just how privileged we are to be here. Many fans have followed England every winter for years; others will be living the dream on a budget, and will be in full voice tomorrow with the Barmy Army. Latest and I will be spending a number of evenings with assorted groups of supporters over the coming weeks and they are always really good fun. So, in 13 hours time Latest, Michael Vaughan and I will be up with the larks and off to The Gabba for an official breakfast with Queensland Cricket, then he will be on air with Test Match Special (0930 Brisbane time 2330 GMT with those of you under the duvet back in the UK). One very select band of cricket nuts will be having a sleepover in a really special location: A Night at the Lord's Museum is where 50 diehard fans are raising money for charity by watching and listening to the action there. Apparently there will be mattresses around for those in need of power naps (or if it all gets a bit boring!), and our pal Pam Nash (@Pam_nAshes) will be filing some words and pictures into my blog tomorrow to give a contrasting view of the day. In the meantime, I'm off to brush up on that LBW law, and run through my Barmy Army songbook.
November 19th: Day 9
Today I've been officially "on duty". Firstly, a hideously early alarm call so we could head off for a cricketing breakfast with the University of Queensland Cricket Club and we staggered, blinking into the early sunlight of a beautiful clear morning. Breakfast entertaining is big in Australia; I'm obviously using that word loosely when Latest is topping the bill!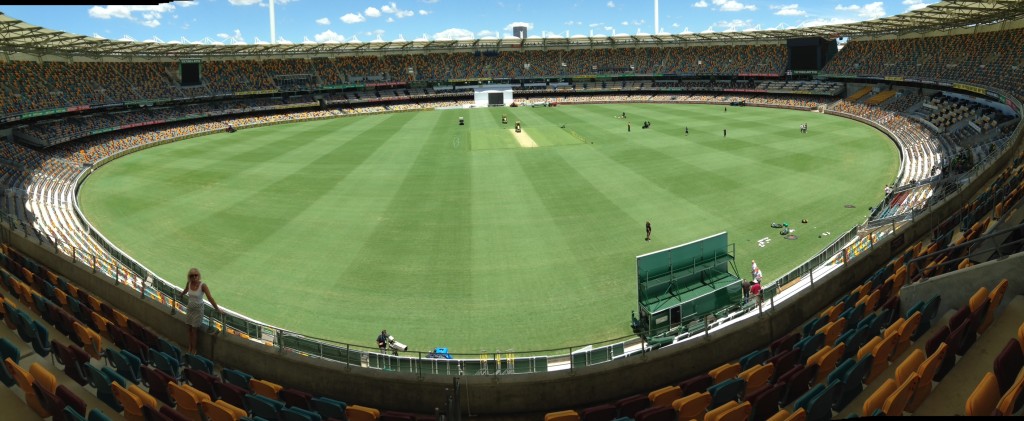 Everyone dresses ready for work in smart suits but mainly loose open necked shirts – the temperature here is routinely in the 30's and as hot and humid as hell. I sat next to Brian, the hugely entertaining head of the University's sports department, and to my relief he didn't want to talk about cricket. I've still only reached the bit about the LBW rule in my cricketing bible and I've had to read and reread it about 5 times and still can't understand it. Then it was onto proper work and the long awaited Kevin Pietersen press conference.
The Gabba itself is a stunning 'bowl' of a stadium. It's a perfect round shape, and on first impressions I thought it had far more soul(although far less history) than the SCG. I can really imagine the atmosphere and the noise of the 42 thousand strong crowd when the players appear down the steps on Thursday morning. Bring it on! The conference room was filled with a selection TV cameras, their lights, glamorous presenters, and hard nosed hacks from the Australian and English daily papers – all waiting for the appearance of the mercurial KP. As it turned out, he was on charming form- he answered questions openly and with humour, and quickly had them eating out of the palm of his hand.
The only one-to-one interview he gave today was with Jonathan- and I suspect both of them were a little on edge as their last professional meeting had not been a happy one. Ditto their last informal meeting in a lift in Hobart. But today, in the sunshine, they played very nicely together and seemed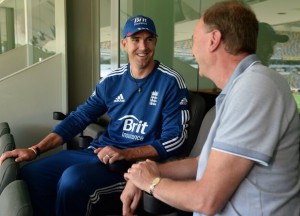 to really enjoy the 10 minutes or so they spent chatting. It was fascinating and quite moving to hear KP's claims about some of the treatment he received as a young player coming to the UK from South Africa, and I couldn't help wondering how this must have influenced his approach to the team versus the individual demands of cricket. I've met him on a number of occasions and he has always been unfailingly polite. It was good to see Jonathan and him shake hands with genuine warmth at the end of the interview. Most of the BBC team are here now – Michael Vaughan and Simon Mann have arrived. No one has seen Geoffrey yet, but I'm sure he will let us know when he's here, and Blowers flies out in a few weeks after his wedding in early December. Of course, it won't be the same without the delightfully scatty Christopher Martin-Jenkins, whose lovely wife Judy I have spent many hours with sitting round hotel pools. Great memories and much missed. After such a busy day, I'm declaring it wine o clock, and awarding myself a day's holiday tomorrow.
November 18th: Day 8
I'm rather liking Brisbane – or Brisvegas as it's known locally. After a brisk 2 and a half mile power walk, during which Latest needed several breathers ostensibly to admire the Australian Ibis en route. These funny looking birds, which he bangs on about incessantly during his commentary, turn out to be as big a nuisance as pigeons and rats back at home! I felt I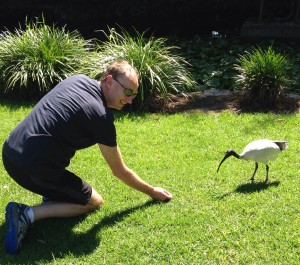 had therefore earned a damned good breakfast (yep the works; full English) I must say, the hotel restaurant is a stunning outdoor spot overlooking the river. I briefly dallied with the idea of heading to Moreton Island, but decided to pull on the bikini and settle myself down by the pool for an hour or two. David Gower kept me royally entertained reliving his famous Brisbane Tiger Moth escapade over The Gabba (did you know it is named after the suburb of Woolloongabba?) for which he was fined £1000. He is considering having a re-run of the stunt before this Test Match, although (a) he won't be between batting stints this time and (b) he won't fly low over the ground during the game!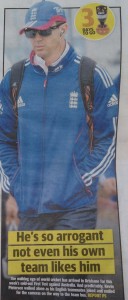 It's always great fun reading the local paper when abroad: in Brisbane it's the Courier Mail. However, this morning's front page was dominated by a picture and inflammatory headline of KP, which is hardly likely to put him in a great frame of mind for his interview with Jonathan tomorrow. It'll be the first time that Latest will have interviewed Kevin for 18 months; in fact, he's barely appeared before the press at all and it's fair to say relations are strained. As you might imagine, we've talked a lot about the angles the interview might take ahead of his 100th test starting on Thursday – fingers crossed it still happens.
November 17th: Day 7
One week down, seven to go…and still no domestics. Give us time. We have now swapped a view of the Opera House for a view of the Brisbane River. Latest has long been a fan of Brisbane, so I'm looking forward to getting out and about and exploring, although as it's Sunday, everywhere seems completely dead today.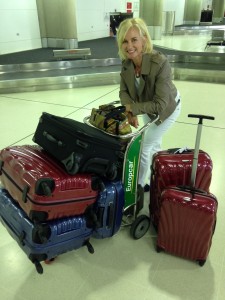 Quite a number of the "press boys "are staying in our hotel and have just flown in so were stumbling about trying to keep their eyes open and stave off jet lag. Jonathan went scurrying off to do a press conference there was nearly a nasty moment when he couldn't find his recording equipment until I discovered it neatly tucked into the toe of his trainers, leaving me to unpack. Got to love a hotel that has a pillow menu – and in-room massage and beauty treatments with the warning: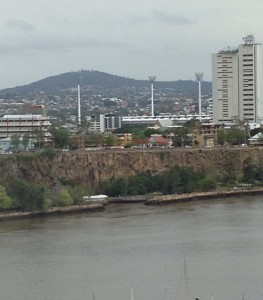 NON SEXUAL SERVICE ONLY. Last night, after a few glasses in the bar, we decided to FaceTime friends back at home. No answer from our daughters (they probably saw who it was, decided they didn't need anything from us so ignored it); a return call from a very hungover son in his first year at Uni who was absolutely delighted (as you can imagine!) that we had woken him up at midday UK time…and then a good old gossip with our lovely neighbours Michael and Mark who run the pub next door. It is amazing how communication has changed over the years; in the early days of touring, Jonathan was allowed to make one call a week. Now, FaceTiming/texting and mobiles mean it's so much easier to be part of life back at home. I must confess to not ringing our house sitter; I think the sight of our four dogs fighting for space against the pink Aga would just have made me homesick and weepy – and that would definitely have caused a row.
November 16th: Day 6
The great thing about touring (you can tell I consider myself an expert already) is that just when you feel you've 'done' somewhere, it's time to go move on. And that's how it feels with Sydney. Don't get me wrong; I absolutely adore this City. But we are actually here for the cricket, and I can tell that Latest has had enough pontificating about Finn v Rankin, and whether Delta will be in the gym again tomorrow morning…he's ready for the Ashes to begin.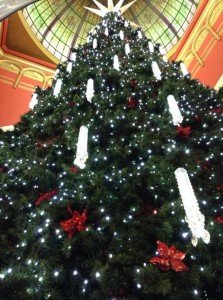 This evening I'll be carefully packing my 3 suitcases, ensuring there are layers of tissue paper between each item, and that my shoes are carefully stuffed with socks to keep them in shape. HE on the other hand will just chuck everything wildly into his case…clean shirts jumbled up with stinking gym gear… and head to the fabulous bar in our hotel and order a large Chardonnay. But on the plus side he won't notice today's purchases from David Jones that will have sneaked into the bottom of his case! I spent a lovely couple of hours mooching round the shops…saw the first signs of Christmas with a Santa's grotto, carols and a stunning Christmas tree adorned with Swarovski crystals.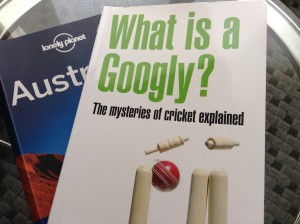 So tomorrow will mostly be spent returning the hire car, hanging around in airports and flying to Brisbane. I've never been there before and I love exploring somewhere new. I'm lucky enough to be a guest of the ECB during the game and I don't want to appear a complete ignoramus so I had vowed to mug up on a bit of cricketing knowledge. I'm only on page 32 of the book so far, but it is exceptionally funny and I do know how extras are scored and the difference between a bye and a leg bye. Will that be enough to get me through? I'd better get my head down on that plane tomorrow. See you in Brisbane!
November 15th: Day 5
Sydney is all about the water…so, today I took to it. Well, to be absolutely precise , I took the ferry to Manly. Ranking alongside the Star Ferry in Hong Kong; the Staten Island ferry in New York…the Isle of Wight ferry ( you get the picture) it has to be the best 15 AUD you'll spend in this stunning city.
the half hour ride, you get a real sense of the amazing natural harbour with its inlets and beaches ( mental note to self to book lunch at Bathers pavilion, Balmoral beach) as well as the huge number of boats of all sizes that use the water. I spent an extremely pleasant hour just people watching on the surfing beach…children ( covered head to toe in "rashies" to protect them from the fierce sun) being taught the essential surfing and life saving skills as part of the school curriculum. Wonderful. Sadly I was sitting on the beach armed with an umbrella and a jumper as I believed the forecast for heavy rain…so, somewhat overdressed, I had to retire to the shade.

Lest you get the impression every day is spent loafing around on the beach,or eating in those kind of restaurants where it actually takes longer for them to describe the food than it takes you to eat it, I have been keeping Latest on pre ashes fitness regime. Every morning, he's dragged somewhat reluctantly to the hotel gym. Today, he was particularly irked by a very tall young blonde who was hogging the running machine next to him. He set off at a snails pace to do his usual 3 km walk (I do make sure he sets it at an incline) and there SHE was thundering along like an Olympic sprinter…dashing off for 20 sit-ups..back onto the treadmill again including running sideways ( a real show off). It turned out to be Australian superstar Delta Goodrem. To be fair to Latest, I didn't recognise her either, but I bet he heads to the gym with more of a spring in his step tomorrow morning!
November 14th: Day 4
Today I set off to Bondi in search of culture – and I'm still looking. Now before hackles rise, I don't mean that in a middle -class -English -snobbish sort of way. No, I set off with great expectations surrounding the much vaunted "sculptures by the sea" walk between Bondi and Tamarama. Running for three weeks until mid November, or so the blurb boasted.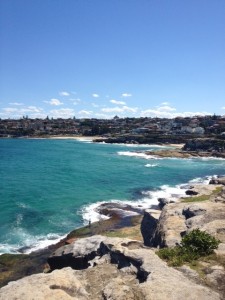 Well,with 30 days in November, and being an A* maths student at school, I foolishly thought it would be on until 15 November. Not so; it ended on the 10th, I was informed by the cheerful cove who sold me my bus ticket. He also pointed out the large pub, the Paragon Hotel, just behind circular quay: Barmy Army HQ " Still, a nice girl like you won't know anything about that lot,will you" he said….er…….Still, I undeterred,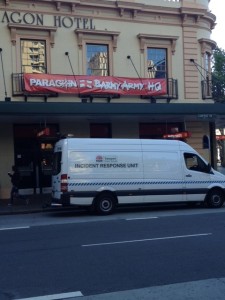 I caught the bus and headed for Bondi. A quick hour on the beach to work on the tan seemed a good idea then, swapping my flip flops for trainers, I set off on the coastal path to Bronte beach. Even sans sculptures, the walk is beautiful and an easy stroll. It's a proper path, with convenient viewing spots for photos and plenty of benches for a sit down. My eyes did alight on further exercise opportunities en route: bars to do chin ups, steps to do step ups etc. I mean, honestly…why? My gentle stroll took me less than an hour – and left me time for a chilled glass of rose at the beautiful Norfolk pine surrounded Bronte beach….before I hopped on the bus back to the city. Have England's cricketers had as good a day as me…then again, do I care?
November 13th: Day 3
Today saw the start of England's final warm up game so it was a simple choice; spend the day at the SCG – or by the pool. When I went to England's press conference yesterday, I'd been particularly disappointed by the 'feel' of the SCG;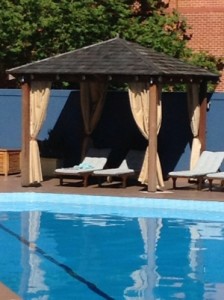 had been looking forward to visiting a ground steeped in cricketing history, hoping to experience the same sense of awe and anticipation that one gets walking through the gates at Lords. But, with officious security guards guarding a VERY active building site ( good luck to those who are expecting to take their seats in the Bradman stand for the New Year Ashes match) it looks and feels more like a soulless football 'bowl' than a hallowed sporting venue. So, call me shallow, but I opted for a sun lounger and the pool! I can't say it was exactly restful, as the equivalent of the M1 seems to run alongside… But no matter, I'm galloping through my first electronic book ( The Razors Edge, Somerset Maugham, recommended by an old friend since you asked) and faint tan lines have appeared. And as I write this, I'm waiting for Latest to return from work – chilled wine at the ready because, of course, it Is a tour of duty and I'm here to look after him…!
November 12th: Day 2
What a difference 24 hours makes – this afternoon the sun shone on Sydney. Sadly, not during England's earlier press conference, where I trotted along, complete with sodden feet, to see Jonathan interview Steve Finn.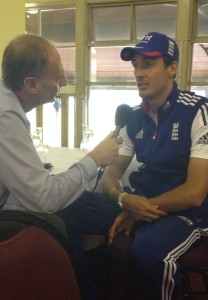 a charming man he is; I had the pleasure of sitting next to him at the OSCAS lunch at Lords a few weeks ago, where he asked me to take a photo of him with Jim Carter (aka Carson in Downton) .." just for my mum, of course" …yeah, right! Still, can't help but love a young man who still likes to please his mum! This afternoon I reverted to my natural habitat..the shops! I've committed to coming into the 21st century on this tour; to stop having such an emotional attachment to books and go electronic. So, off I went to the Apple store (other devices are available!) to treat myself to an iPad mini where the biggest decision was, of course, the colour of the case. Then back to the room, and an impatient wait for Latest to set it up. Of course, being a man, he insists on " taking control" of anything to do with gadgets . On the plus side, he has left himself logged into his own Amazon account, so I intend to make a few swift purchases. In the meantime I need to decide on a few literary downloads – any suggestions? Let me know at @mrsaggers
November 11th: Day 1
Today has been mainly about…well, the rain really! Jonathan (affectionately know as 'Latest' husband to keep him on his toes) had worked his magic at check-in and we 'found' ourselves with surely one of the most iconic views from a hotel room in the world.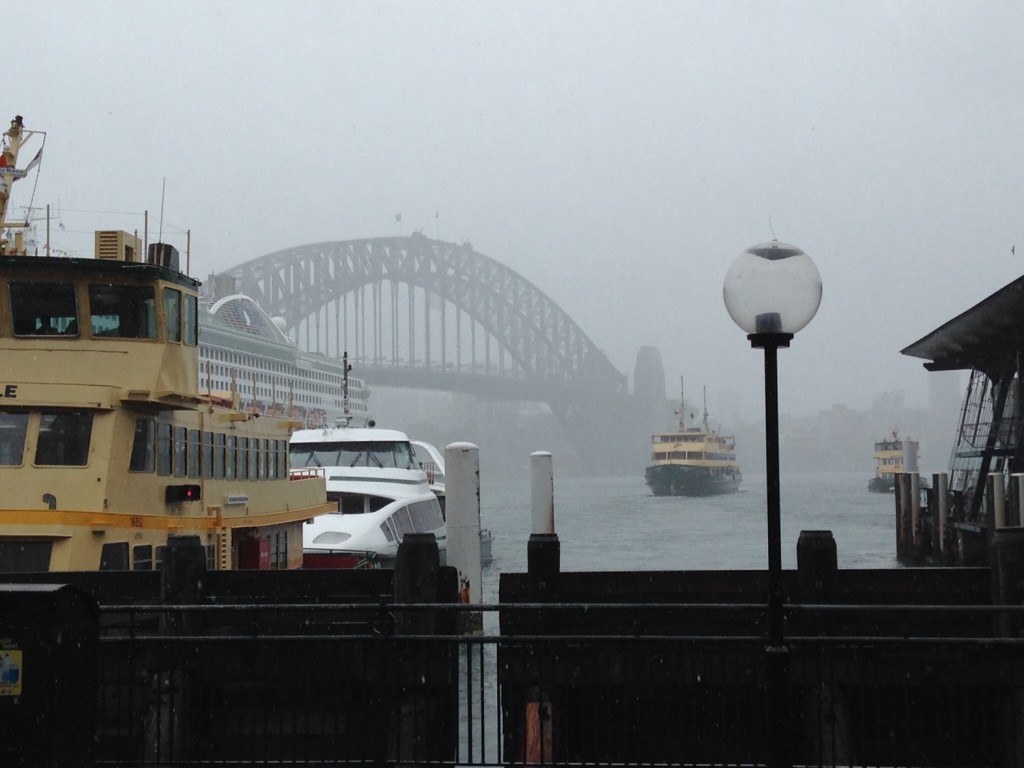 , when I flung back the curtains this morning, you could hardly see the Opera House and the Bridge for cloud and rain. Still, I've reasoned it's to remind me of the mists and mellow fruitfulness of an English autumn. The BIG news of the day is that, on getting to the hotel, he'd actually unpacked his suitcase. This is a first in 20 years. Of course, I'm a realist and I know it will almost certainly be the LAST time in 20 years! Thanks to TMS head man, Adam, we have been able to spend a day huddled under umbrellas drinking coffee and trying to organise New Years Eve – well, when in Sydney you have to have a plan of how to party! It'll be my first trip to the SCG tomorrow – I'm going to drive, negotiating Sydney traffic. It could be our first row, too
Departure day: November 9th
Was it BB King who sang that song beginning "It's 3 o clock in the morning…"? Well, that's how I was – packing for my 2 month trip at 0329 after a series of events ( lost prescriptions/ lost dogs/Christmas present deliveries) derailed my planned packing procedures. How to get enough clothes for all that time into 2 smallish suitcases ( dire warnings from Latest about the hefty excess baggage charges) . So with my forlorn cocker spaniel Tino following my every move,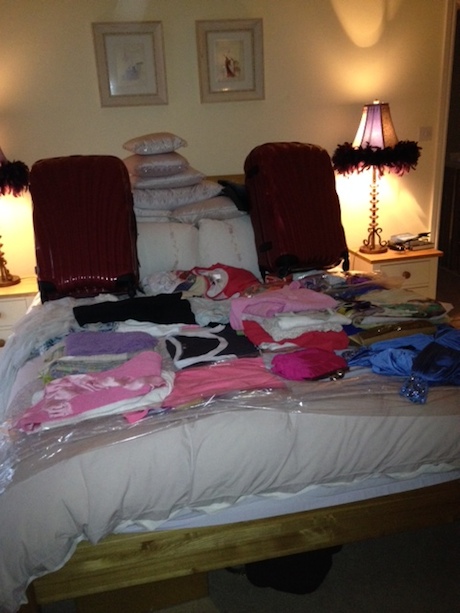 finally managed to shoehorn everything from bikinis to evening dresses into place.
I have never faced the prospect of being away from our lovely home for so long, and suddenly I appreciated the feeling that Jonathan must get every time he goes on tour; a mixture of excitement and anticipation, combined with a heavy heart ( and a few tears) at leaving family, friends and animals behind.
Of course, it's fine for him" just get on that bloody plane" he kept saying…ha!….there were Christmas cards to be written ( sorry, I never got beyond S in our address book, so anyone from Mike and Pat Turner onwards, I apologise) …presents for small nephews to be bought…dog and horse feed to be stockpiled…an A-Zof Agnew Towers to be compiled for our lovely house sitter Hayley… As well as the small matter of my full time job ..hence why I was packing less than 3 hours before the taxi arrived to take me to Heathrow. Steve has been our airport driver for many years… He's seen Jonathan sobbing silently down the M1 at the prospect of months away….he's collected our errant children from selected airports up and down the UK… He's picked me up from 'holiday-interruptus ' due to family bereavements. Over the years we've swapped tales of small children/ teenage tantrums/ exam result days etc … So it was no surprise when he looked very shocked at the prospect of Mr and Mrs Agnew being together in a hotel room for two months. " I can't imagine you two spending so much time together " he said…" It's not how you live. You'll drive each other mad" . We shall see…..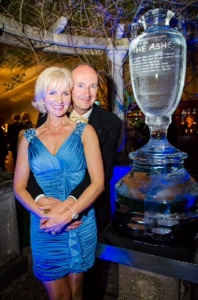 The big decision
"You've got the best job in the world" is a common refrain whenever anyone talks to Jonathan. And of course, they're right; how lucky is he to be paid to travel to exotic locations and watch cricket! What isn't considered is just how hard it is to leave behind the family and those creature comforts we take for granted;  making a cuppa whenever you want it, and walking his beloved spaniels Bracken and Tino. Over the 21 years Jonathan ( aka Latest – I like to keep him on his toes by reminding him he's only my latest husband) has shed many tears as he has left home for the months abroad reporting on England. So, this year, I decided to turn the tables and take the creature comforts on my first full Ashes tour with him – minus the dogs! He has promised me the holiday of a lifetime; in return, I've pledged to learn more about cricket – shocking as it may seem, I know very little about the intricacies of the great game beyond there being ( usually) 6 balls in an over! So, armed with three new suitcases, a copy of "What is a Googly?" by Rob Eastaway, and an ambitious ' must do' list, it will be the two of us in a hotel room for the next few months. Crikey. Wish me luck!