The Ghan
[row][columns span="8″]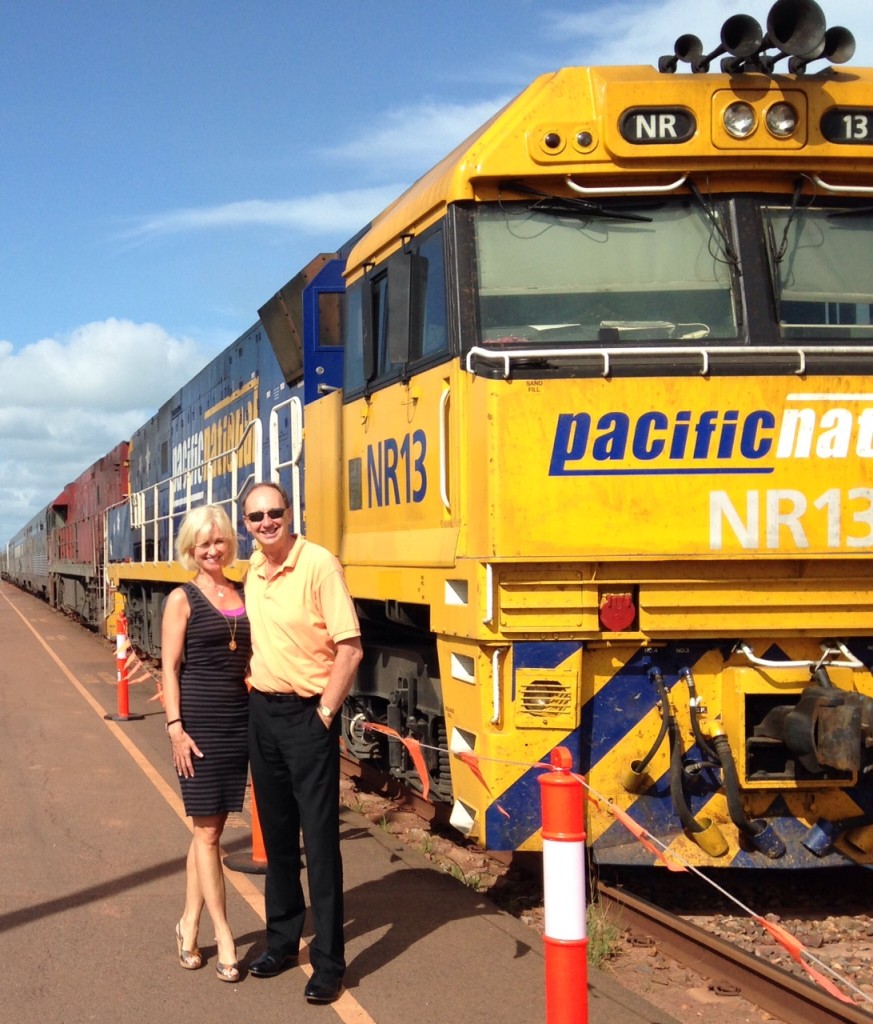 Mention of the Ghan had proved to be something of a conversation-stopper even amongst our Australian friends. The response was usually a faltering: "Oh! Well, I'm sure you'll love it" when clearly all common sense pointed to a direct flight from Brisbane to Adelaide for the second Ashes Test match, rather than a train trek lasting three days and two nights. Even the journey to Darwin, our departure point, took four hours.  Most of my colleagues chose the easy option. Geoffrey Boycott was last seen loading his golf clubs into the back of a taxi and heading to the airport. The Sky TV commentators were also lured south by the magnificent vineyards of the Barossa and McLaren Vale while the England team, complete with travelling press corps, headed for the unlikely cricketing hotspot that is Alice Springs. Hot, certainly. But the place to get their game together after the thrashing in the first Test, followed by the sudden departure of Jonathan Trott, one of their key batsmen, through a stress related illness? Unlikely.
So why have Emma and I chosen to experience the Ghan? Well, fortunately after 23 years on the road, I am usually given a week off here and there during our three-month tours both to clear my head after days of non stop talking and also to explore. The better the adventure, the more interesting material I have for our listeners to BBC Radio's Test Match Special. While I concur with the view that everyone has at least one long train journey in them, Emma and I both recognise that this week will have to be very special indeed to beat last year's diversion in central India where we spent three days tracking a tigress and her three cubs.
The dynamics will be fascinating. We have opted for the comfort and solitude of a cabin rather than the airplane-style seats in Red Class, which I suspect would make the journey more of an endurance test than a soothing trundle through the heart of Australia. However, the cabin is small, and my lovely wife of 17 years can sometimes be fiery while I am fidgety and quickly bored. Emma has downloaded Wolf Hall, The Razor's Edge and Sir Alex Ferguson's autobiography: she reads a great deal. I don't. But I am determined to acquaint myself with Neville Shute's A Town Like Alice, which seems appropriate. Clearly we both feel that filling the hours of endless red desert will be a challenge.
Once aboard it is immediately clear that it was a good decision to have chosen a Platinum Class cabin, rather than the cheaper but very popular Gold. While both are fully ensuite, Platinum is substantially larger than Gold and has a sofa which converts into a comfortable double bed rather than the bunks that I am sure would have led to a domestic. Everything is included with the Platinum and Gold packages, with a choice of tours at our scheduled stops at Katherine and Alice Springs and a menu offering delicacies such as Murray Bridge Angus Beef Cheek Daube, Nullarbor Plains Kangaroo and Grilled Saltwater Barramundi. The food was fabulous.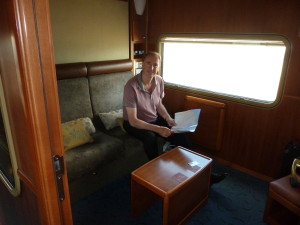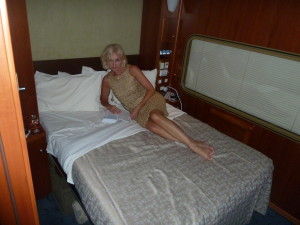 One of the first things to strike you is the length of the Ghan. Including the two engines and the car transporter at the back, the whole thing is more than half a mile long. We were located towards the rear and had to pick our way along the corridors of five carriages to reach the first of two dedicated bars and restaurant cars. In fact this proved to be a good way to work off the meals. Also, and this is key to the comfort of the train, there is no swaying, lurching or loss of balance on the Ghan. Soup remains in its bowl, coffee in its cup and, I presume, sleepers in their bunks because the speed is set at a constant and gentle 54 miles per hour. There is no engine noise and no 'clackety clack' as the wheels move along the track. Just a low rumble and a feeling of rhythmical motion that helped even Emma, a hopeless insomniac, to enjoy two restful nights.
We left Darwin at 1030 and after four hours of lush green scenery, one Regattas Point Salmon, a Coorong Angus Beef Medallion and a couple of Chardonnays, we drew slowly into Katherine. Our choice was a cruise through the dramatic gorges in the Nitmiluk National Park that have become synonymous with the Northern Territory. There is the option of a flight over the area in a light aircraft at an additional cost, but drifting peacefully on the water you really appreciate the age and the scale of the ancient red sandstone cliffs. Mind you, the large metal cages along the shore focus the mind a bit, for they are traps for the feared saltwater crocodiles that move into the gorges during the wet season. I thought I saw a coca cola can bobbing on the surface, but our guide explained that the crocodiles attack these red buoys, and from the deep scars left by their teeth the rangers know if a croc is present. "Yes," he confirmed, without me needing to ask. "This is the wet season."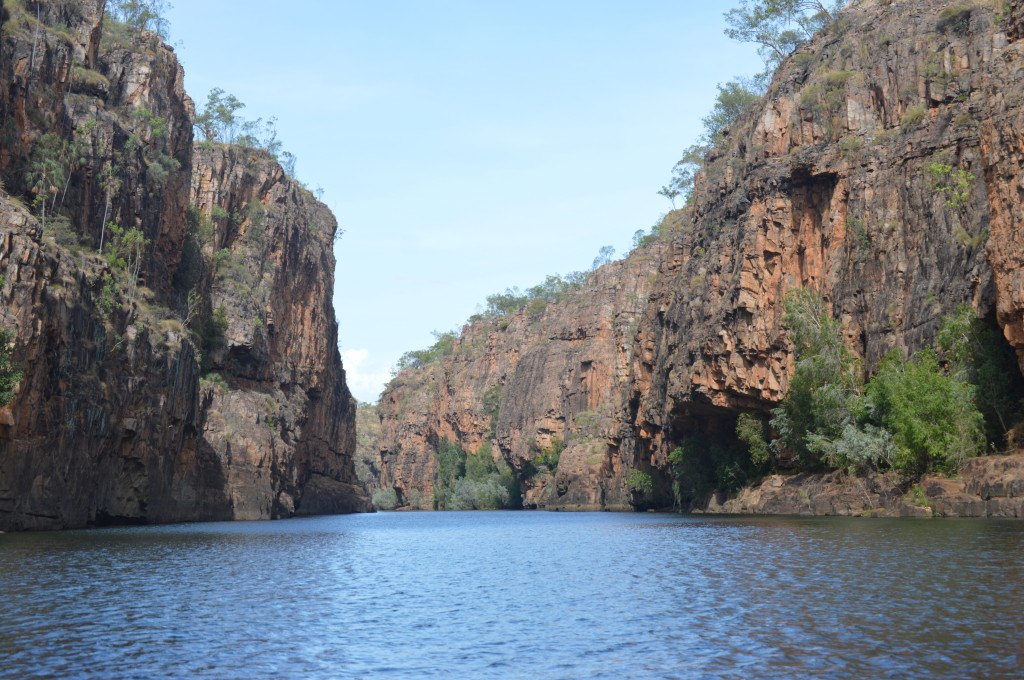 Back on board there was time for a quick shower (again, I suspect it would be disastrous to attempt this at 125 mph) before pre-dinner drinks and the chance to weigh up our fellow travellers. The majority were Australian pensioners fulfilling a lifetime's ambition by making the most of a tempting deal offered locally by Great Southern Rail. Inevitably, being Australian, they were great company. Indeed, the trip was all the more enjoyable for the relaxed, friendly and easy-going nature of the Australian guests and staff leading me to wonder if some of the other great railway journeys of the world can be as much fun as this. That said, a quiet word with Damien, the lounge host, ensured that Emma and I had a table for two, rather than four, at every meal. There was only so much ribbing about England's defeat at Brisbane that I could take.
During dinner our cabin was dramatically transformed into a double bedroom, complete with chocolates, liqueurs and mood lighting. Again, it is worth making the comparison with those in Red who, by now, were only one third of their way through the 15-hour journey from Katherine to Alice Springs.
We woke at dawn to savour what is a crucial element of this incredible journey. Travelling north to south means you can enjoy both sunrise and sunset through the carriage windows, but only in a Platinum cabin can you look out from both sides of the train. And what a view! By now the lush green of what they call the Top End had been replaced by outback red and the fiery sunrise made this a truly awesome spectacle. Mile after hundreds of miles of red rolled by, but it was fascinating. The landscape is more undulating than I imagined and the trunks of the gum trees were heavily scarred by bush fires. Don't let anyone tell you the Red Centre of Australia is boring and featureless: it is beautiful. Rugged and intimidating through its sheer scale, but definitely beautiful.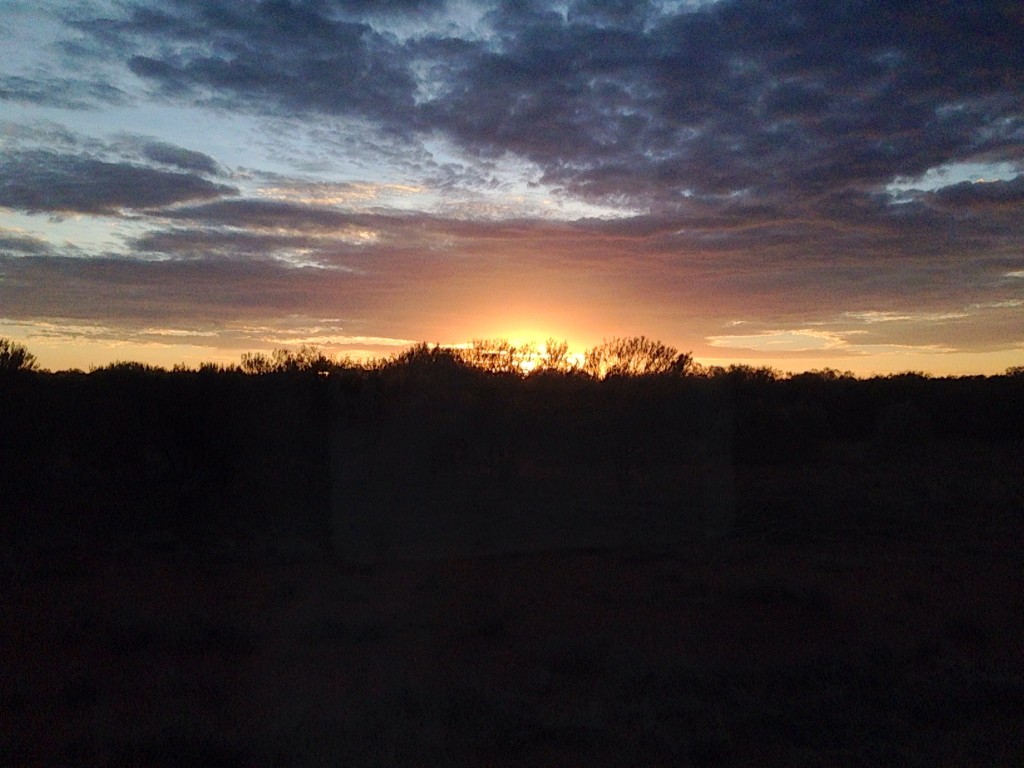 I felt that four hours as a tourist rather than a cricket watcher in Alice was probably long enough. The Telegraph office from which the old cables and telegrams were relayed was a reminder of the vital role this small town played in Australia's pioneering past, and we saw the pens that housed the camels belonging to the Afghan traders after whom the Ghan is named. We learned in the reptile centre that a male Goanna has two 'appendages' called a hemipene, which enables him to mate continuously for 36 eye-watering hours and no visit to Alice could be complete without a visit to the Royal Flying Doctor Service. While we were there, it rained for the first time since July and our guide, Harry, was so excited that he promised to return home, sit on his veranda with a cold beer and watch. It is tempting to suggest that is about as exciting as it gets in Alice.
Lunch was served to the sobering realisation that we were not yet half way to Adelaide and there were still twenty three hours to go. Usually this leg is non-stop, but an announcement informed us that on this occasion, in the middle of the night, we would be calling in at Coober Pedy to pick up one person. Who could this man possibly be, I wondered, for whom this magnificent train will specially interrupt its tireless trek through the outback? Sadly I was asleep when it happened and the mysterious pick-up at Coober Pedy passed me by. Dawn broke over the vast, recently harvested arable land of South Australia and forty nine hours after we left Darwin we slipped past the Adelaide Oval: our journey was over. Emma had not read a single word. Honest. And Neville Shute will have to wait, too.